Lewis Hamilton on whether Michael Masi's Abu Dhabi actions were deliberate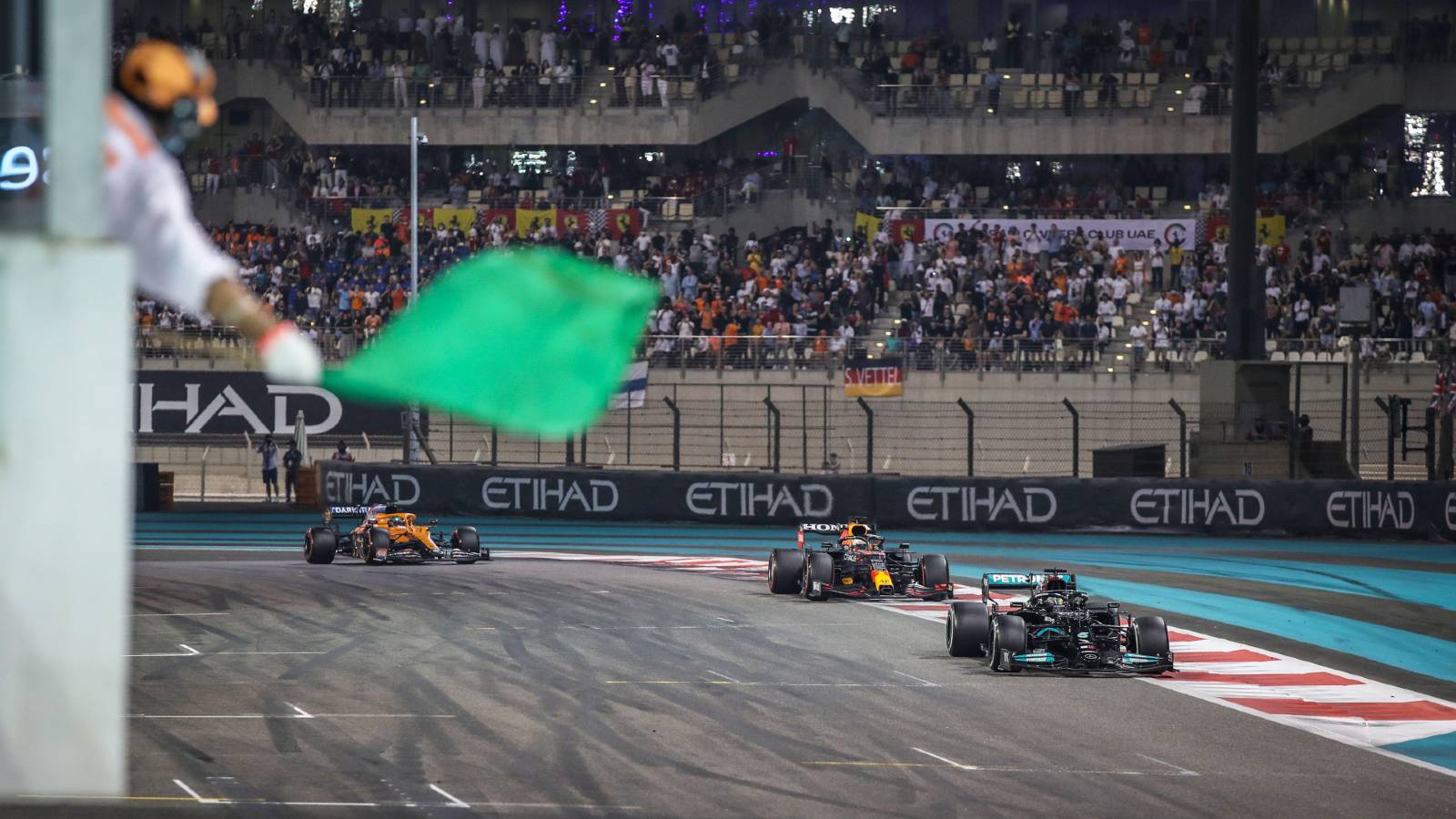 Lewis Hamilton has revisited the controversial way in which he saw a record-breaking eighth World Championship slip through his fingers at the 2021 season finale in Abu Dhabi.
As Hamilton's tense title battle with Max Verstappen went deep down to the wire in 2021, F1 race director Michael Masi made the decision to engineer a final-lap showdown between the two after a Safety Car period following a late crash for Nicholas Latifi.
Masi only let a select amount of lapped cars to un-lap themselves again, which subsequently allowed Verstappen, on much fresher tyres compared to Hamilton – who had dominated the race prior to Latifi's crash – to swoop by and claim a first World Championship title.
Masi's decision ultimately cost him his job and denied Hamilton from surpassing Michael Schumacher to sit at the very top of the World Championship mountain with eight World titles.
As the one-year anniversary begins to come towards the horizon, Hamilton was asked whether he felt Masi's action were a deliberate act.
"I don't know. It feels so long ago now," Hamilton said in an interview with select media in Austin, as quoted by Motorsport.com.
"I think it was just bad decision-making. I'm sure there is ego involved and then there are also the moving parts. There's people speaking into his ear. I don't feel like it was particularly targeted."
What appears to have hurt Hamilton more is the fact that the sport as a whole let that extremely controversial moment happen and allowed a situation where the wrongdoing of the powers-that-be could determine which way a World Championship title went.
"What really was breaking was to just believe that the sport would do something like that, that that would happen in the sport, given that there are so many people who you rely on," he added.
"You expect that the job would be done right. And an outcome of a world championship, which so many people have worked so hard for, would come out through a wrong decision from somebody, you know?
"That was probably the only thing. It wasn't for my lack of love for working with my team or racing cars, it was literally that if you can lose a championship through wrongdoing within an organisation, that was the thing that I wondered.
As for recovering from the whole sorry saga, Hamilton said it was spending time with his family that helped him put distance between that dark day in Abu Dhabi.
"But I spent time with my family and that was really the best part of the healing really. I just gave all of my time to the kids, building snowmen and just being present with them.
"That enabled me to really recover, really bounce back. If I wasn't with them, I would have been stuck in a hole.
"I've moved on from it. I refuse to live in the past. I have already experienced that in 2007 and, as a youngster, that definitely kept me up at nights and it was just negative.
"When you hold on to some negativity, when you hold on to hate or whatever it is, it is just holding you back.
"I'm going up. And I am going forwards, regardless of what's happened in the past. I chose not to dwell on it. There is nothing I can do about back then. I gave everything. Like, I gave everything, and I sacrificed.
"But I am willing to do it again. So that's what I'm trying to work towards."
Read More: What's left to play for in the final three races of F1 2022?