Lewis Hamilton accused of giving 'mixed messages' to struggling Mercedes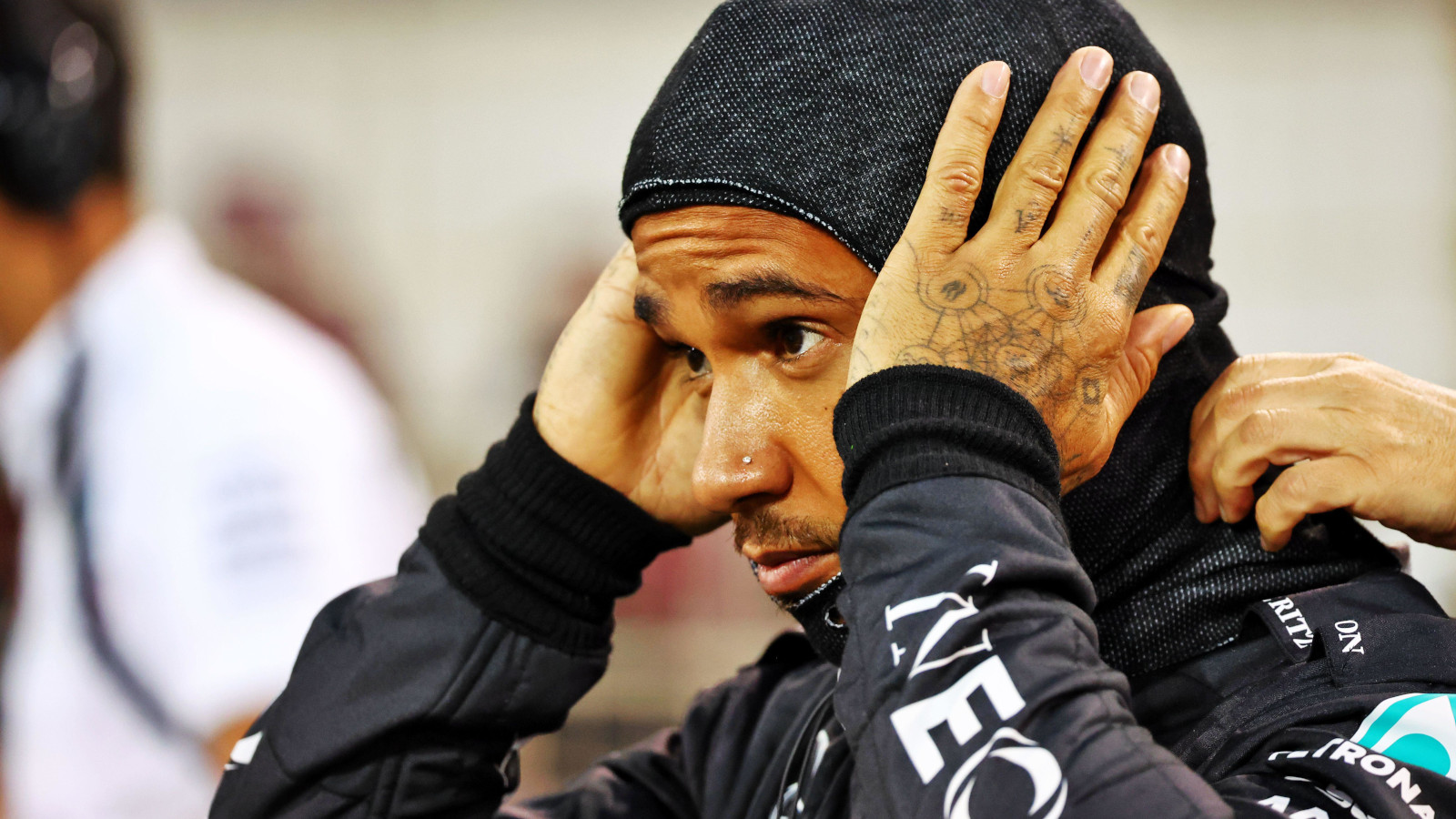 Damon Hill, the 1996 World Champion, has claimed Lewis Hamilton is giving "mixed messages" to Mercedes after the team's disappointing start to the 2023 Formula 1 season.
After going through a full season without a win for the first time in his F1 career in 2022, Hamilton had targeted a return to title-wining glory this year in search of a historic eighth World Championship.
With the W14 car no match for the dominant Red Bull of Max Verstappen in the season-opening Bahrain Grand Prix, however, another season of struggles looks likely with doubts raised over 38-year-old Hamilton's future.
Mercedes boss Toto Wolff admitted in Bahrain the team had made mistakes with the development path of the 2023 car, with Hamilton accusing the technical group of not listening to his advice on the design of the W14.
Appearing on the F1 Nation podcast, Hill has noted that Hamilton's public criticism of the team was out of step with the message of support he delivered to Mercedes over team radio at the end of the race in Sakhir.
He said: "After the race he got on the radio and said 'we've got work to do guys, I'm right behind you, 100 per cent supportive'.
"And then there was this line that [he] came out to say, 'I did warn them, I told them that I didn't like the car'.
"You can't criticise and also be 100 per cent supportive.
"It's obviously constructive criticism, but he's disappointed. He knows what's ahead."
With a respected technical expert explaining that F1's cost cap and weighted aerodynamic research rules are major obstacles in any Mercedes attempt to salvage this season, Hill fears the team will not be able to implement a solution even if they understand where the problem with the current car concept lies.
"With the cost cap, what is the possibility and what are the limitations?" he asked.
"Even if they've got the people there now at Mercedes who know what the answer is, how can they produce a new car? Is it a new car? Is it a completely redesigned car?
PlanetF1.com recommends
Ted Kravitz wonders if the stars will dictate no eighth title for Lewis Hamilton
Eddie Jordan: Toto Wolff criticism of Mercedes F1 direction 'disingenuous and crass'
Villeneuve Pironi: An unrelenting tragedy through the eyes of their families
"There's something they've not done. The car looks different to everyone else so people are saying, 'well, that must be the reason, it looks different'.
"Maybe it's not that. Maybe it's something else."
Hill is concerned that fans' frustrations with Mercedes' poor performance will soon be directed towards individual members of the team, referring to Hamilton's influence as both "a blessing and a curse."
He explained: "I think in this day and age now we were all aware that when you work for an organisation – and this has cropped up in the past with regard to Red Bull as well – sometimes the people who work for the teams now get abused on social media, because in some rather naïve or misguided people's minds they are responsible for Lewis Hamilton or whoever their favourite driver is not getting the car he wants.
"So it's a blessing and a curse in a way, having this driver as good and as famous as Lewis Hamilton in your team.
"People are loyal to him and they're not necessarily loyal to the team he's driving for, they just want the team to provide him with the fast car.
"So I can imagine there's been a lot of stress back in the factory because of that."
Mercedes have lost a number of key staff in recent times with Andy Cowell resigning from his position as head of the Mercedes High Performance Powertrains in 2020.
Chief aerodynamicist Eric Blandin and strategist James Vowles also left to take up new positions at Aston Martin and Williams respectively, with James Allison also taking a reduced role. PlanetF1.com understands reports of an official return to the Mercedes team for Allison are wide of the mark.
Hill's F1 Nation co-host Tom Clarkson feels that Mercedes are potentially entering a period of transition, with Hamilton's team-mate George Russell better placed to wait for the team to grow back around him.
He said: "These performance levels are uncharted territory for Mercedes, let's not forget that.
"Last year we thought – or they thought, I'm sure – was a blip: 'Oh, we'll get back to winning ways regularly in 2023.'
"And that's looking difficult, isn't it? So they're having to manage expectations from fans, I think there's probably a lot of internal management as well.
"What about James Vowles?
"I know that when Mick Schumacher joined Mercedes at the end of last year it was James Vowles who sorted out his contract, so the fact that James has left would suggest that it's very last minute and there's a hole that needs to be filled there.
"The team, I feel, is in a state of flux.
"And while George can grow with the new-look Mercedes somewhat, for Lewis you can see it's a stress because he's running out of time to get that eight Championship."