Hamilton: 'New generation get away with a lot more'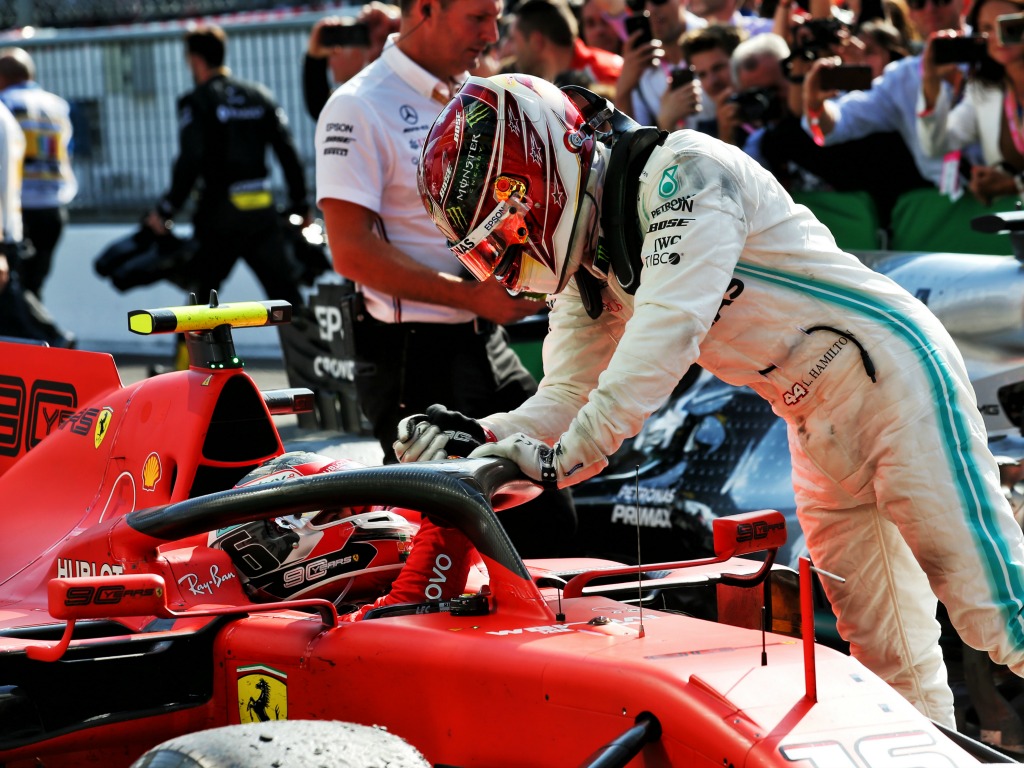 Lewis Hamilton feels "the new generation get away with a lot more" in wheel-to-wheel combat after fighting with Charles Leclerc at the Italian Grand Prix.
Leclerc and Hamilton were battling it out for the race lead at Monza, with the latter believing he was forced off track by Leclerc as he did not leave him a "car's width".
Leclerc held off challenges from both Hamilton and Valtteri Bottas to end Ferrari's drought at Monza, and Hamilton thinks there is some leniency involved from the FIA after Leclerc only got a black-and-white flag, effectively Formula 1's answer to a yellow card.
"It seems the new generation get away with a lot more in that space of how they manoeuvre their car compared to, I would say, the more experienced drivers," Hamilton told Sky Sports F1.
"But it's good knowledge, now I know, and look forward to the next one."
Hamilton was pushed for thoughts on the specific incident with Leclerc, but said it was "pointless" to go into any more detail.
"It doesn't really matter what I think," he said.
"We've gone over and over this multiple times and it's pointless me bringing it up. I avoided the collision and then just kept focusing and trying to get close."
After finishing P3, Hamilton's immediate reaction was to think about the bigger picture and he did express enjoyment at racing with Leclerc in a hard-fought battle.
He added: "It was great. He did a great job – congratulations to Ferrari and Charles. There was a lot of pressure from Valtteri and me, then my tyres just went off a cliff. Even if we did get closer, we couldn't have passed.
"We got strong points for the team and we pull away from Ferrari in the constructors and that's all that matters.
"I'm just trying to do better in each race, I've had a healthier lead in the past. Some improvements can be made to myself and my set up but it was a great race."
Follow us on Twitter @Planet_F1 and like our Facebook page.