Lewis Hamilton expects third row to be Mercedes' qualifying ceiling on Saturday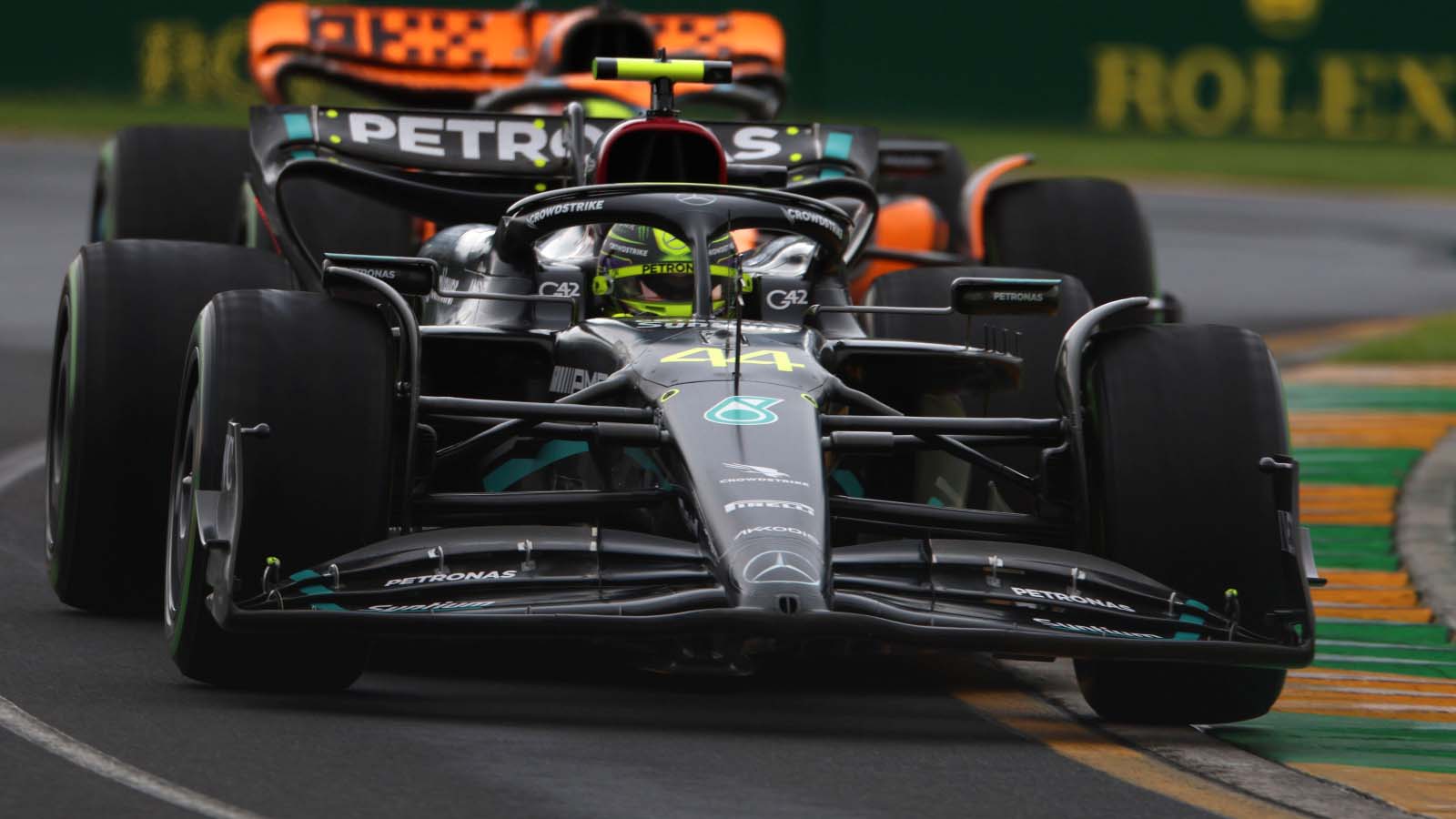 Lewis Hamilton is not hopeful of Mercedes being able to get onto the front two rows of the grid for the Australian Grand Prix this weekend.
Hamilton had finished FP1 second fastest, splitting the Red Bull pair of Max Verstappen and Sergio Perez at Albert Park in dry conditions, albeit with the session having been interrupted during most of the drivers' soft tyre runs with a red flag due to safety concerns after the circuit's GPS system had technical issues.
But having made setup tweaks to his Mercedes in time for second practice, the team appeared to struggle for pace by comparison, though it is difficult to read too deeply into the results in FP2 given the majority of the session took place in wet conditions in Melbourne.
With Red Bull appearing to hold a clear advantage once again this weekend and Fernando Alonso in the Aston Martin nipping at their heels in FP1 and topping FP2, Hamilton is not optimistic about Mercedes being able to muscle in on the fight right at the front this weekend.
Instead, he expects Mercedes to be in and around the fight for the top five.
"This morning was good, this afternoon wasn't so good," Hamilton said to reporters after the session.
"Felt a little bit better this morning, made some changes, didn't work, and so we'll revise this tonight – and then it rained, obviously. So it wasn't the greatest of sessions.
PlanetF1.com recommends
Christian Horner responds to Lewis Hamilton's RB19 claims
Alpine set sights on fighting Mercedes as in-season developments arrive
Australian  GP FP2: Fernando Alonso hits the front before the rain arrives in Melbourne
"Well, I don't think we'll be competing against the Red Bulls," he added when asked about Mercedes' overall prospects for qualifying. "It'll just be about trying to see if we can get up as high as possible. So I think we've got pace to be around fifth [place] area, same as the last race."
Hamilton's team-mate George Russell finished fourth in the FP2 standings before the rain slowed down the drivers' lap times, with the seven-time World Champion down in P13 come session's end.
When it was put to him that Mercedes would be competing for a place on the third row, the young Briton was unable to disagree – adding that Mercedes are still not in their ideal spot performance wise, but will continue to work hard in the meantime.
"I'd say that's a fair assessment," Russell added of Hamilton's prediction. "I think if we really pull everything together, the third row, probably between P5 and P8, I think is where we're looking at the moment.
"So obviously, not where we want to be as a team. We know we've got more to come in a couple of races' time, but we just need to maximise our chances, try and have a similar weekend to what we had in Jeddah because we exceeded the potential of a car, and keep trying our best."