Mario Isola, Pirelli's head of F1, says early indications are that debris was the cause of the two tyre failures at the Azerbaijan Grand Prix.
And Isola suggested Lewis Hamilton had been fortunate to avoid the same fate as Max Verstappen and Lance Stroll for a cut was found on his rear left tyre.
On lap 31 in Baku, Stroll, still with the set of hard tyres on his Aston Martin with which he had started the race, suffered a rear-left failure on the long pits straight and crashed into the barrier at high speed, bringing out the Safety Car.
Could be a reasonably long safety car as Stroll's car is recovered and the debris is cleared up. For the time being the pit lane is still closed, so nobody can stop: unclear as to whether or not it will open before the safety car comes in… #AzerbaijanGP

— Pirelli Motorsport (@pirellisport) June 6, 2021
Then on lap 47 of 51, an almost identical incident happened to Verstappen, who had victory seemingly in the bag – only that time, race director Michael Masi chose to show the red flag, enabling the remaining cars to restart on fresh rubber.
Concerns were expressed during the grand prix coverage about whether the construction of the Pirelli tyres had been a factor.
But while he wanted to wait until an investigation has taken place, Isola's early suspicions were that debris on track had been the cause – and that Hamilton could have been another victim.
Check all the latest 2021 teamwear via the official Formula 1 store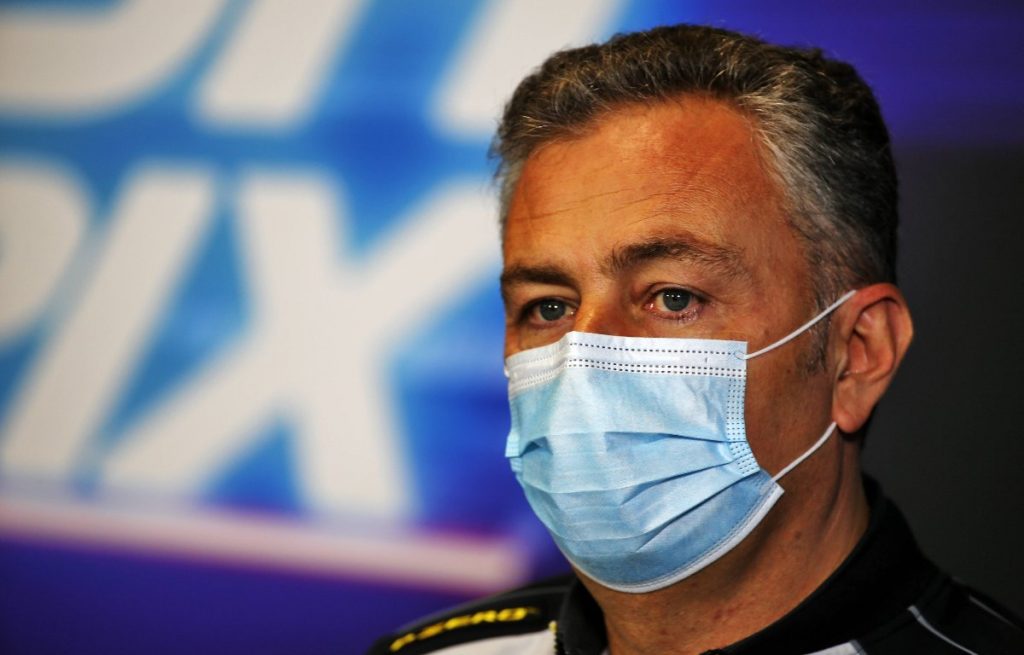 "It's a bit early to understand what happened to the tyres," Isola told Sky F1. "We are waiting for the tyres back to the fitting area to analyse them, but we probably need to air-freight them to Milan for a complete analysis.
"First investigations suggest debris because the rear left is not the most stressed tyre on this circuit, it's the rear right. If we talk about wear, it's the front right. So it's in a position that doesn't suggest anything special on tyres.
"The other point is that we found another cut on a rear left tyre from another car [Hamilton's] that luckily didn't cut the construction, that was clearly a cut from debris.
"The other point is that obviously both failures happened more or less at the same part of the circuit and obviously Max was a few hundred metres after the crash of Lance. Maybe there was some debris, but I don't want to say it was debris because first of all we need to analyse the tyre.
"I am collecting information, we are waiting for telemetry data from the teams. It was sudden, that was clear, but if you have a big cut on the tyre it is sudden.
"I believe we will have the tyres back in a couple of days because unfortunately we are far from Italy, so it takes a bit of time to air-freight the tyres, and then we will start immediately the investigation. By the end of the week, we should know something more.
"When something like that happens we need to collect information, to understand what happened.
"What I can tell you is we have several sets of hard tyres with more than 30 laps and we are checking in the fitting area and didn't find any issues.
"It's not something that I can tell you all the tyres had a potential issue – it's absolutely not like that. We have two tyres, rear left, at the same point of the circuit that failed. We need to understand why."
Follow us on Twitter @Planet_F1, like our Facebook page and join us on Instagram!