Lewis Hamilton reflects on 'psychological warfare' with Sebastian Vettel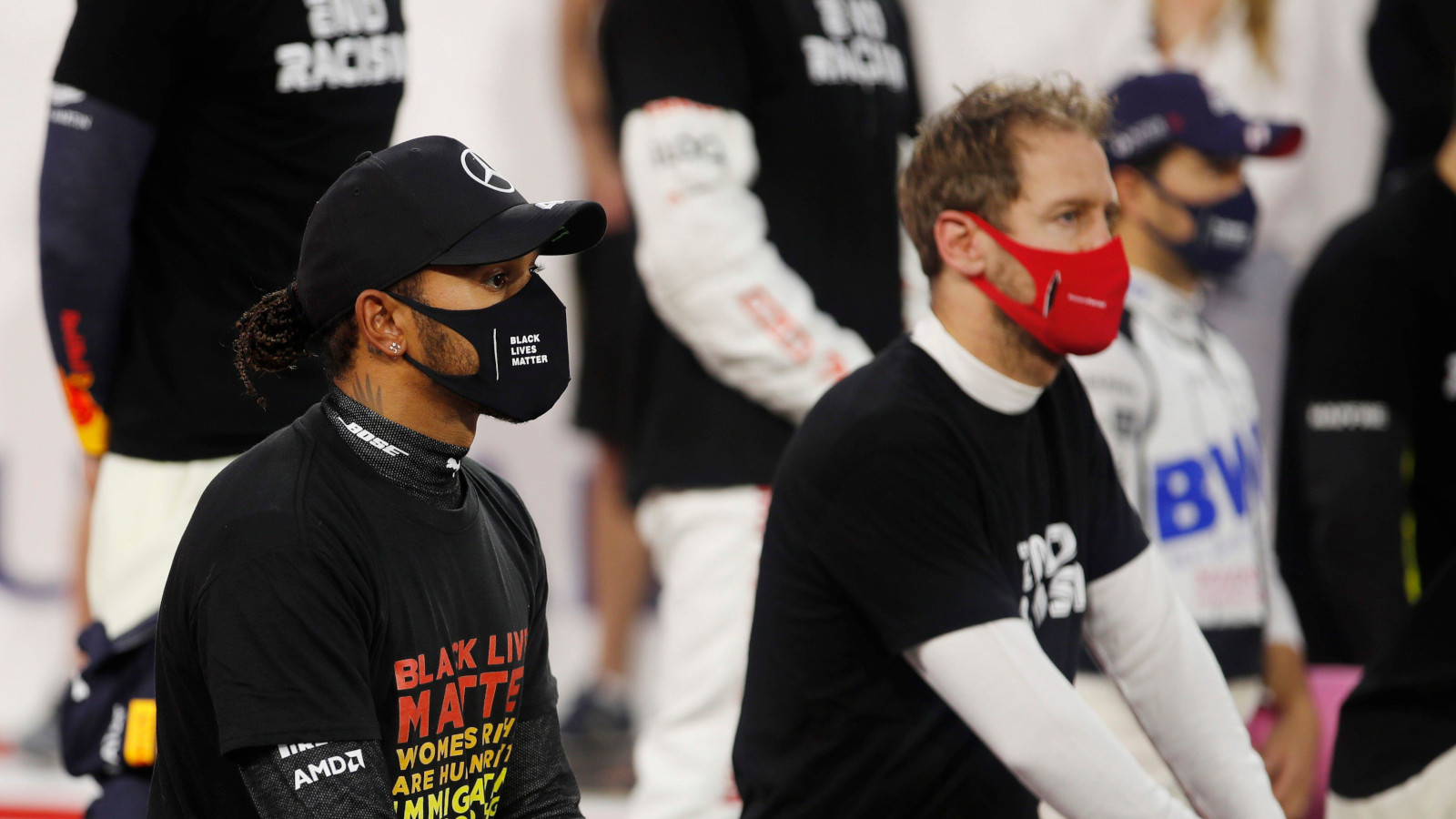 Lewis Hamilton admitted things got "tough" when going through the "psychological warfare" he and Sebastian Vettel had when they were in a straight fight for titles.
However, the seven-time World Champion added that he is "really grateful" for how their relationship stayed intact through that period, and has even strengthened since.
The 2017 and 2018 seasons were often a straight duel between the Mercedes and then-Ferrari drivers and, Vettel's Safety Car 'bump' into Hamilton in Baku aside, both drivers mostly found ways to race each other fairly, while still on the limit.
There are plenty of parallels between Hamilton and Vettel's careers, having both made their debuts in 2007, had periods of dominating the sport and their fair share of tight duels in between.
The Brit said after Vettel announced his retirement that he was "one of the few people who made sure I didn't feel lonely" when they started out, and despite the mental back-and-forth they have exchanged at times, he only has kind words to say about his long-time rival.
"With Seb for example, we've had some great races in the past and I'm so proud of him, of how he's gone through his journey and how he's opened up and how he's been outspoken … and continues to be," Hamilton told RACER.
"I have no doubt whatever he plans to do in the future, he will continue to do so.
"To have the respect between two people who have had tough battles… It's hard to be friends when you're having a head-to-head battle and one of you is and one of you isn't winning. The psychological warfare you go through, it's tough.
"But to be able to come out from that and be such good friends – and I think it will continue to grow and be even better friends in future – I'm really grateful for."
Lewis Hamilton and Sebastian Vettel an example of how to have a fierce yet friendly rivalry
You only have to look at the way Vettel went straight to Hamilton's car in Turkey in 2020 when he sealed his seventh World Championship as an example of how well they get on, congratulating him on "making history", all while being one of the most successful ever Formula 1 drivers in his own right.
The way the two have teamed up as a force for good away from the track as well shows how, despite the competition they have had in the past, they are able to get on well and campaign for what they believe in – which can only paint themselves, and the sport, in a favourable light.
Hamilton in particular has been a part of a few intense rivalries, be it in his own team or in other title battles, but the clear mutual respect and the relationship between him and Vettel is one that should be rightly lauded.
Read more: How Formula 1 has changed since its last visit to Singapore in 2019