Lewis Hamilton enjoyed being right about W14 flaws: 'I'm the gateway to car performance'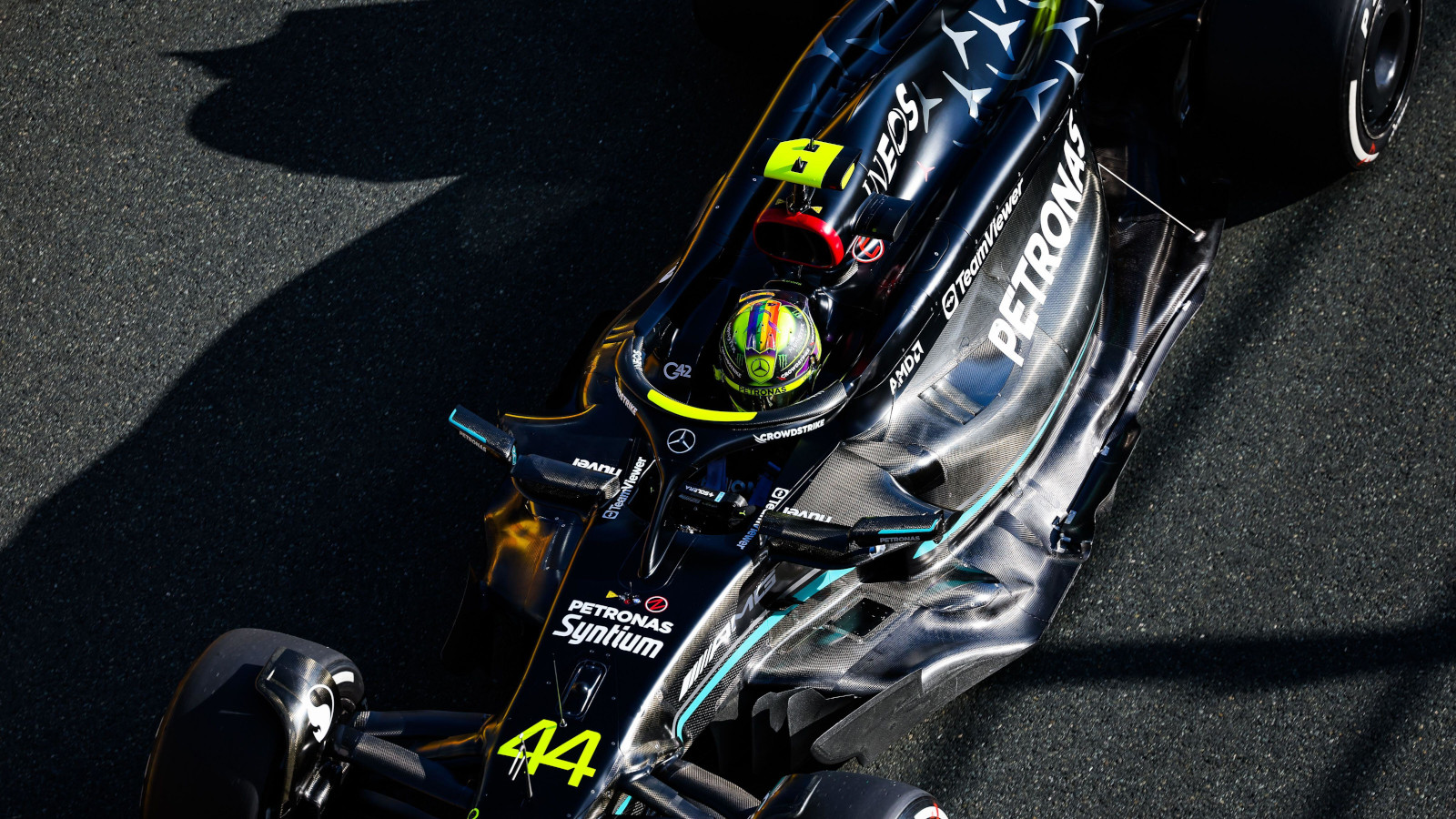 Lewis Hamilton has light-heartedly pointed out how he enjoyed being able to tell Mercedes that he "was right" about the W14 falling short of his expectations.
With Mercedes kicking off their 2023 season unable to join in the fight for victories, it led to a very frank admission from team boss Toto Wolff that the concept his team have pursued since the start of the ground effect regulations simply hasn't worked.
With the W14 picking up where last year's W13 left off, and Mercedes still yet to figure out the changes needed to help them bridge the gap to a dominant Red Bull, Lewis Hamilton was particularly critical of his team as he felt they "hadn't listened to him" about changes he wanted to be implemented for 2023.
"Last year, I told them the issues that are with the car," Hamilton told Rosanna Tennant on the BBC's Chequered Flag podcast after the Bahrain Grand Prix.
"Like, I've driven so many cars in my life, so I know what a car needs, I know what a car doesn't need.
"And I think it's really about accountability, it's about owning up and saying 'yeah, you know what, we didn't listen to you, it's not where it needs to be and we've got to work'.
"We've got to look into the balance through the corners, look at all the weak points and just huddle up as a team, that's what we do.
"We're still multi-World Champions you know, it's just they haven't got it right this time, they didn't get it right last year, but that doesn't mean we can't get it right moving forwards."
PlanetF1.com recommends
Toto Wolff pinpoints one problem with the W14 that's notably hurting Lewis Hamilton
Lewis Hamilton quizzed on Bahrain GP criticism and Mercedes exit talk
Nico Rosberg: Lewis Hamilton losing trainer Angela Cullen will 'make things even worse'
Lewis Hamilton: I'm the gateway to the car's performance
It's been a somewhat tense start to the season for the Hamilton/Mercedes relationship – an inopportune time, given the two parties are set to begin negotiations over Hamilton's contract with the team – his current deal expires at the conclusion of 2023.
Hamilton rowed back on the weight of his critical comments when he spoke to media in Saudi Arabia, admitting that he may have worded his thoughts incorrectly, but the seven-time World Champion said the ongoing performance of the W14 has vindicated the truthfulness of his statements.
"I'm one of those people that always likes to be right, but I'm not always right, but in this scenario I was right," Hamilton said.
"So it was good, it was like, 'I told you'.
"It's a team collaboration. At the end of the day, I'm the driver, not the designer, but I'm the gateway to the car's performance, so we're just working on continuously trusting each other in what we try to give back."
While Hamilton had previously expressed frustration about "not being listened to", he said the years in which success came more easily proved that the lines of communication were open.
"They do listen to me, I mean look at the success we've had over time, so we listen to each other," he said.
"We've had our disagreements and that's inevitable in relationships.
"What's important is just owning up to it – 'ok, I was wrong' or 'you were wrong' or whatever it is, and then just huddle up, we're a team, so how can we fix it? What are we going to do? How much energy are you going to put into it?"