With his seventh World Championship in the bag, Lewis Hamilton felt a sense of "release" as he took pole for the Bahrain GP.
The Mercedes driver had looked the man to beat on Friday, but when Max Verstappen claimed P1 for himself in the final practice session, it seemed Hamilton had a challenge on his hands to secure pole.
But the Briton stepped it up a notch in qualifying, setting a new track record with a 1:27.264 to claim a 98th pole of his career.
And Hamilton spoke of feeling a "release" heading into qualifying as he was free to have fun with the title secured.
"I really didn't celebrate to be honest, I was training and trying to make sure I was ready for this, keeping my mind and eye on the ball," Hamilton told Sky F1 when asked how he celebrated the seventh title.
"But this is the continuation of what we're able to do together as a team. I just continue to be amazed by my guys, naturally that work so hard weekend in weekend out.
"Now they're away from their families for three weeks and no matter what's thrown at us, it's always a really tough year, and I appreciate them. To be out here in Bahrain and be able to put laps like that together.
"You know I came today and I was like, let's just have fun and enjoy and that's the most important thing, to enjoy what you're doing. And with the pressure a little bit off, it's a bit of a release to go and drive like I just did."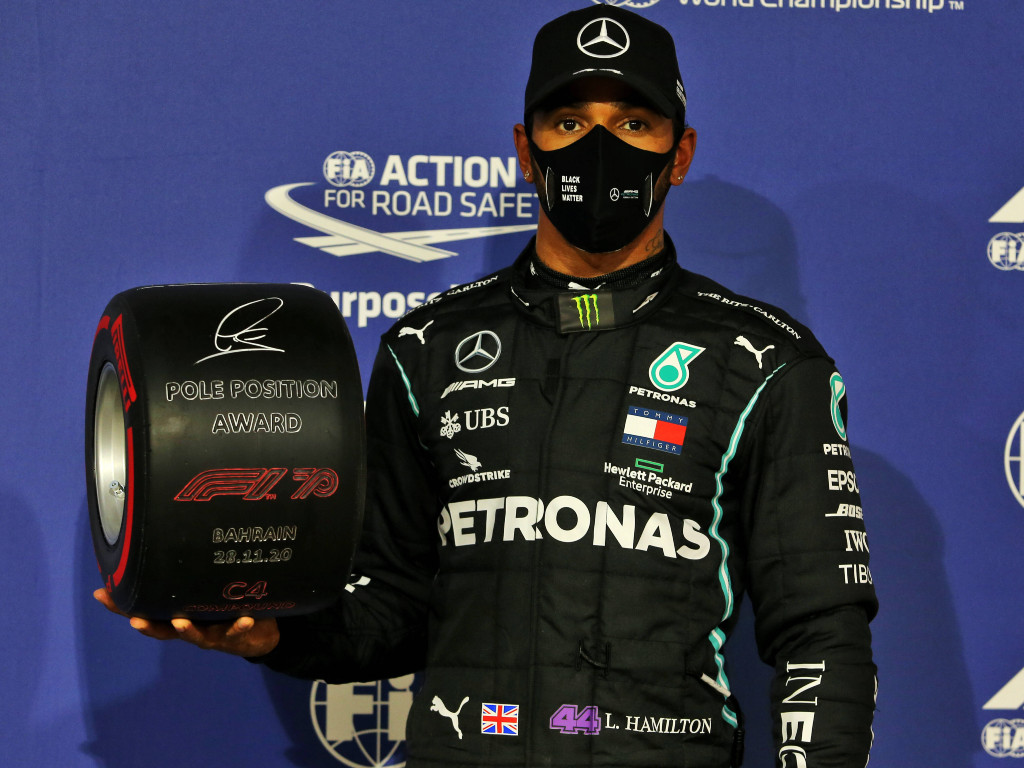 Get your hands on the official Mercedes 2020 collection via the Formula 1 store
Hamilton improved by half a second on his second Q3 lap to further affirm his pole position, an improvement which was needed to see off team-mate Valtteri Bottas and Verstappen.
But, he still felt there was a bit more time to be squeezed out of the W11.
"I am on the ragged edge naturally, it's all about trying to find that perfect balance, you want to take quite a lot on the way in and keep the exit," he explained.
"You want to have your cake and eat it, so it's about just chipping away at it during the lap. I think the lap started off really well. There was probably a little bit of time in Turn 1, just a little bit underperformed I would say to the apex, but after that it was good.
"Turns 4 and 6 was a little bit slower, I probably could have gone better there. So I could talk you through the lap and tell you that there's always just a little bit here and there, but the next lap I go out, maybe I'll improve here and there and I'll lose somewhere else.
"But otherwise it was a very clean lap. I generally stayed around two and a half tenths up the whole way through so I was pretty happy with it."
Follow us on Twitter @Planet_F1, like our Facebook page and join us on Instagram!