'Relentless' Hamilton 'still building his skill set'
Lewis Hamilton is "relentless" in his quest to improve Mercedes and "constantly building his skill set" even in his 14th season of Formula 1.
Those are the words of Mercedes' trackside engineering director Andrew Shovlin, who has worked with both Hamilton and Michael Schumacher and given a fascinating insight into what has made them the sport's most prolific winners.
Shovlin says they "couldn't be more different" as characters but that Hamilton, who has equalled Schumacher's record of 91 F1 race victories and looks certain to match his seven World Championships, has similar attributes to the German legend in terms of maximising their car's performance.
"Lewis works very hard," Shovlin told RaceFans. "He's a driver that I think perhaps his rivals like to think is just fast in the car but doesn't put the hours in. But he's one of the hardest-working drivers we've ever known.
"It's the more he can understand about the tyres, about how the car works, about how to use all the available tools – he's able to take that and build it into his driving.
"It's just in this relentless way. Every missed opportunity is something that needs fixing before the next race. He goes off and works with Bono [race engineer Pete Bonnington] and Marcus [Dudley, performance engineer], his engineering crew and with the wider team trying to understand the issues.
"So long into a career, you think drivers would sort of top out their skill set but Lewis keeps finding new and different things to do and how to get the most out of the car and the tyres."
Get your hands on the official Mercedes 2020 collection via the Formula 1 store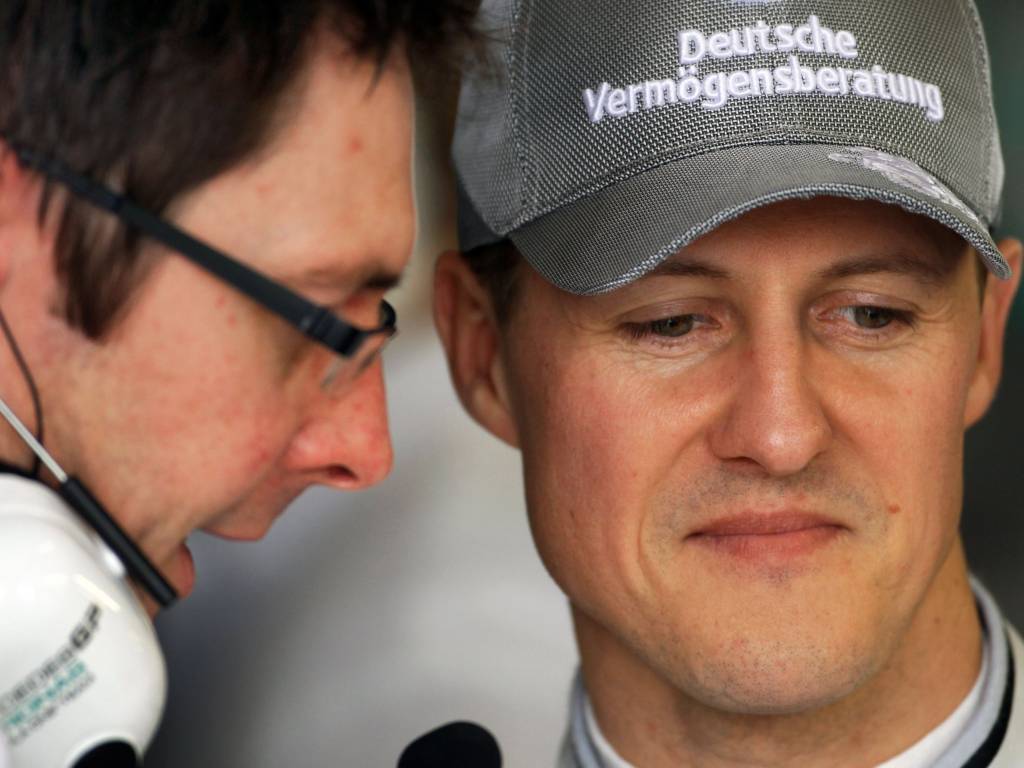 Looking back at the time he worked with Schumacher, Shovlin recalled: "When Michael arrived in our team, the things that stood out about him were the way he would always go after the marginal gains. It doesn't matter if it's one hundredth of a second, he would try and do it and collect those up.
"Michael also had an ability to drive whatever balance was quickest. If it was an understeering car you needed, he would do it. If you needed to move the work onto the front tyres he could, so he was very adaptable in his driving style.
"Those are certainly two characteristics Lewis very much has. A lot of the good drivers don't have a particular style. It's just whatever's quick, they will adapt to do it."
Schumacher and Hamilton were also able to apply whatever engineering advice they were given, no matter how complex the instructions.
Shovlin added: "With Michael, it doesn't matter how many things you told him to do on a lap, whether it was moving the brake bias, where to look after tyres, what he needed to do to get them in the right window, he would be able to sort of put them all together.
"Again, that's one that Lewis does – quite quietly, often. You don't need loads but you can just keep layering one thing on top of another and he doesn't forget it. He just does it and then if you give him more things to do, he adds that on top.
"So I think just in terms of the way they are in the car, they are actually more similar than you might believe. It's just that out of the car they are two quite different people."
Follow us on Twitter @Planet_F1 and like our Facebook page