Lewis Hamilton: I respect Max Verstappen but 'I can't speak' for his side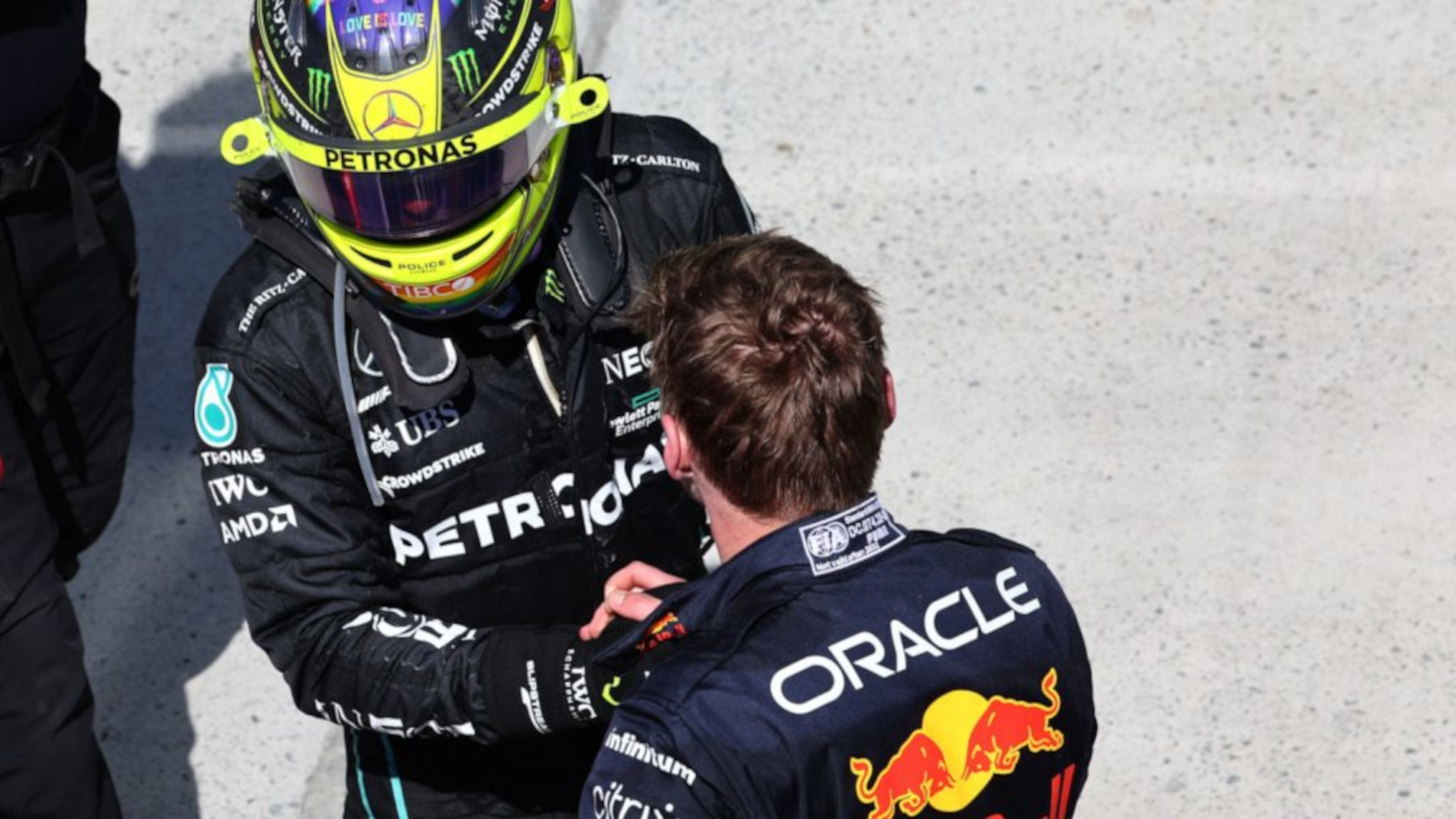 Lewis Hamilton says he has nothing but respect for his 2021 title rival Max Verstappen but can't say for sure that the feeling is mutual.
Two years ago the rivalry between Hamilton and Verstappen ignited as the two raced wheel-to-wheel for the Drivers' Championship title, Hamilton chasing a record-breaking eighth and Verstappen his first.
It was evident from the get-go that neither driver was willing to back down, even if meant crashing. They recorded two huge crashes, Silverstone and Monza, each deemed responsible for one of the big ones.
Such was their high octane battle, they went into the season finale tied on points in a winner-takes-all situation. That winner was Verstappen, the Red Bull driver passing Hamilton on the final lap of the season to win the Abu Dhabi Grand Prix and secure his maiden World title.
While fans hoped for part two to play out last season, it was not to be as Mercedes struggled while Red Bull raced away with the championship double.
The duo had one on-track moment, clashing at the start of the Sao Paulo Grand Prix, Hamilton losing places as a result while Verstappen was slapped with a five-second penalty.
Hamilton declared "you know how it is with Max", later adding that he "wouldn't hold your breath" waiting for a clean fight with Verstappen. But while he also spoke of being a "bit of a target", he insists he has nothing against Verstappen.
"People like to talk about there being problems between Max and me," he said in an interview with Formula 1 Magazine, adding that speculation that there is an issue is just "fairytales.
"I respect him."
PlanetF1 recommends
Lewis Hamilton v Max Verstappen: Key stats compared after first eight seasons in F1
Five great F1 career moves: Hamilton to Mercedes, Schumacher to Ferrari and more
Lewis Hamilton car collection: Take a closer look at his incredible private garage
Hamilton, however, could not say if respect was mutual.
"He is a lot younger, so maybe he has a problem with me," he continued. "But I am not sure about that and I actually assume not. Although I can't speak for him."
The Mercedes driver also touched on their 2021 title fight, one that was decided in controversial circumstances when then FIA race director Michael Masi made an unprecedented call to allow only the cars between race leader Hamilton and Verstappen to unlap themselves to set up a final lap shoot-out.
Hamilton lost that, overtaken by Verstappen who was on fresher tyres on that final lap.
"He [Verstappen] did everything he had to do in 2021, so why should I have a problem with him," he said. "He performed and delivered every weekend, nobody can take that away from him."
It is mutual, insists Max Verstappen
Hamilton need not question whether the respect is mutual, Verstappen has said – more than once – that it is.
He told Motorsport.com after their Interlagos clash: "I always respect Lewis a lot for what he has achieved in the sport, but that's why I don't really understand why we cannot really race like I've been doing with the others."
A few weeks later he told the Daily Mail: "I was always taught that you have to respect what people have achieved in sport. I have no problem with what Lewis has achieved. He is one of the best ever.
"I know it is not only the car he has been driving. That helps. We all know that, but you still have to beat your team-mate and Lewis has done that consistently.
"I think you have to acknowledge the person has done an amazing job as well."
He also spoke of his respect for the seven-time World Champion in the immediate aftermath of his 2021 title success.
"I have a lot of respect for Lewis, but you know, I'm just very happy that I won in general because it's been of course a very tough season fighting against Mercedes and Lewis. But I don't want to sound arrogant or whatever, to say that it's a great satisfaction to win against him," said Verstappen.
"I just have a lot of respect for him, and I know he's an amazing driver in terms of what he's achieved but I'm just very happy that we won it."