Hamilton questioned about Rosberg's 'soft' criticism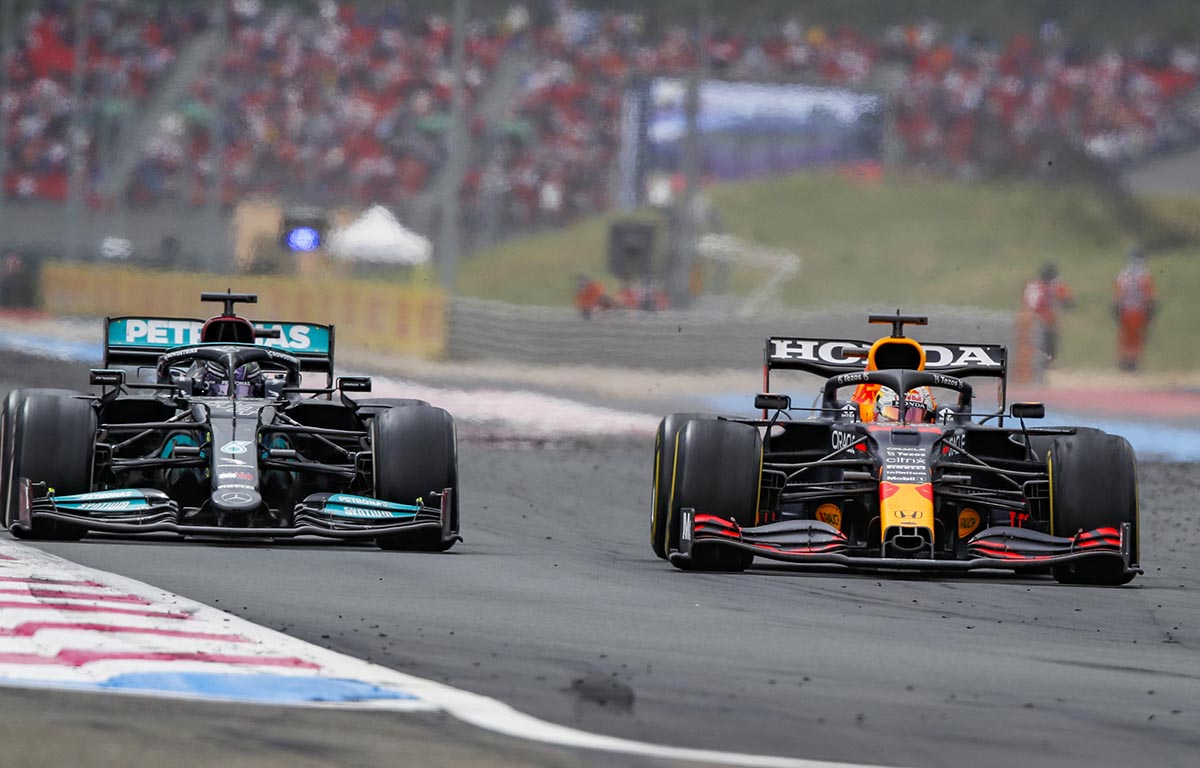 Following criticism from his old foe Nico Rosberg, Lewis Hamilton has said it was "pointless" defending harder against title rival Max Verstappen.
Hamilton found himself on the opposite side of the same situation which unfolded back at round four in Barcelona, having to defend himself from a two-stopping Max Verstappen who was able to cruise past on the penultimate lap of the French Grand Prix.
Hamilton's overall defence from the hunter Verstappen drew criticism from Sky F1 pundit Nico Rosberg as he felt his former team-mate was too "soft" in giving up the lead.
A penultimate-lap pass for the lead in front of fans just hits different 🤤#FrenchGP 🇫🇷 #F1 pic.twitter.com/IPdYWtkCn1

— Formula 1 (@F1) June 21, 2021
Check all the latest 2021 teamwear via the official Formula 1 store
"Unusual from Lewis…close the damn door, no? Usually Lewis is like the best one-to-one racer and I'm surprised he didn't try," Rosberg said.
"At least try and brake late and keep him on the outside, so a bit soft there from Lewis somehow."
The very first question put to Hamilton in the post-race conference from the press was inevitably about Rosberg's comments, but Hamilton did not think there was anything particularly weak about his defence.
"Firstly, there's marbles on the inside, so I didn't want to make my tyres any worse than they already were," Hamilton said when explaining his actions in the closing stages of the French Grand Prix.
"He had the DRS open, so if he didn't pass me there, he would have passed me the straight afterwards, so it would have made zero difference and I just had no front end, so he would have got me either way.
"It was pointless to defend any harder. I think you saw what happened to Valtteri – just ended up going straight on.
"So, there was no point messing up the tyres any more.
"Two-stop, probably… two-stop would potentially have done the job but it was not on the cards at all for us, so we'll do some analysis and try to figure out why."
But even if Hamilton had been switched to a two-stop, he still thinks it would have been very difficult to hold off Verstappen and Red Bull.
"I'm sure if we look, with hindsight, for sure if we had stopped earlier, before they had stopped, come out ahead, and just gone onto a two-stop, probably could have won the race – but it would have still been very difficult.
"Their pace was generally very, very strong. I was able to keep them at bay when he was behind me but if he had not made a mistake in Turn 1, they would have just led the race all the way, probably."
Follow us on Twitter @Planet_F1, like our Facebook page and join us on Instagram!