Hamilton expecting Bottas or Max 'to fly past'
Lewis Hamilton may be on pole position for the 2020 Russian Grand Prix but he is not feeling particularly confident about converting that into a race win.
Hamilton has the chance to equal Michael Schumacher's record of 91 wins in Formula 1 but a different tyre strategy and the long run to Turn 2 at the Sochi Autodrom has the six-time World Champion concerned.
The Mercedes driver was forced to start the race on the soft tyres as he was suddenly put in a race against time in Q2 on Saturday. He had his first Q2 lap time deleted after exceeding track limits and a red flag following Sebastian Vettel's crash forced a mad scramble to the start/finish to get another lap in before the cut-off point. He made it with 1.25s to spare
With Max Verstappen and Valtteri Bottas, lining up from P2 and P3 respectively, able to start on the harder mediums, Hamilton is feeling a little vulnerable.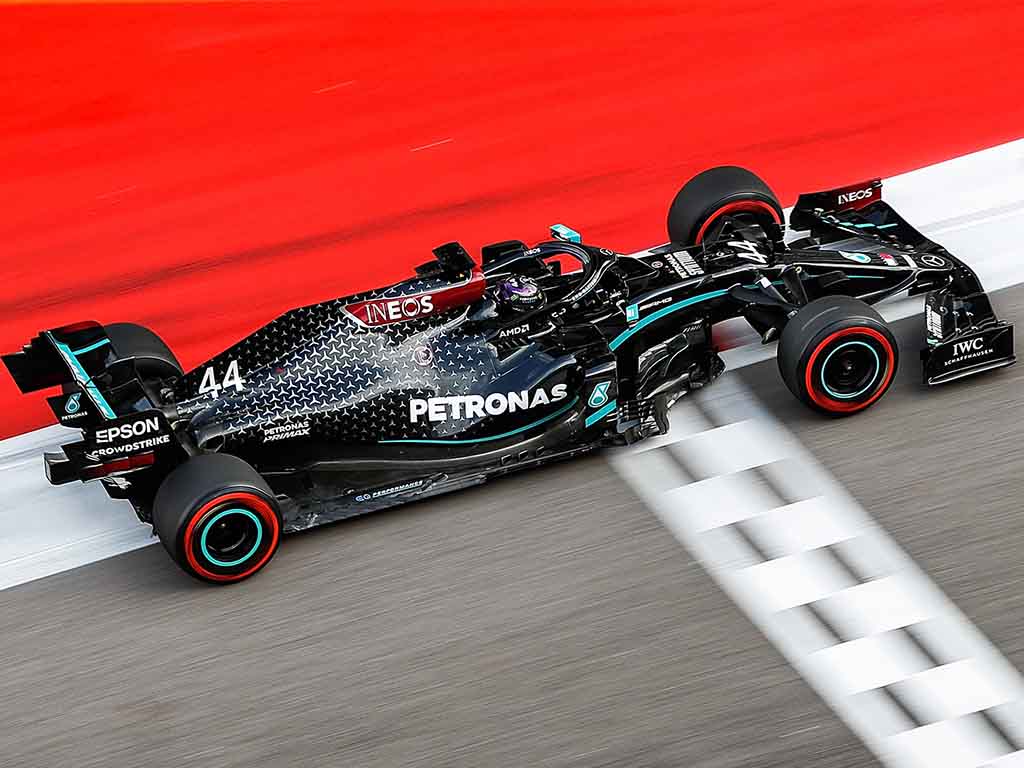 Get your hands on the official Mercedes 2020 collection via the Formula 1 store
"It's not a good place to start at all," Hamilton told reporters in Sochi.
"I think this year you're seeing our cars are more draggy and there's more tow this year than we've seen in other years, so yeah I generally expect one of these two to come flying by at some point.
I think I'm just going to focus on my race and just try to run the fastest race I can.
"Obviously I'm on the worst tyre to start on the race but generally it's a good tyre to do an actual start but it has the biggest degradation, ten times more than any other tyre, I think it is. So that's going to be a struggle.
"I don't know if that puts me onto a two-stop, I don't know, unlikely because the pit lane is too slow, so I'm just going to have to nurse those tyres as far as I can.
"These guys, if they get by, they're going to be pulling away so going to sit down and try to figure out if there's a different kind of race I can do to keep my position."
Follow all the action from the Russian Grand Prix with the PlanetF1 live centre