Lewis Hamilton on his role in arranging Sebastian Vettel's farewell dinner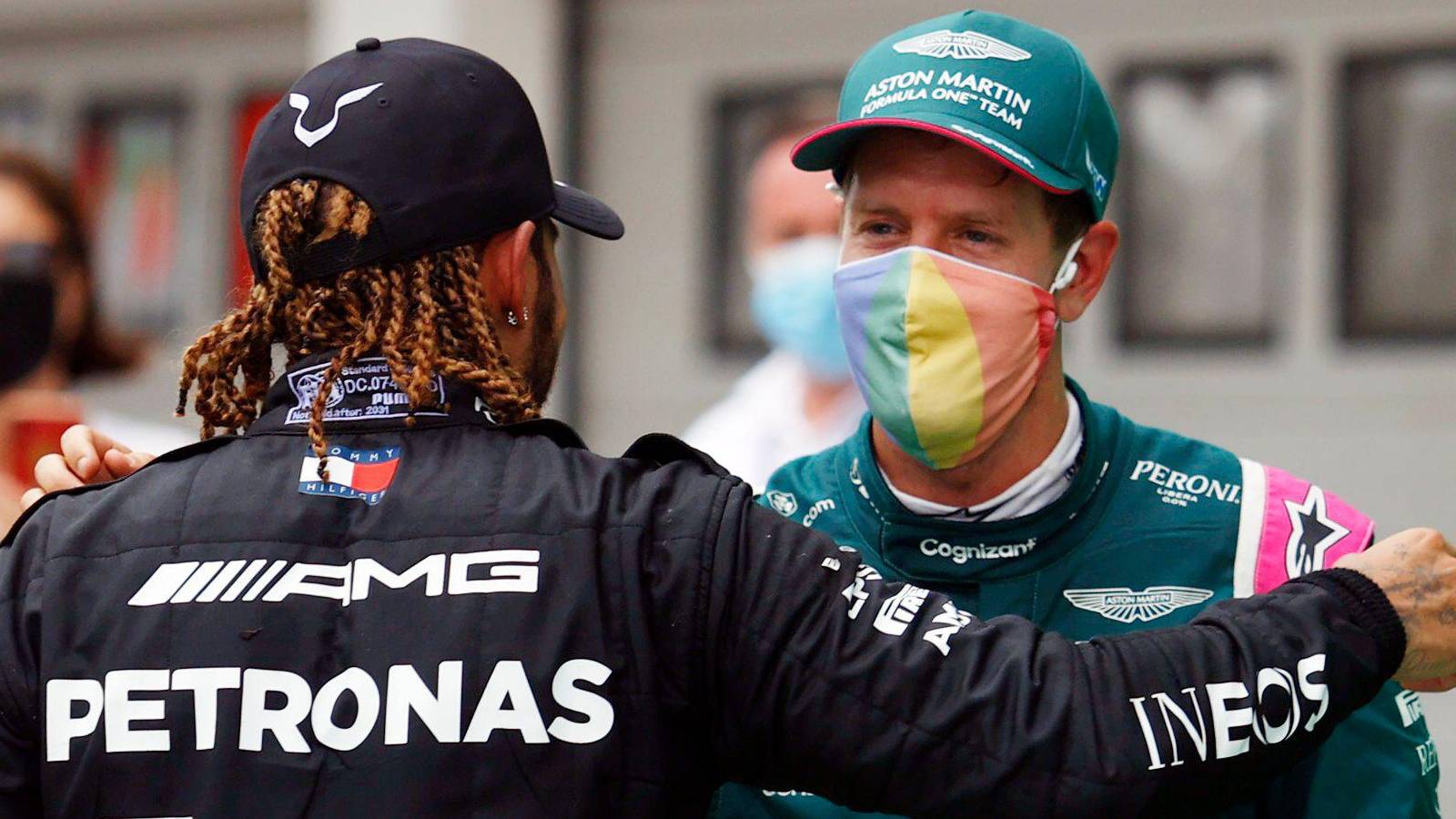 Lewis Hamilton believes it was "really important" for the Formula 1 drivers to break bread with Sebastian Vettel one last time, applauding his former rival as a "great leader".
Vettel said farewell to Formula 1 at the season finale in Abu Dhabi, the Aston Martin driver having made the call mid-season to hang up his helmet.
In a show of unity, his goodbye had all 20 drivers sitting down for one last supper on the eve of the Yas Marina race.
Organised by Hamilton, who according to Alex Albon also picked up the cheque, photos from the night show a group of people smiling and happy, one could even use the word friends.
Hamilton reckons it was the most camaraderie he has ever seen in his 16 years in Formula 1.
"I think it was really important, so that's why I asked the group in Mexico whether they would be open to all doing a dinner to give Seb a farewell," said the Mercedes driver.
"We haven't had a dinner since years ago in China [2016]. It was the best evening. Everyone was laughing so much, great stories – Seb is a great leader.
"He made a great speech, really trying to hand down some of the experiences he's had over these years, particularly to the younger guys because they are the future.
"We had that photo and it was the most harmony any driver group has ever had, I would imagine – maybe not in history because there are images of others many years ago but definitely in these 15 years.
"Afterwards, we were like 'let's do it all the time'.
"Maybe we'll make it an annual thing here. Maybe we'll add another one in the year, perhaps.
"There's also just a lot we can do as the GPDA as a united group. We have a responsibility, we've got a great platform, each and every one of us collectively.
"It's encouraging…collectively there's a lot of things F1 needs to push forward on action-wise. We're doing a lot of things and sustainability but really making sure we're pushing through and doing our absolute best and maybe the GPDA can have a role in that."
Long may the comradeship continue
Two years ago, former driver turned pundit Martin Brundle spoke about the friendships among Formula 1's new generation of drivers, saying it was rather confusing to him.
Racing in an era of driver feuds and rivalries, he said: "I don't get it at all, today's Instagram-driven world, joking with each other.
"Best friends, how can that last? How can you be such an intense rival?
"We had friendships in the past but eventually that would be broken because you would end up fighting over the same corner at the same time."
But that is what makes this current generation of Formula 1 drivers so unique.
They have shown time and again they will race hard, they will put their elbows out, they are even willing to cause a collision so that next time the other driver knows to leave space. They will do exactly what yesteryear's drivers did on track, and then go for a beer off it.
There are plenty of photos on social media of various drivers, rivals on the track, celebrating the off-season off it.
Long may it continue.
Ironic, isn't it though, that while the drivers leave the rivalry behind when they take off their helmets, their fans don't.
Read more: Lewis Hamilton 'blown away' as his Extreme E team pips Nico Rosberg to title