Lewis Hamilton: Sebastian Vettel 'one of few who made sure I didn't feel lonely' in F1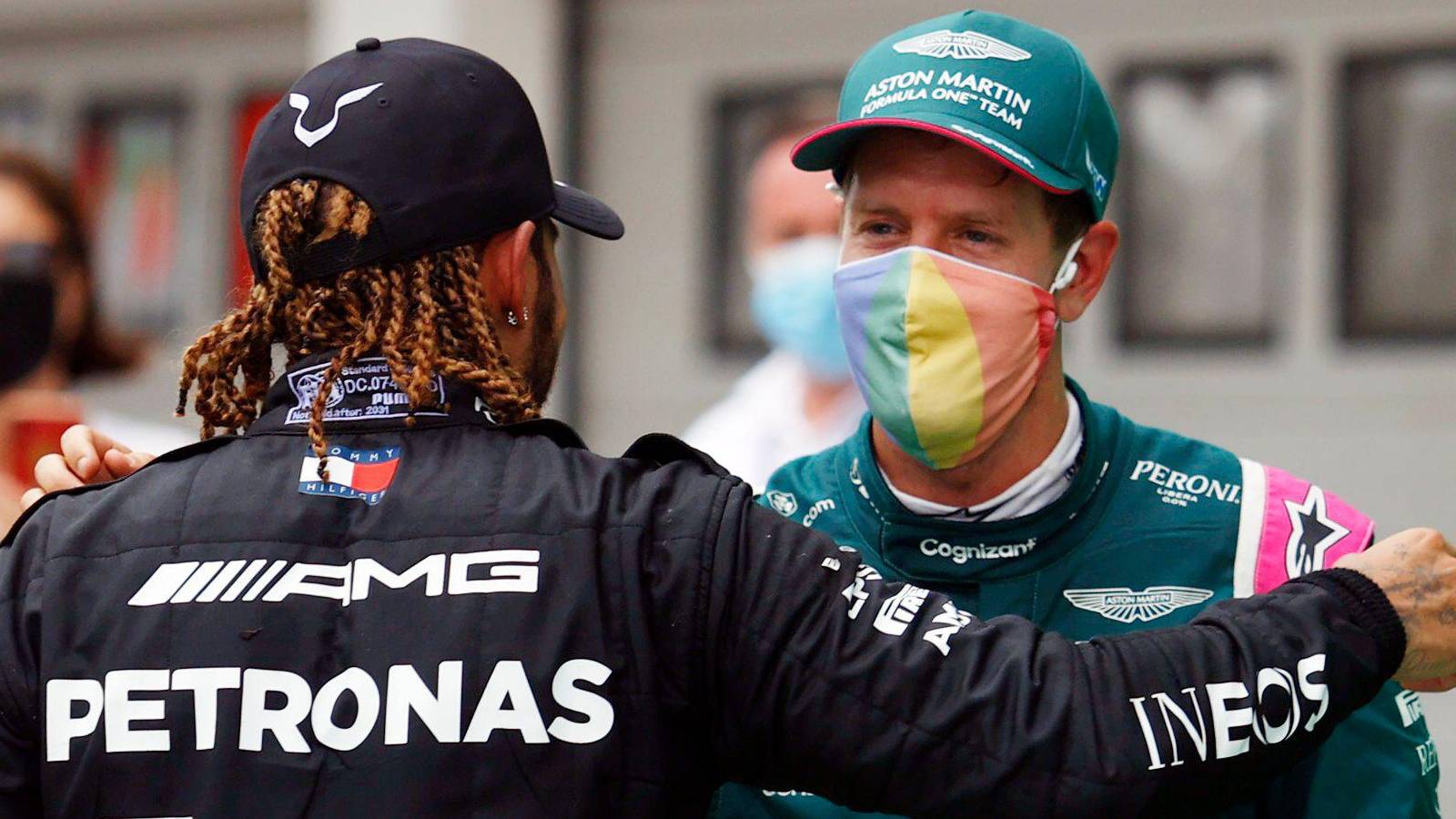 Lewis Hamilton says that in what has been a rather lonely Formula 1 journey, Sebastian Vettel made sure it did not feel that way.
Hamilton and Vettel debuted in Formula 1 in the same season, Hamilton contesting his rookie campaign with McLaren in 2007, while Vettel made his debut at the United States Grand Prix with BMW Sauber that year.
Between them the pair have now won 11 World Championships, seven of those going Hamilton's way and four belonging to Vettel.
But come the end of 2022, Vettel will bow out of Formula 1 after announcing his retirement. Hamilton will certainly be sad to see him go.
Asked if he would remember Vettel more as a person than as a driver, Hamilton, quoted by Motorsport-Total.com, said: "Yes, one hundred per cent. I kind of knew it was coming, because there were hints, but the implementation is another thing.
"It saddens me, of course, first of all that he's quitting. When I talk about the journey I've had in this sport, which I've often found to be relatively lonely, I would say he's one of the few people who made sure I didn't feel lonely. He stood by me through a lot of things.
"I remember the press conference at Magny Cours in 2007 and how he was very, very open during the drivers' briefing. I knew then that he would be a strong personality in this sport. He put others before himself and was so brave to speak his mind and stand up for what he believes in.
"We talk about legends in our sport. I don't really like that title, to be honest, but I think he is one of the greatest people we have seen in this sport. And we need more like him."
Hamilton describes Vettel as "an ally with the sport", the pair over recent years having established themselves as the main voices on the Formula 1 grid pushing for change. Hamilton more generally has advocated for greater diversity in the sport, with Vettel highly vocal on environmental and social issues.
"But I know he will do great things outside the sport," Hamilton continued. "And I hope we will always be friends. I hope we can do other things together outside of racing.
"I think when you're focused on winning championships, of course when we were younger, we didn't have time to stop and talk about what we were doing in our own lives or what was important to us.
"And so over time we started seeing each other, taking those bold steps and standing up for things we believe in. He's been very supportive. I think I've also supported him and realised that we have a lot more in common than just the passion for driving.
"He was the one who really stepped into the uncomfortable light and tried to do something with the platform that we have. And I think that to me is why he is so different from all the other drivers that have been here. Then and now."
As for Vettel's on-track credentials, Hamilton recalls his past battles with Vettel, where the latter proved to be "just incredibly fast".
"He's very, very intelligent," Hamilton added. "A very good engineer, I think. Very, very precise on the track.
"He was just a great, all-round competitor. Very fair, but also very strong and determined on the track. He was never one to blame others for mistakes. He always raised his hand and said it was his fault, which I always thought was honourable."
Read more: Find out where Vettel ranks in part one of our mid-season driver rankings.
Hamilton and Vettel have been a fantastic combined voice pushing Formula 1
Both drivers hold clear beliefs on many of the same things, whether it be racial or social matters, or environmental concerns too.
Yet, the pair have seemingly managed to co-ordinate their activism to ensure that pressure is applied to Formula 1 on all fronts.
Hamilton generally has been pushing for a more diverse pool of personnel in the series, putting his money where his mouth is through initiatives such as Mission 44 and The Hamilton Commission.
Vettel meanwhile has been busy with environmental projects, such as building a bee hotel in Austria, while closer to home he has been pushing Formula 1 to make their next generation of power units more road relevant, with the series set to introduce a sustainable, carbon neutral fuel to power these engines from 2026.
He conducted a demonstration run in Nigel Mansell's title-winning Williams using a fully sustainable fuel at Silverstone.
The German racer also has not been afraid to ruffle a few feathers, wearing a Miami under water shirt at the inaugural staging of the event to raise awareness of climate change, while his 'Canada's climate crime' helmet was another example.
He also was one of the drivers hit with a reprimand for wearing a rainbow t-shirt sporting the phrase 'same love' at the 2021 Hungarian GP, showing support for the LGBTQ+ community following legislation imposed in the country.
With Vettel then preparing to depart Formula 1, it potentially leaves a void on the environmental and social fronts, unless Hamilton takes over the baton.
Vettel rated 7.5/10 for Hungary recovery
An eight-place rise for Sebastian Vettel was overshadowed by confirmation of his retirement.