Mercedes explain starting tyre process amid Lewis Hamilton radio complaints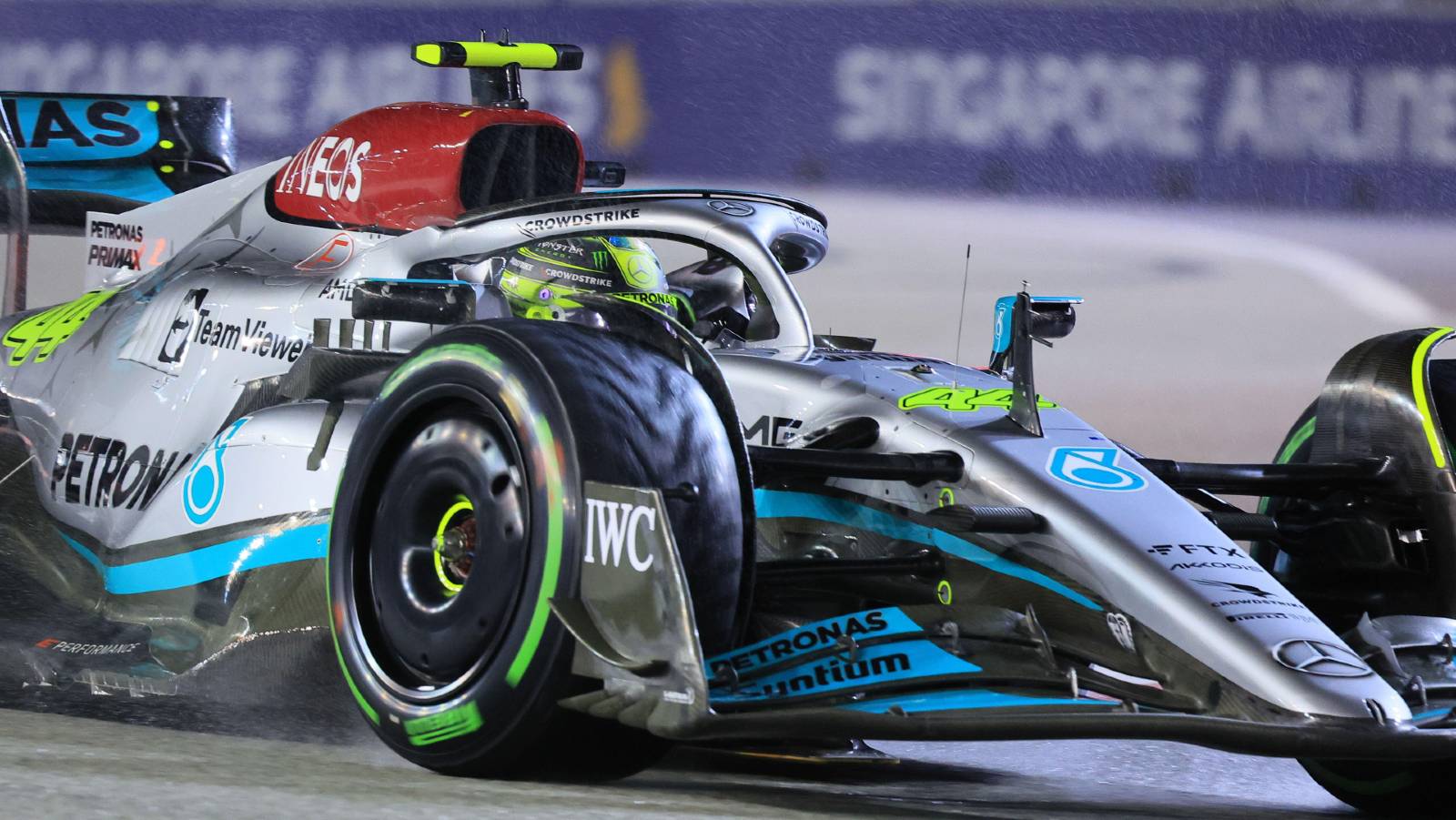 James Allison has revealed the way the team came to a conclusion on which tyre on which Lewis Hamilton would start at last weekend's Singapore Grand Prix – with the Mercedes driver having felt their choice was the incorrect one.
The seven-time World Champion qualified in a season-best third for Sunday's race, and he had been in contention for a podium position running behind Ferrari driver Carlos Sainz.
Hamilton was not best pleased with starting on new intermediate tyres on Sunday, though – complaining they had not given him the grip he needed in the early laps, which he felt scrubbed tyres would have provided.
As a result, Hamilton told the team "you need to listen to me" when it came to his tyre choice at the race start, but the team's chief technical officer explained why they ultimately went in a different direction.
"Well, I can take a couple off the table straight away," Allison said in Mercedes' post-race debrief when asked what other options Hamilton had at the start in Singapore.
"It was way too wet for us to remotely consider using a slick tyre. Similarly it was nothing like wet enough for us to start on the extreme wet rubber.
"So the only choice was intermediate and the only discussion was what flavour of intermediate we should be putting on the car.
Oh, how we've missed Suzuka over the past couple of years 😍#JapaneseGP 🇯🇵 #F1 pic.twitter.com/uMxLjFO0V8

— PlanetF1 (@Planet_F1) October 3, 2022
"Two choices: You can either go out with brand-new rubber, fresh, fresh rubber or you can use a used intermediate.
"One that has had some scrubbed work done on it in some previous laps. Now the two options give you slightly different things. The brand-new rubber is going to give you your best chance off the line at the start itself.
"It's going to give you your best jump, it's going to give you your best chance into the first corner.
"The scrubbed rubber however will probably just find its feet a little bit more sure-footedly in those opening laps of the race, it will let the driver feel more comfortable straight away.
"In the end collectively we discussed it back in the garage before the race and we decided on the fresh intermediate approach being the correct one and that indeed ended up being the choice made by all those around us immediately on the grid."
Hamilton and George Russell only managed two points between them at the weekend after his team-mate finished out of position in P14, having failed to make headway after being knocked out in Q2 on Saturday.
Hamilton, meanwhile, slid off into the barrier at Turn 7 halfway through the race. He was able to reverse out and carry on, but dropped down to an eventual P9 placing.
The Japanese Grand Prix has come around quickly however, but given the characteristics of the Suzuka layout, Toto Wolff admitted a repeat of Hamilton's top-three qualifying position from Singapore is looking unlikely.
With the fast, sweeping corners Suzuka is famed for, Wolff acknowledged the W13 will be stretched this weekend.
"There are still five opportunities to score good points and end the year strongly," said the Mercedes team boss.
"Suzuka will give our package some challenges, and it will be hard to repeat the qualifying performance we saw in Singapore – but I hope that will be balanced out with a stronger Sunday afternoon.
"F1 hasn't been to Japan since 2019 and the team is really looking forward to being back. It's such a special track; one of the most challenging for both man and machine. And we've missed all the brilliant Japanese fans, too."
Read more: Sebastian Vettel questions merits of Jos' tough-love raising of Max Verstappen