Hamilton: 'Not the quickest but we're on our way'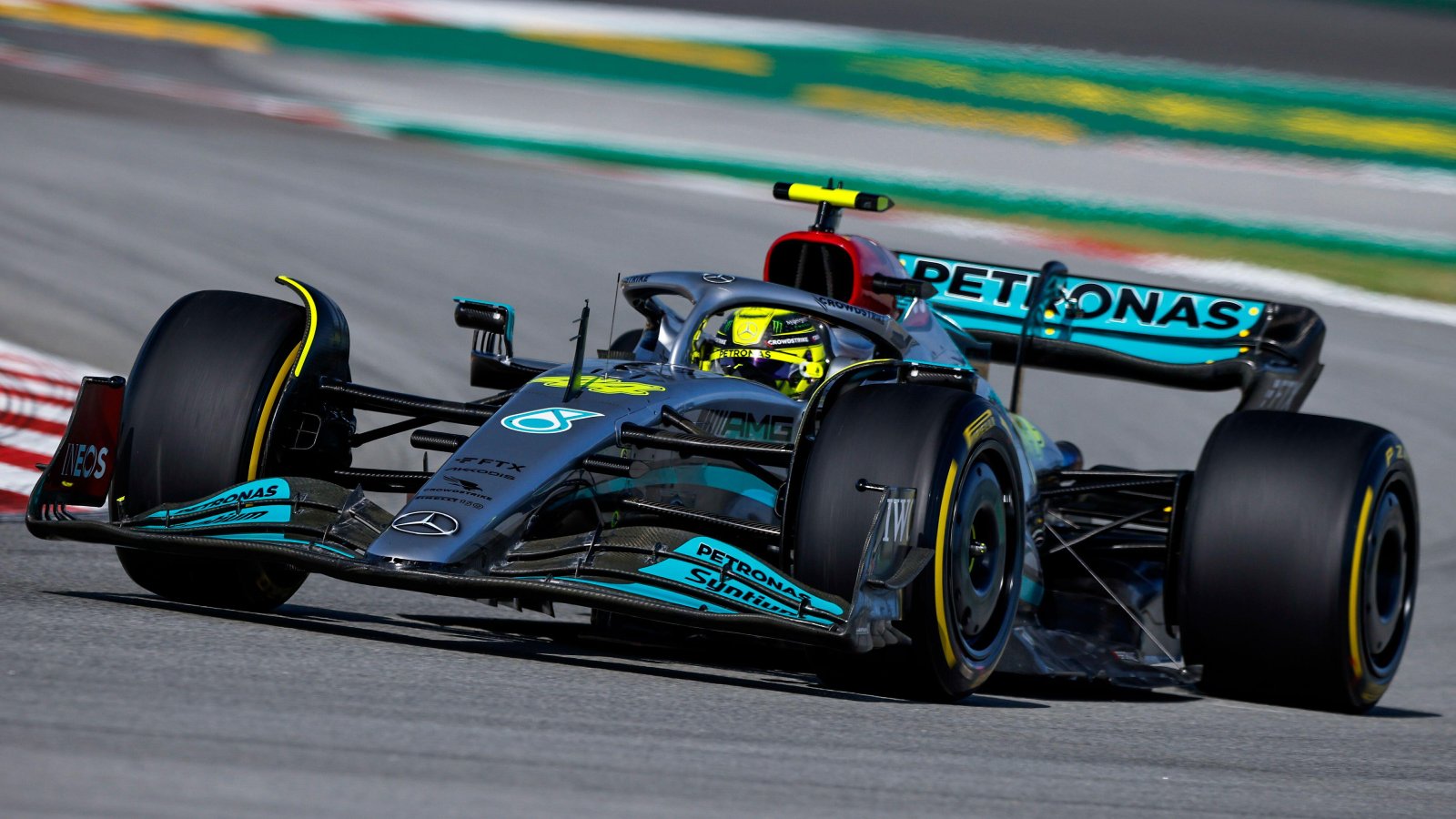 Lewis Hamilton said he thought Mercedes were "on their way" following a strong Friday showing from the reigning Constructors' champions at the Spanish Grand Prix.
Mercedes arrived in Barcelona with a car that had four upgrades on it in an attempt to turn the tide on a disastrous 2022 season so far.
The team finally seem to have gone some way to solving the porpoising issue that has so far hampered them, and were able to lower the car's ride height which in turn improved its speed.
Speaking after he finished P3 in FP2 with his team-mate George Russell in P2, Hamilton conceded they were still not the quickest but he believed the team were "on our way".
"Super-happy with the progress so a big, big, big, big thank you to everyone back at the factory for not giving up and continuing to push," Hamilton told reporters post-FP2. "We are not the quickest but I think we're on our way.
It's decision time for Mercedes in Spain
Mercedes have had a tough start and, with upgrades due, the time has come to see if they can claw back any pace.
"It's the first time we've driven down the straight without bouncing. We still have some bouncing but it's way better and so we are starting to eke into the potential of the car."
Hamilton was also asked if Mercedes' lack of sidepods was something that will continue considering others had had more success with sidepods, but he admitted he did not know.
"I think it's interesting to see some of the others who have gone a different route," he said. "It would be interesting to find out if it gets better for them or not. But we still have improvements to make and that still raises the question whether we go that route at some stage. At the moment, we are just focusing on this."
His boss Toto Wolff was also happy with the progress the team had made and said he was "really proud" of the result.
"Both companies have worked so hard," Wolff told Sky Sports F1. "Brixworth has really gained land against the other power unit manufacturers and it's fantastic to see that – I'm really proud.
"On the chassis side, we are getting there. We have a second solid Friday like we had in Miami.
"We just have to see, when the grip keeps coming tomorrow, whether we are able to keep that kind of performance and at least be in the mix or solid in the top three."
Despite the progress, Wolff said there was still work to do and that it was not "exuberance and ecstasy".
"It's better, but still not that the drivers feel comfortable in the high-speed Turn 3 [and] Turn 9. We are losing a lot of time and we just need to find out what we can do there tomorrow.
"[We've made] progress but not exuberance and ecstasy."