Lewis Hamilton has praised Valtteri Bottas for keeping him "honest" as he pipped his Mercedes team-mate to P1 on the Spanish Grand Prix starting grid.
Hamilton secured the 92nd pole position of his career and his fifth at the Spanish Grand Prix after his initial Q3 lap – a 1:15.584 – remained unbeaten throughout the final session.
Just 0.059s split the Mercedes pair at the end of Q3 and that margin was out of Hamilton's comfort zone.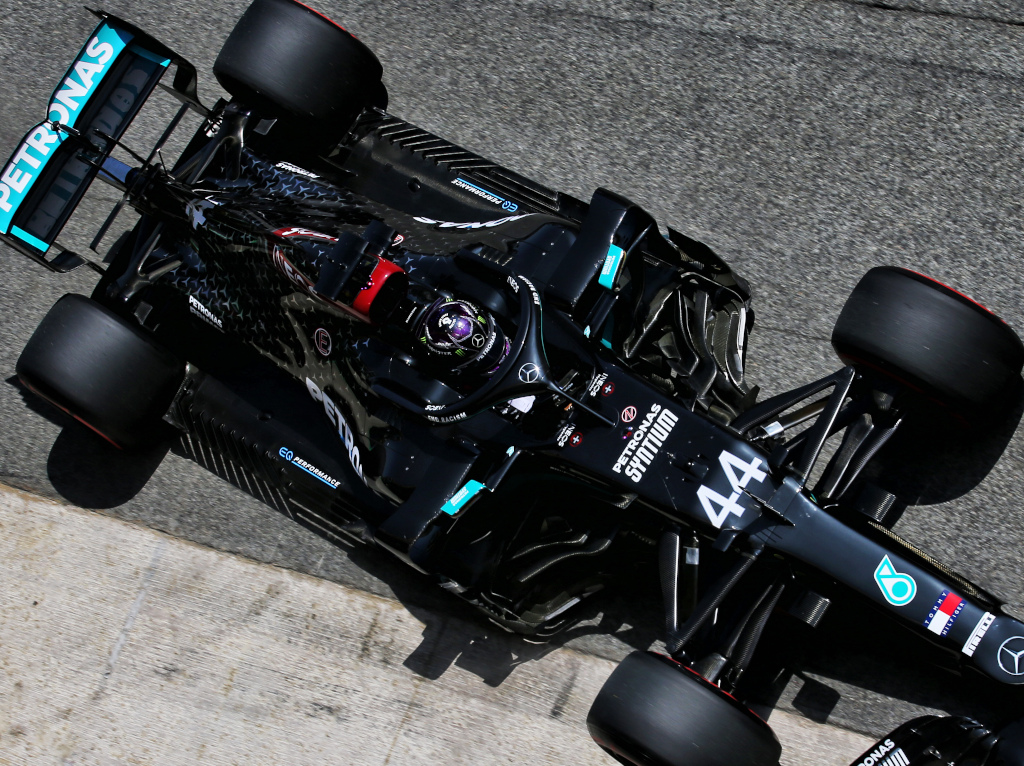 "I was feeling really strong when I came here," Hamilton said back in the paddock.
"It was nice to see through the qualifying sessions that I generally had the upper hand on Valtteri, who is exceptionally quick in the qualifying lap.
"He has worked so hard on simulator, has studied a lot over these years and is just getting stronger and stronger. It then gets harder and harder for me to raise the bar.
"He keeps me honest and today was little bit closer than I would have liked. I like to have a good tenth-and-a-half, two tenth gap to whoever it is next to me."
Hamilton will have Bottas for company on the first row, while Red Bull's Max Verstappen will be poised to strike from P3 on the long run down to Turn 1 at the Circuit de Catalunya.
"I couldn't go quicker on my second lap," Hamilton reported. "I thought I could but it just wasn't a great lap. The first one was decent, I guess, and it did the job thankfully.
"The team has done an amazing job and we are constantly learning. I was here with the guys until 10pm last night just looking through the details, and seeing where we can get better for the race because these Red Bulls are super fast."
"There is such a long way down to Turn 1 here so the job's not done that is for sure.
"It is very hard to follow here so the positioning is good but it will be hard from pole position and that's what I've got to work on and do the best I can."
A 5️⃣th pole at @Circuitcat_eng! 💪

Can @LewisHamilton covert it to a 5️⃣th win in Barcelona on Sunday? 🤔 #SpanishGP 🇪🇸 #F1 pic.twitter.com/4F80ot3x2J

— Formula 1 (@F1) August 15, 2020
The revised 2020 season means the Spanish Grand Prix is taking place slap bang in the middle of summer as opposed to the cooler May conditions and Hamilton says the physical struggle is a real challenge.
"Physically it's tough," says Lewis Hamilton. "It's the fastest we've ever been round here so the forces through your body are pretty intense.
"The amount you are able to brake now, it is even heavier than before so there is a lot of stress on your core.
"You are flat out through Turns 3 and 9 so a lot of stress on your neck too. Your whole body just wants to move to the side of the car and as it is so hot you have to be even more careful on the throttle because you can overheat the rear tyres.
"Balance wise, it's quite windy. We've got a headwind going into Turn 1 which is pretty good but that becomes tailwind going into Turn 4, 9 and 10. There are corners where you know you can push and some where you can't.
"You are still trying to find that limit and that's when the car wants to just snap away.
"But we all go through that and I have a huge amount of respect for the guys here who are battling similar issues."
Follow all the action from the Spanish Grand Prix with the PlanetF1 live centre