Hamilton already calling for sprint qualifying changes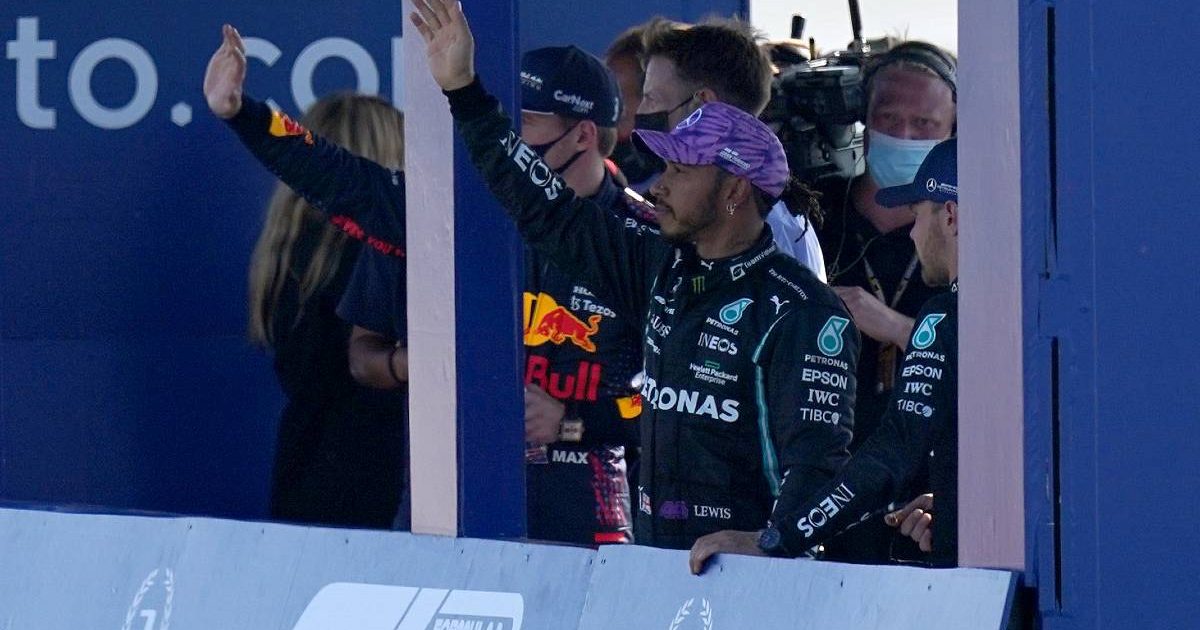 Lewis Hamilton suggested sprint qualifying might need tweaking after finishing second on the format's debut at the British Grand Prix.
The seven-time World Champion had started at the front of the grid for the 17-lap race that was officially not a race, but after a slow start in which he was passed by Max Verstappen he ran behind his Red Bull rival to the chequered flag. That means he will start second for the grand prix, swapping grid placings with Verstappen.
In the build-up, Hamilton had expressed fears that sprint qualifying would be "a train" with little excitement for the packed crowd at Silverstone. In truth, the vast majority of the overtaking occurred further down the field – after Verstappen's initial pass, the first four remained as they were.
Overall, Hamilton said he had enjoyed the different structure to the race weekend, with qualifying having taken place on Friday, but thinks it should be considered a work in progress.
"I don't know how it was to watch for the fans," said the 36-year-old Briton of the sprint qualifying event, speaking to Jenson Button on the newly-introduced 'victory lap' on the back of a sponsored truck.
"I think this weekend has been awesome in terms of yesterday was such a fun day to have qualifying on a Friday, way more enjoyable.
"I don't know whether that was the most exciting race or not but we should do more like that – maybe a different version of it in future because this makes the weekend more enjoyable, I think."
He gave it everything today. 💪 Amazing support out there Silverstone! pic.twitter.com/dU8mpd3EcR

— Mercedes-AMG PETRONAS F1 Team (@MercedesAMGF1) July 17, 2021
You can follow all the action from the brand-new sprint race weekend via F1 TV Pro! Subscribe here for the ultimate F1 viewing experience.
F1 TV Access, meanwhile, is available in over 30 territories and the full list of eligible countries can be found here. 
Falling behind Verstappen meant Hamilton's deficit in the World Championship standings increased slightly to 33 going into the actual grand prix with three, two and one point awarded to the top three finishers. Hamilton's Mercedes team-mate, Valtteri Bottas, crossed the line third.
"Every point counts," said Hamilton. "I'm grateful to have finished but they [Red Bull] are so strong. In the race he was pulling away and there was nothing I could do to hold on to him.
"We've really got to try and be in front somehow. They have done a great job with their engine – their starts are really great this year. We've lost a bit of performance on our starts, so we've got to work harder to try to improve that because losing positions is never a good thing.
"I hit target on my start but I wish we could re-do it again. But luckily we have it tomorrow.
"I gave it everything today. I'm sorry I wasn't able to get the win in Sprint 1 but tomorrow we fight again.
"It's not good when you lose from P1 but we'll try to turn a negative into a positive tomorrow. I'll come with my 'A' game."
Follow us on Twitter @Planet_F1 and like our Facebook page