Hamilton sold Max a 'dummy, and he went for it'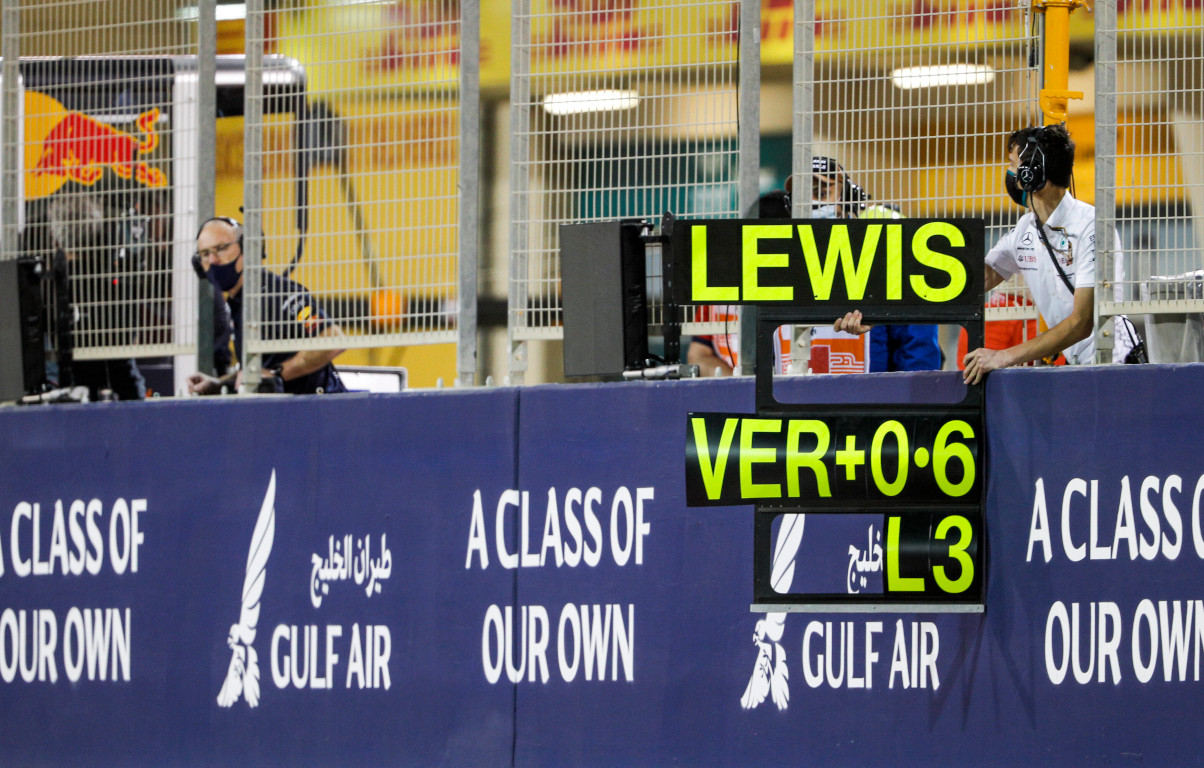 Winning the Bahrain Grand Prix against all the odds, Damon Hill says Lewis Hamilton "stopped the rot" that was threatening Mercedes' season.
Prior to Sunday's 56-lap Bahrain Grand Prix, 2021 wasn't looking all that good for Mercedes.
The team had a difficult time in testing, down on pace and also experiencing a few reliability problems. Unusual for the team that is normally so solid.
Fast forward two weeks and Mercedes did not top a single practice session for the Bahrain Grand Prix with Hamilton going on to lose pole position to Max Verstappen by three-tenths of a second.
24 hours later he made up for that.
The Brit put in what Hill reckons was one of his "greatest drives" to hold off Verstappen and take the win by 0.7s.
Speaking on the 'F1 Nation Podcast', the 1996 World Champion said: "I think this was one of the greatest drives from Lewis Hamilton.
"He never looked like a favourite all weekend, he didn't look like a favourite from before we got the launch of the car.
"Martin Brundle referred to his solemnness and grumpiness, it looked like there was a bit of a dispute going on and maybe it was not a happy camp at Mercedes.
"Then he gets to the circuit, does some testing, they had problems, it was all building up to be a case of 'oh dear, the pendulum has swung in the favour of another team'.
"I bet there were people who put money on Max Verstappen winning that race, but Lewis stopped the rot and that was an exceptional performance under pressure, being hunted down but keeping his cool.
"And when Max pounced, Lewis still had a couple of tricks up his sleeve."
Check out all the latest Mercedes merchandise via the official Formula 1 store
Like most Formula 1 fans, Hill thoroughly enjoyed watching Sunday night's battle.
The "young pretender" versus the seven-time World Champion, Hamilton outfoxed Verstappen as he drew him into making a pass that wasn't there to be made.
"I absolutely loved it, and what I love was the quality of the performances, all the way through the field, but especially at the sharp end.
"It was one of those defining races that they will talk about in years to come, because it set it up – It was like Michael Schumacher when he arrived in Formula One.
"Max Verstappen, the young pretender, against the established seven-times World Champion going for his eighth, Sir Lewis Hamilton, who was on spectacular form.
"I think Max will look back at this race and think about maybe how he could've done things differently, but nevertheless, he got suckered in. Lewis absolutely sold him a dummy, and he went for it.
"He went round the outside and Lewis knew exactly what he had to do. The moment Lewis moved to the right hand side, after passing the back marker, I thought – that's a bit strange. He's opening the door wide open for Max. But of course what he did was, he put Max back in a defensive position.
"It looked great going round the outside of Lewis Hamilton, very tempting offer – thank you very much, but of course Lewis knew all he had to do was use up all the track and squeeze Max.
"And then Max had the pressure on him, as he knew he had to give it back, and maybe he gave it back a little too soon. He will be going home now and actually thinking to himself 'damn, damn – I should've done this, I should've done that.'
"Lewis meanwhile will be thinking 'gotcha' – he's still got a few more things to learn."
Follow us on Twitter @Planet_F1 and like our Facebook page.