Hamilton's Styria GP pole 'one of his best ever'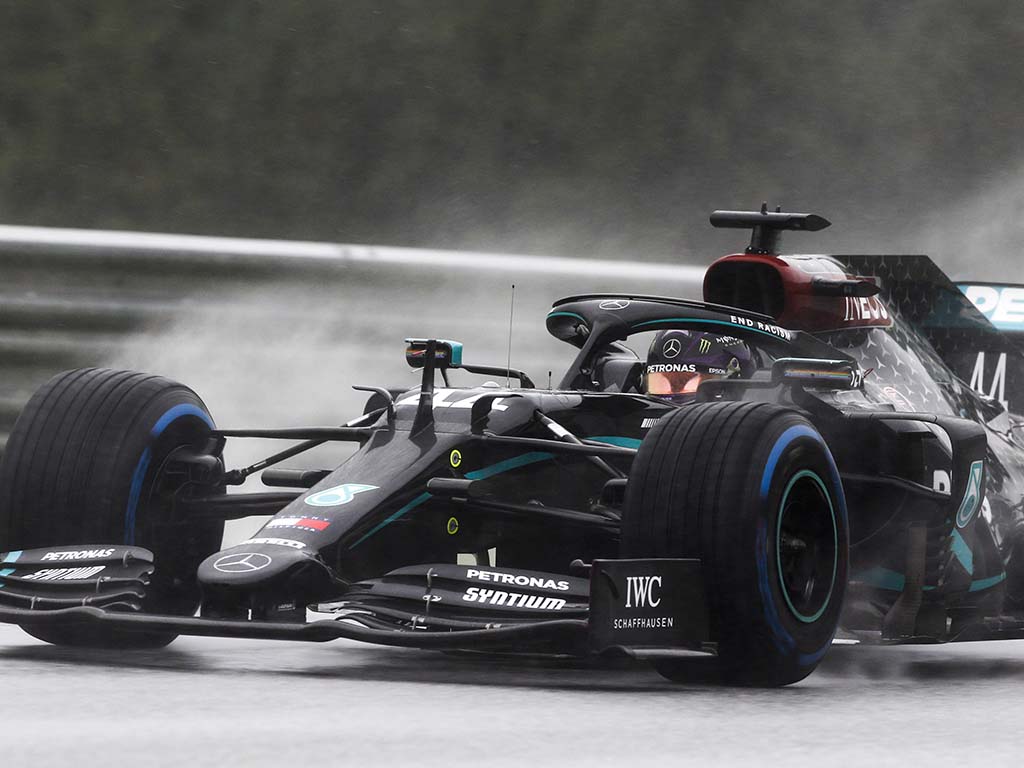 F1's sporting boss, Ross Brawn, has labelled Lewis Hamilton's pole lap at the Styrian Grand Prix as one of "his best ever" during his career.
Hamilton's 2020 season did not get off to the strongest of starts as he was knocked off the podium by Lando Norris on a weekend where he received a three-place grid drop for not slowly sufficiently for yellow flags in qualifying and a five-second penalty after the stewards deemed he caused a collision with Red Bull's Alex Albon.
But he responded, as he so often does after a bad weekend, with a trademark dominant performance that was kick-started with a jaw-dropping pole lap in treacherous conditions which was 1.2 seconds faster than his nearest rival Max Verstappen, who did look like he was about to take a little chunk out of the gap before he spun out on his final Q3 lap.
Nevertheless, the gap between P1 and P2 was larger than the gap that covered P2 to P10 and Brawn was full of praise for the six-time World Champion.
In treacherous conditions Lewis Hamilton averaged 196.091 kph (121.845 mph) on his pole lap

🤯🤯🤯@pirellisport #PirelliHotLaps #AustrianGP pic.twitter.com/UPA963nEkR

— Formula 1 (@F1) July 11, 2020
Head on over to the Formula 1 store for all your official Lewis Hamilton merchandise
"Lewis has been particularly impressive this weekend," Brawn said in his post-Styria Grand Prix column.
"You could see he was disappointed with how the season opener played out, but as he has done on so many occasions, he didn't let it get to him and simply got his head down and worked hard.
"His lap on Saturday was unbelievable and one of his best ever, given the treacherous conditions. To be that far ahead of anyone in those conditions was truly extraordinary.
"That lap put him in a position to dominate – and he didn't miss the opportunity."
Hamilton secured a lights-to-flag victory on race day and Brawn suspects that he and Mercedes were even holding back on performance – an ominous sign for their rivals.
He added: "Mercedes were very impressive at the Red Bull Ring and have once again demonstrated that they are the team to beat – but it is also clear they were managing their cars during the race, particularly after they encountered gearbox issues last time out in Austria.
"I suspect they had a little bit more in reserve, because of the need to stay off the kerbs and be a bit less aggressive with the cars during the race, and that in itself must have their competitors worried."
Mercedes boss Toto Wolff reserved his own high praise after witnessing Hamilton's special pole lap.
"Very rarely do you see performances that are just not from this world," he said.
"When you look at the onboard of his lap, he was balancing the car on the edge, aquaplaning, throttle control was incredible.
"I can't remember that I have seen 1.2 seconds between first and second.
"I think driver and car merge into one, where a perfect car with the tyres in the right window, and perfect drivability on the power unit come together with skill and intelligence of the racing driver.
"Only then do you see this kind of performance."
Follow us on Twitter @Planet_F1 and like our Facebook page.