Hamilton 'switched off' after title-sealing win
Lewis Hamilton said he simply "switched off" after the Turkish Grand Prix, meaning the achievement of a seventh title hasn't "sunk in".
Despite qualifying P6 at the Turkish Grand Prix Hamilton was able to recover from a shaky start to master the wet and slippery conditions at Istanbul Park, making the one-stop strategy work to perfection to claim victory.
But not only was that win number 94 of his career, it was also the victory which made Hamilton a seven-time World Champion, putting him level at the top of the sport with Michael Schumacher.
However, that is yet to really sink in since Hamilton "switched off" after the event, so much so that he is now trying to catch up on his extensive collection of fan mail.
"I've generally just switched off, it's been really bad in the sense that I've got a lot of messages and I'm trying to catch up now," he told reporters ahead of the Bahrain Grand Prix.
"I'm super-grateful for all the messages I got but people are probably wondering why I've not got back to them just yet. I heard there were lots of positive reports back home in the UK, but I'm just focused on trying to be present and enjoy the period of time.
"It was definitely a lot different compared to other years when we've been successful because you can be around people, but nonetheless I'm still grateful for it. I don't think it's sunk in yet, probably because we're still racing and still keeping one eye on the job."
Hamilton said that he will maintain full focus on getting the best results he can out of the remaining three races, because that's how he is "wired".
"It's in my DNA, it's how I'm wired, I love that challenge," he said.
"We're coming into three races where the pressure is different but the focus now – yes, it's getting the best performances out of these weekends, but it's how can we extract a little bit more, how can we learn more from these weekends, almost use them as test races, so that we can apply what we learn in these three particularly, and what we've learned this year, into next year's car?"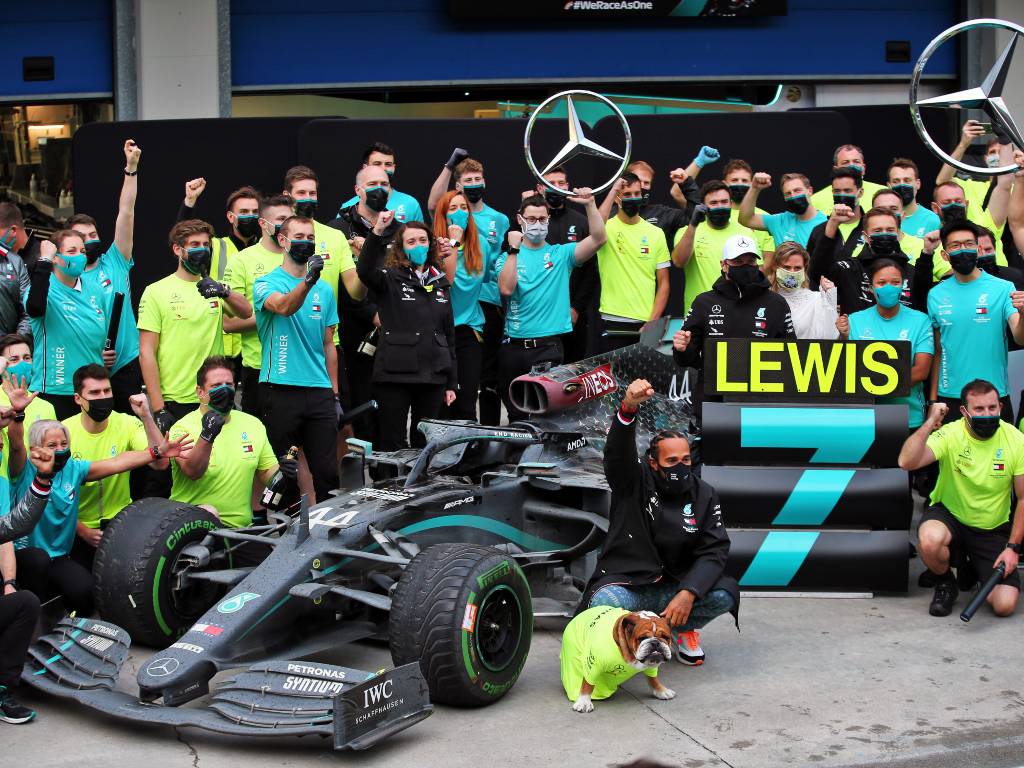 Get your hands on the official Mercedes 2020 collection via the Formula 1 store
Heading into Bahrain many fans would have hoped that Hamilton's team-mate Valtteri Bottas could have kept the title fight going, but Hamilton defended the Finn, saying that he has taken a big step forward in performance this season.
"It's not easy being my team-mate. He's getting stronger. The media already talked about a 2.0 version. He has now completely closed the gap in qualifying," Hamilton explained.
"He's very consistent. He's had some reliability issues and that's made all the difference this year. You just have to give him credit. He never complains, he always says, 'I have to do better.' I don't see that in other drivers. He's one of the best drivers here."
Follow us on Twitter @Planet_F1, like our Facebook page and join us on Instagram!