Lewis Hamilton expands on feeling like he is a target for Max Verstappen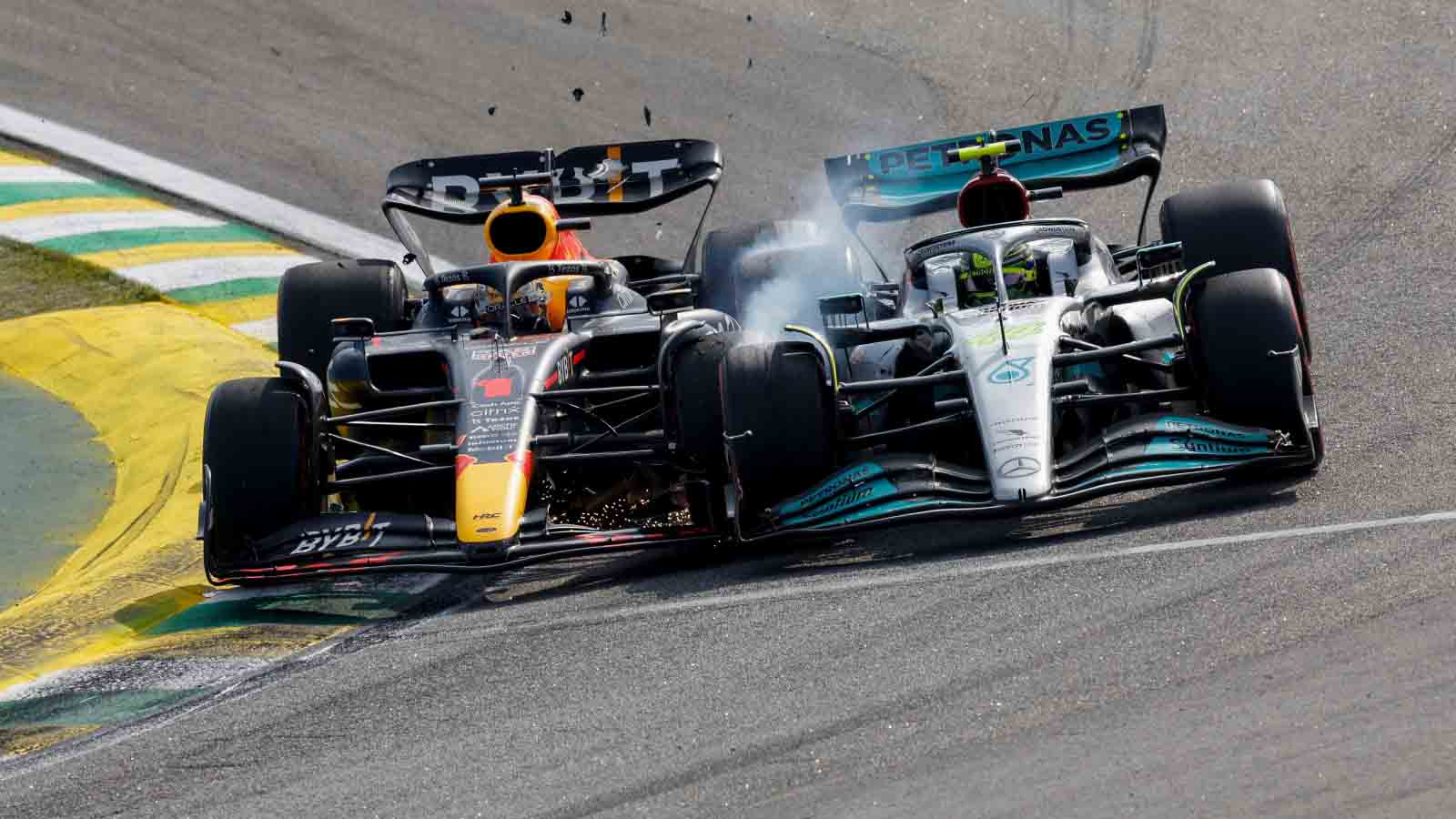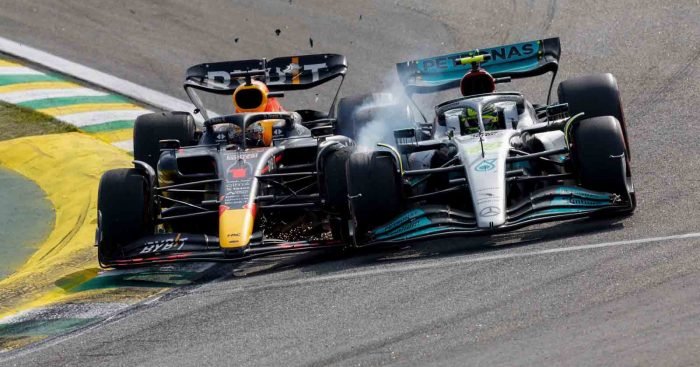 Mercedes' Lewis Hamilton has said he 'isn't fazed' by feeling as though he is a target for Max Verstappen on-track.
Lewis Hamilton has said he has no concerns about feeling like 'a target' for Max Verstappen, following their late season clash in Brazil.
With Verstappen spending most of 2022 racing Charles Leclerc at the front, or racing out on his own in the lead, it meant precious few racing opportunities between Hamilton and his 2021 title rival.
One such opportunity did present itself late in the season, in Brazil, with Verstappen attempting a move up the inside of Turn 2 at Interlagos – a move that resulted in a clash between the pair and a time penalty for the reigning Champion.
With Hamilton going on to finish second, the seven-time World Champion said he has 'no concerns' about the racing standards between himself and Verstappen and that: "I think it's natural when you have the success and the numbers on your chest, that you become a bit of a target.
"But it's OK. It's nothing that I have not dealt with before."
Lewis Hamilton: Listen to what 'certain individuals' say about me
Hamilton elaborated on his current relationship with Verstappen as he spoke with Channel 4 at the conclusion of the season, with the Mercedes man being asked about his comments about feeling as though he is a target for the Dutch driver.
"All you have to do is listen to the words that certain individuals say about me, and then also just look back at the way those individuals behave on track around me," he said.
"It kind of shows you that is, most often, a little bit different to others.
"Part of it is, I'm sure, to do with the time that I've had here, the experience I've had here, the success I've had here."
Lewis Hamilton jokes: Not easy adjusting to 'big ugly number 1'!
Having spent 2021 locked in battle with the Red Bull driver, Hamilton was unable to join in the title fight in 2022 as Mercedes' W13 proved a less competitive machine – meaning he was left watching on as Verstappen romped his way to a second consecutive title and a record-breaking season.
Asked about how difficult this had been to adjust to after such a closely-fought 2021, Hamilton joked: "It was definitely not easy, I think. It's more the big ugly number 1, it's as big as you can put it on the car!"
Hamilton was referring to Verstappen's personal choice to race with the number 1 on his car in 2022, an exemption made for a reigning World Champion who can choose between their usual career number or the coveted 1. Hamilton has had to make that decision on several occasions since the rule was introduced in 2014, always electing to continue with his usual number 44 – Verstappen choosing the opposite.
Hamilton hinted that he felt some comments put out in the media are intended as an attempt to rattle him or get under his skin, attempts he vows are futile.
"I'm not really fazed by any of these things as much as I think some people like to think that…" he said.
"Maybe they'll say things or will do things hoping for a reaction, but I'm really just chilled. Like I don't really care about those things."
Read More: 'Lewis Hamilton could match Max Verstappen's insane level in the same car'