Hamilton's Team X44 top Ocean X Prix qualifying
Team X44's Sebastien Loeb and Cristine Gutierrez put in a dominant display as they topped Extreme E combined qualifying in Senegal.
After Rosberg X Racing emerged victorious at the end of Extreme E's debut event in Saudi Arabia, the Team X44 outfit belonging to his old Formula 1 rival Lewis Hamilton made the perfect start to the Ocean X Prix in Senegal.
With Loeb and Gutierrez flying the flag for Team X44, the pair topped Qualifying 1 to take a 4.239s advantage with them into the second session.
Gutierrez laid the groundwork with her afternoon lap, before Loeb finished the job nicely as he crossed the line to complete a 10m57.567s, creating an advantage of over 27.5 seconds against the Rosberg team.
Rosberg X Racing recovered to second in the qualifying standings despite a scary moment for Molly Taylor in Qualifying 2 when the rear axle of her car went far too airborne.
Taylor was able to continue, but without the penalty which Abt Cupra carried over from the morning after Jutta Kleinschmidt entered the driver changeover area too hastily, Rosberg X may not have been so fortunate.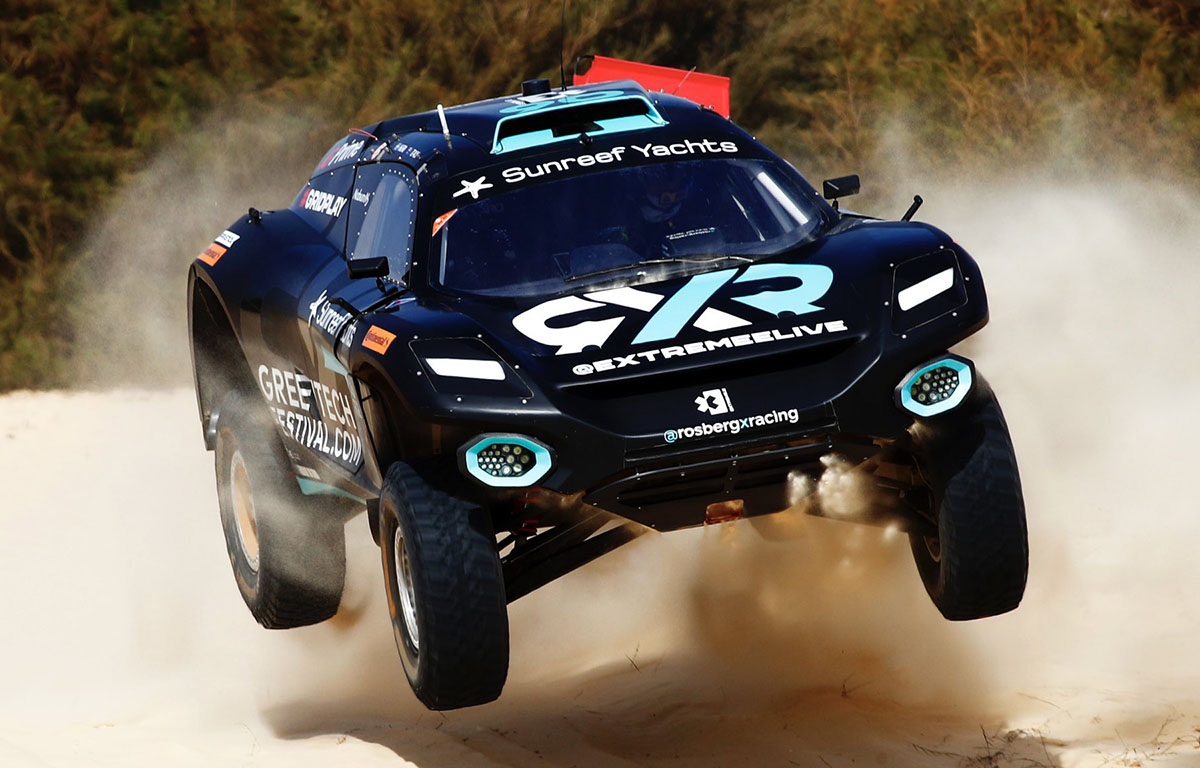 Check all the latest 2021 teamwear via the official Formula 1 store
There were further issues for Kleinschmidt as her HANS device got caught at the changeover with team-mate Mattias Ekstrom, but Abt Cupra will join Team X44 and Rosberg X Racing in the first semi-final on Sunday, with Team X44 having the advantage of the inside grid position.
Jenson Button'a JBXE outfit will take part in the second semi-final, though the Briton is absent for this round with Swedish rallycross driver Kevin Hansen drafted in to take his place.
Also in the second semi-final will be Veloce Racing, with Williams development driver Jamie Chadwick competing alongside Stephane Sarrazin.
They finished fifth overall in qualifying, that despite a roll for Sarrazin which wrecked the car's roll cage.
Xite Energy Racing also made semi-final two, as Oliver Bennett and Cristina Giampaoli Zonca delivered a low-key but clean performance to advance.
In a revised format for the Ocean X Prix, two teams will advance from each of the semi-finals to create a final contested by four teams.
Follow us on Twitter @Planet_F1, like our Facebook page and join us on Instagram!