Lewis Hamilton to miss Sakhir GP after positive Covid test
Lewis Hamilton will sit out this weekend's Sakhir Grand Prix in Bahrain after testing positive for Covid-19 on Monday.
Less than 24 hours from winning his 11th grand prix of this season in the first of Bahrain's two races, Hamilton recorded a positive test for Covid-19.
As per the FIA's regulations, the reigning World Champion is in isolation and will have to sit out this weekend's grand prix.
"The FIA, Formula 1 and Mercedes-AMG Petronas F1 Team can today confirm that during mandatory pre-race PCR testing for the Sakhir Grand Prix, Lewis Hamilton has tested positive for COVID-19," read a statement from motorsport's governing body.
"In accordance with Covid-19 protocols and public health authority guidelines in Bahrain he is now isolating. All contacts have been declared.
"The procedures set out by the FIA and Formula 1 will ensure no wider impact on this weekend's event."
It will be the first time the seven-time World Champion has missed a race since starting his F1 career in 2007.
Get your hands on the official Mercedes 2020 collection via the Formula 1 store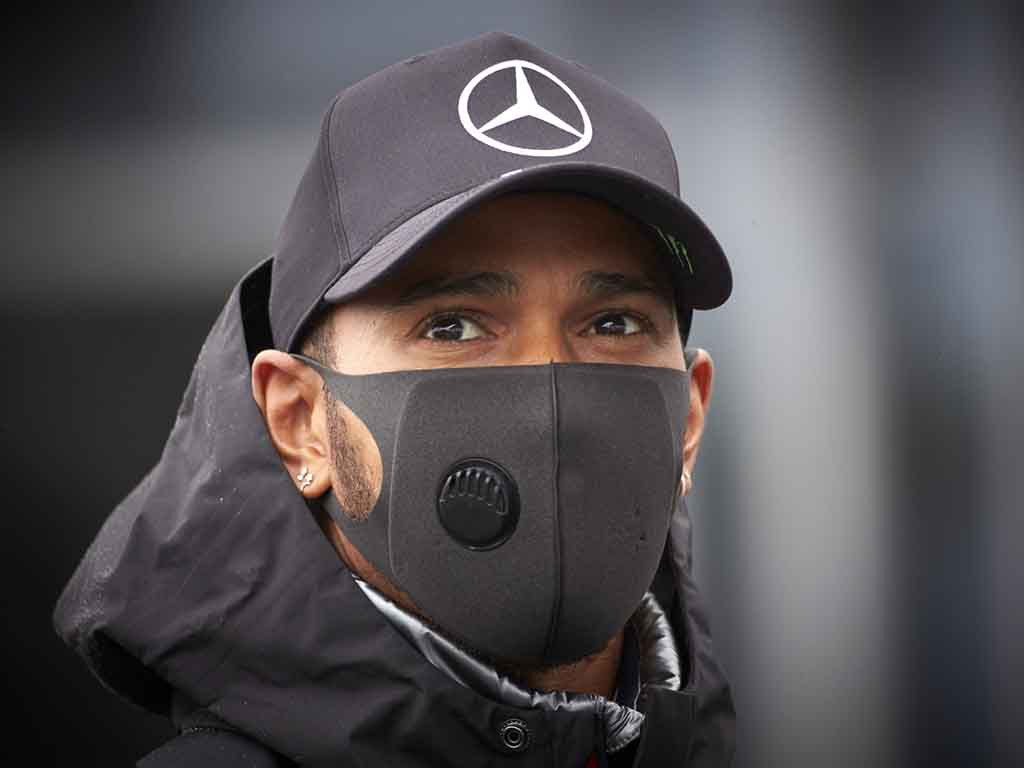 According to Mercedes, Hamilton woke up on Monday morning with mild symptoms and was informed at the same time that someone he had been in contact with prior to arriving in Bahrain had tested positive.
As such, even though his Sunday afternoon test prior to the Bahrain Grand Prix was negative, he took another on Monday which was positive.
"The Mercedes team regrets to announce that Lewis Hamilton has tested positive for Covid-19 and will be unable to take part in this weekend's Sakhir GP," Mercedes said.
"Lewis was tested three times last week and returned a negative result each time, the last of which was on Sunday afternoon at the Bahrain International Circuit as part of the standard race weekend testing programme.
"However, he woke up on Monday morning with mild symptoms and was informed at the same time that a contact prior to arrival in Bahrain had subsequently tested positive.
"Lewis therefore took a further test and returned a positive result. This has since been confirmed by a retest."
Mercedes has Stoffel Vandoorne and Esteban Gutierrez on the books as its reserve drivers, however, the latter reportedly no longer has a superlicence.
Vandoorne is currently taking part in a Formula E test for Mercedes in Spain but is expected to head to Bahrain after the chequered flag falls, which was always the plan says Mercedes.
Us: "Oh look, there's @svandoorne doing his warm-up routine!"

Stoffel: *awkward* *proceeds as if nothing has happened * 😬#FETesting #wedrivethecity #drivenbyEQ #ABBFormulaE pic.twitter.com/AJIBcrdvqP

— Mercedes-Benz EQ Formula E Team (@MercedesEQFE) December 1, 2020
The team added: "We will announce our replacement driver plans for this weekend in due course."
Follow us on Twitter @Planet_F1 and like our Facebook page.