Hamilton loved seeing Wolff's 'fire and passion' in Brazil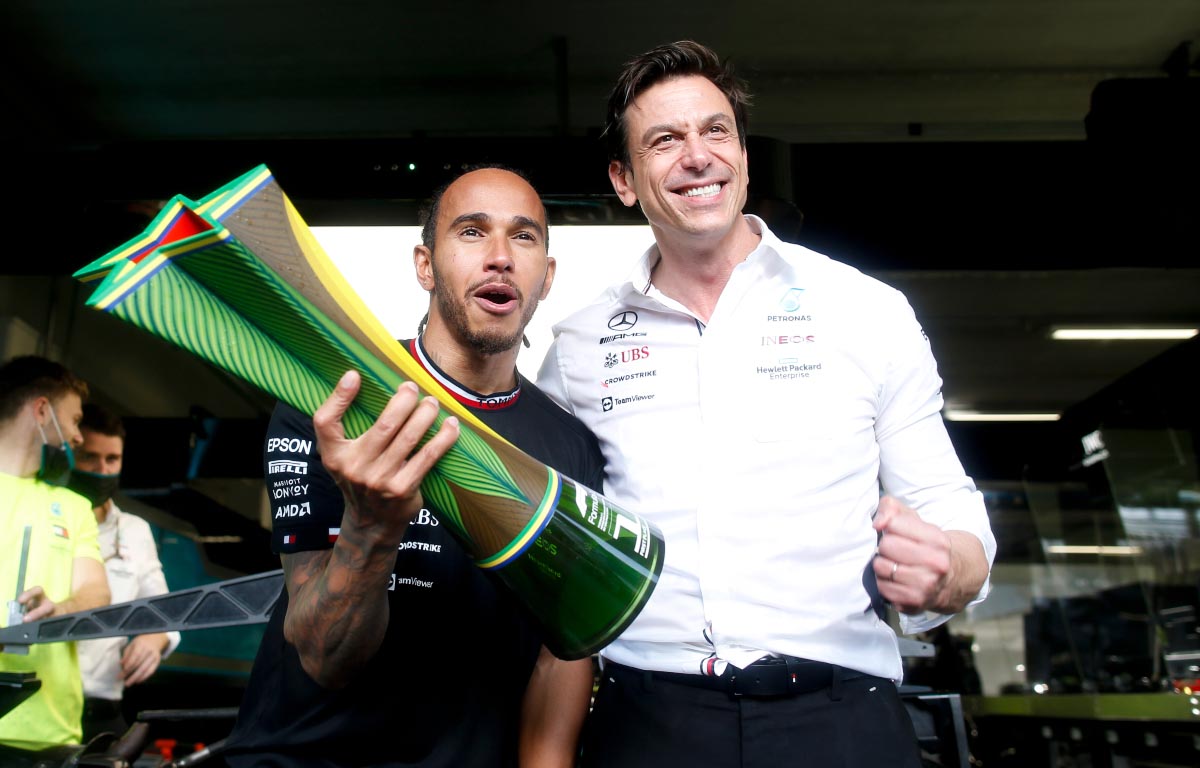 Lewis Hamilton has said seeing Toto Wolff's reactions through the weekend in Brazil made him "laugh inside", and hopes to see more.
When the Mercedes driver overtook Max Verstappen for the lead at Interlagos last weekend, Wolff was seen celebrating and pointing to the camera trained on him in the team garage.
The team principal was also heard saying "F*** them all" after sprint qualifying as Hamilton rose all the way from the back of the pack across the sprint and grand prix to take a crucial victory – and Wolff himself said that "diplomacy has ended" between Mercedes and Red Bull as the title fight reaches its climax in the coming weeks.
With that, the seven-time World Champion feels that mentality will "trickle down" through the rest of the team in the final three races.
"I love seeing Toto's fighting spirit, it makes me so happy," Hamilton said to reporters in Qatar.
"There's a shot I saw of him at the last race and it just made me laugh inside, it was so good.
POV: Toto wants to meet you outside for a scrap#BrazilGP 🇧🇷 #F1 pic.twitter.com/Pb7NC14qOW

— PlanetF1 (@Planet_F1) November 14, 2021
"If Toto cared less and was just chill, I don't know… that fire and passion is a part of our infrastructure and our ecosystem and it trickles down from him.
"He's the leader of the team and you want that in your boss, someone that's out there go-getting and pushing and chasing every millisecond and with you along the way.
"So I love that he stands for what he thinks is right. We've grown hugely [close] over these years, as we will continue to do."
There have been several tight fights and key flashpoints between the two title rivals in 2021, not least at Silverstone and Monza, when they collided.
After another close call in Brazil passed without incident, the Mercedes driver was asked if he feels the contact and any acrimony to arise from tense moments have detracted from the spectacle of the battle for the title.
"I don't think so. It's what sport is, right?" Hamilton responded.
"It's intense, the battle on and off-track… I think there's no reason why as men it can't be discussed and figured out. I think at the end of the day, respect is definitely important, that we remain respectful of each other, on and off-track."
The two title protagonists are separated by only 14 points heading into the weekend in Qatar, with this World Championship fight looking like it may go down to the wire.
Put some respect on Hamilton's name
The title fight is well and truly on with Hamilton's sublime victory at the Brazil GP.