'Snappy comments from Lewis Hamilton, Toto Wolff risk Mercedes civil war'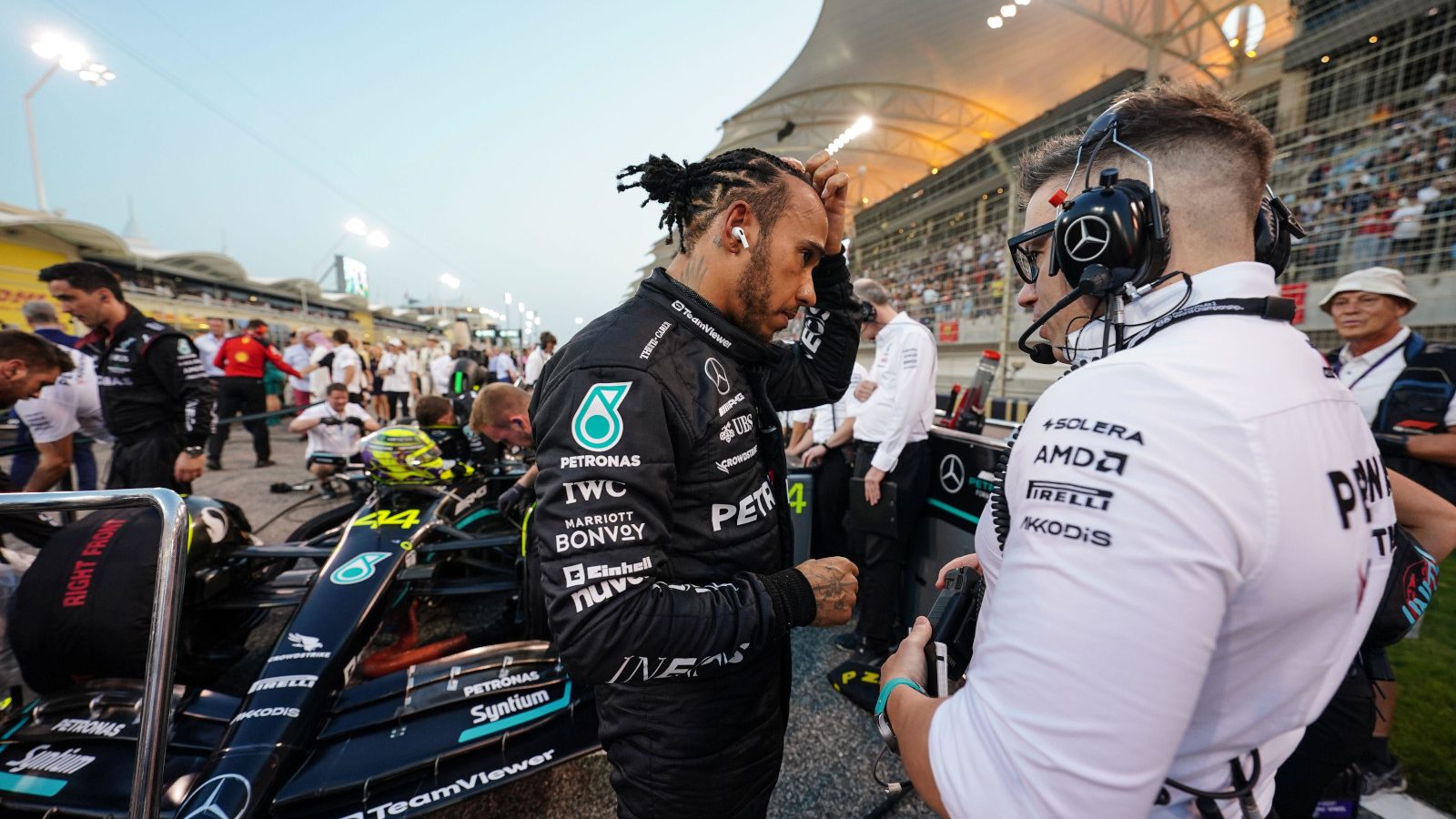 Lewis Hamilton and Toto Wolff's questioning of Mercedes' Formula 1 car concept over the Bahrain Grand Prix weekend has been likened to a "civil war" by a respected Formula 1 technical expert.
After being restricted to just a single win in 2022 Mercedes were optimistic about returning to regular race-winning contention this season, but Hamilton and team-mate George Russell were detached from the fight at the front in Bahrain.
With both drivers six tenths slower than Max Verstappen's lap for pole position at the Sakhir circuit, team boss Wolff admitted that the team had began 2023 with the wrong concept and vowed significant changes would be coming to the W14 car.
That comment came as Hamilton, the seven-time World Champion, claimed that the technical team had ignored his guidance to help Mercedes out of their issues.
Speaking via F1 journalist Peter Windsor's YouTube channel, Craig Scarborough believes Mercedes are at a critical point.
He said: "Mercedes have got a really tricky choice now because they already have a development programme in hand.
"So we know that there's a new floor coming for the next race. We don't know how big a step that is, but if you were to change anything on the car the floor would be the thing that you would change first.
"We know there is this much-talked-about Imola upgrade. This came to light [in] pre-season during testing and they said, 'yes, we've got a big update coming', which is not unusual for Mercedes and it didn't sound like it was a reaction to any problems they were having with the car and they were talking again about the sidepods and some of the car concept changing ever so slightly.
"So we've got that in the pipeline already and now you've got Toto and Lewis saying that we're going to develop a completely new concept for this car to make it win races.
"You do wonder how much these kind of snappy comments in the press are related to what the engineers are doing, James Allison [Editor's note: PlanetF1.com understands reports of an official return to the Mercedes F1 team for ex-chief technical James Allison are wide of the mark] and everyone else back at Brackley trying to decide what to do to get this car to be competitive.
"And you have to guess, given their success over the past decade, that they know how to do that. So there's almost like a civil war going on."
Scarborough feels that F1's budget cap combined with the weighted aerodynamic research initiative, which affords less car development time to teams who finish higher in the previous year's Constructors' standings, may compromise Mercedes even further.
PlanetF1.com recommends
Is Fernando Alonso a better F1 driver than Max Verstappen and Lewis Hamilton?
Simon Lazenby: 'Lewis Hamilton is not driven by money' in fresh Mercedes contract talks
Helmut Marko tells Mercedes they can 'forget about the title' after just one race
"There's two ways you can tackle it," he explained.
"It could be mainly an aero update to the car and the suspension, which under the budget cap is kind of doable from a 'let's make the bodywork and change the suspension components perspective but then you think they need this out quickly, or else there's no point spending all of that money.
"And then you've then got the aero testing restrictions, which of course their good finish [of] third last year will really restrict them.
"So they can't just suddenly pile on loads of wind tunnel and CFD testing, which is what you would need to do in order to find a new concept to get it working – find the right concept as well, not just pluck one out at random – and then develop it to a stage where it's better than something that's already been quite well optimised.
"That's the problem. That's the thing that's going to hold them back.
"It's going to take them half a season to get the aero work completed before they start putting bits and pieces into production.
"Not to mention, obviously, all the rig work which isn't as restricted in terms of suspension as much but it is that problem they have between the suspension and the aero that is the fundamental problem that they're having. So it's a big issue.
"The only good point is if they do put a huge effort into this year, next year's regulations are going to be very much the same. I don't know of any changes for 2024 at this stage, certainly nothing considerable like we've had with the floor over the winter, so any work they put in this year will pay off next year.
"So are they going to go for a good second half of the season and a great 2024? That's a big risk and that's a big piece of work.
"I don't know if going to a B-spec car is necessarily the right direction for where they're at at this stage."
Mercedes introduced a low-drag rear wing in Bahrain to combat concerns over straight-line speed performance, but Scarborough claimed it didn't appear to make a discernible difference to the team's showing.
He added: "We've seen during testing they ran that big rear wing, which gave them the downforce. When they put their lower-drag race wing on over the grand prix weekend, their straight line speed certainly improved and we didn't see any bouncing but tyre degradation increased and you didn't really see the performance.
"They're used to getting this performance from the underfloor, which is a big piece of work and that means the suspension needs to change as well because, fundamentally, that's where their issues lie."