Hamilton and Wolff back at factory, Bottas farewell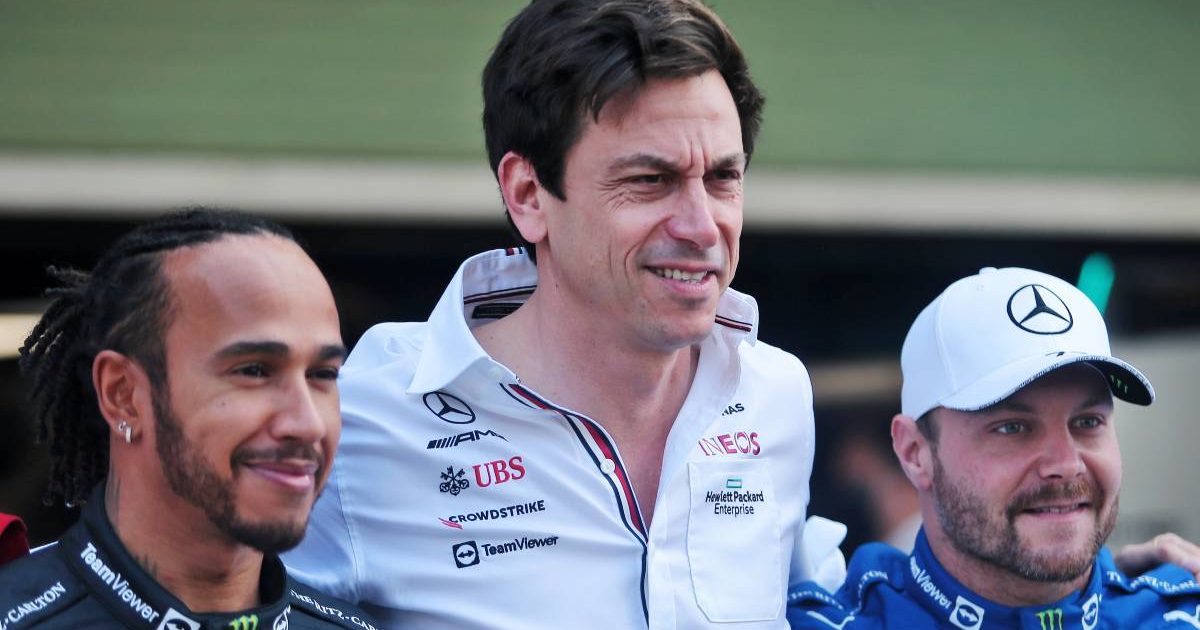 Toto Wolff and Lewis Hamilton have reunited with their Mercedes colleagues, while Valtteri Bottas was driven off into the sunset.
For Mercedes it has been a week like no other, a roller-coaster of emotions ever since those dramatic final stages of the Abu Dhabi Grand Prix.
Hamilton thought a record eighth World Championship was within his grasp, but it unravelled due to a late Safety Car and a subsequent controversial take on the lapped cars ruling.
With only the lapped runners separating Max Verstappen and leader Hamilton allowed to un-lap themselves, the Safety Car was swiftly called in and on superior tyres Verstappen passed Hamilton on the final lap, going on to become World Champion for the first time.
Mercedes won the Constructors' Championship for an unprecedented eighth season in succession, but any thrill of that has largely been overshadowed by the bitter taste of how the Abu Dhabi Grand Prix concluded.
Two post-race appeals were turned down by the stewards and while Mercedes did not follow up on a subsequent intention to appeal, team boss Wolff said their case was an almost guaranteed victory in a regular court.
And after allowing time for the dust to settle, Hamilton and Wolff were back among the action as they met up with the Mercedes crew at their engine base in Brixworth.
Bottas was pictured with his trophy for P3 in the Drivers' Championship, which he collected at the FIA prizegiving gala, an event Wolff and Hamilton chose not to attend.
Mercedes' chief technical officer James Allison was there to collect the Constructors' trophy in Wolff's absence, but with Hamilton required to attend under Article 6.6 of the sporting regulations, which state the top three in the standings must be there, he may yet face sanctions from the FIA.
Back together. ❤️ Kicking off Friday with our team-mates at Brixworth. pic.twitter.com/56loWZWyAM

— Mercedes-AMG PETRONAS F1 Team (@MercedesAMGF1) December 17, 2021
Mercedes' five-time Constructors' title-winning duo received quite the welcome alongside their boss Wolff, who has overseen Mercedes' unrivalled haul of seven Drivers' titles and eight Constructors' Championships since 2014.
Welcoming home our Champions. ❤️ pic.twitter.com/VyVzakhRe9

— Mercedes-AMG PETRONAS F1 Team (@MercedesAMGF1) December 17, 2021
Mercedes will be hoping Hamilton calls them his home for a while yet to come, with rumours still swirling that he could walk away from Formula 1 following what happened in Abu Dhabi.
Wolff himself did not quash that talk when he faced the media on Thursday, for the first time since Sunday's grand prix.
He's home. 💜 pic.twitter.com/hOpDeFmGBH

— Mercedes-AMG PETRONAS F1 Team (@MercedesAMGF1) December 17, 2021
But while the Drivers' title did not come home with Hamilton, Mercedes retained their stranglehold on the Constructors' trophy for the eighth season running, which without doubt was worthy of the grand celebration.
Staff proudly held signs with the number eight on it to mark their achievement.
It came home in 2021. 🙏 pic.twitter.com/HzxP9b7vgR

— Mercedes-AMG PETRONAS F1 Team (@MercedesAMGF1) December 17, 2021
Then it was time for the trio to pick up the microphones for one last time, as Bottas is now moving on to pastures new with Alfa Romeo.
He has been in action for his new team already at the post-season Pirelli 18-inch tyre test at Yas Marina Circuit after permission was granted by Mercedes.
One last chat as team-mates. ❤️ Thanking the Team for another historic season. 💪 pic.twitter.com/c9h22u4JEJ

— Mercedes-AMG PETRONAS F1 Team (@MercedesAMGF1) December 17, 2021
While Bottas could not rise to individual title prominence in Mercedes colours, he will always be remembered as an integral part of their success having claimed 10 wins, 20 pole positions, 58 podium finishes and 1,327 points in his five-year stint with the team.
Achievements to be proud of, and Mercedes sent their Finn into the sunset in style.
Saying goodbye to @ValtteriBottas in style. 🔥💪 pic.twitter.com/aFYiloDewM

— Mercedes-AMG PETRONAS F1 Team (@MercedesAMGF1) December 17, 2021
Maybe his ride did not have quite the same power as the F1 challengers Mercedes have churned out for him.
But then again, if that was the case, then admin would have been struggling to secure that final fist bump.
Admin had to get that last VB bump. 👊 pic.twitter.com/7x24aKGMLh

— Mercedes-AMG PETRONAS F1 Team (@MercedesAMGF1) December 17, 2021
A completely new challenge now awaits Bottas, as he looks to help drag Alfa Romeo out of their rut in the lower midfield – armed with a Ferrari power unit as well for the first time in his F1 career.
It remains to be seen whether the new regulations for 2022 will help or hinder that objective.
Kiitos @MercedesAMGF1 💙

Today was a special day. What a send off! Will always remember 🙏#VB77 #F1 #DankeMercedes https://t.co/EtPRW26Tb8

— Valtteri Bottas (@ValtteriBottas) December 17, 2021
Horner felt Mercedes had no grounds for FIA appeal
Christian Horner believes that Mercedes had no grounds to appeal.