Hamilton had 'no idea' he touched brake switch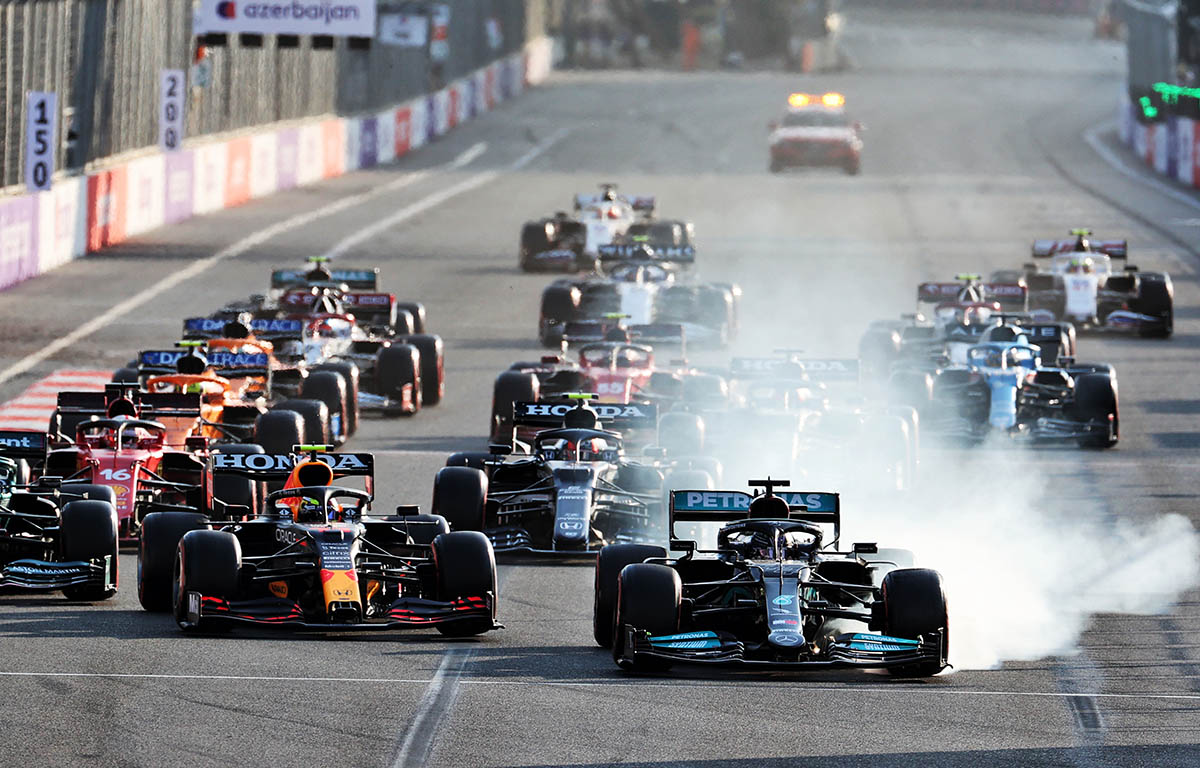 Lewis Hamilton spoke of the "humbling" feeling he had after accidentally flicking a switch in his Mercedes car that effectively "switched off" his brakes in Baku.
The Briton had been in a position to capitalise on the misfortune of title rival Max Verstappen, who dramatically retired from the Azerbaijan Grand Prix with only a few laps remaining with a tyre failure on the main straight.
Hamilton lined up P2 at the standing restart behind Verstappen's Red Bull team-mate Sergio Perez. He managed to get alongside the Mexican in the initial getaway but he ran too deep into Turn 1 – because the Mercedes driver had accidentally touched a switch in his car that hindered his braking performance.
As a result, he fell to the back of the field with only two laps remaining of the race, which subsequently ended a 54-race streak of scoring points in Formula 1.
"Naturally it's quite a humbling experience, to be honest," the seven-time World Champion told Sky Sports after the race.
"We'd worked so hard this weekend to come back [from being] out of the top 10.
"It was looking so good, I'd put everything on the line and I fought as hard as I could today. On the restart, I think when Checo moved over towards me I flicked a switch and it basically switches the brakes off, so I just went straight.
"I had no idea that I even touched [the switch].
Torquing Point - Hamilton's Costly Error
Finley and Henry from www.planetf1.com podcast 'Torquing Point' discuss Lewis Hamilton's race-losing brake mistake, after he accidentally pressed 'magic button'.
Check out all the latest Lewis Hamilton merchandise on the official Formula 1 store
He continued: "It's very hard to take, but mostly I'm just really sorry to the men and women in the team, who work so hard for these points – but we'll regroup and come back stronger, I'm sure."
Verstappen leaving Baku point-less left Hamilton with an ideal opportunity to retake the lead in the World Championship, but a rare mistake means he remains four points behind his rival.
But as both drivers finished without any points, the situation is the same as it was before the race weekend got underway – with Hamilton already looking ahead to the French Grand Prix to claw back his lead in the title fight.
"For sure, it's very unfortunate for Max obviously – I would say today is a good stroke of bad luck," the 36-year-old said. "It is what it is. As I said, we'll try and regroup and come back stronger in the next race."