Hamilton on tyre drama: 'Maybe we should have stopped'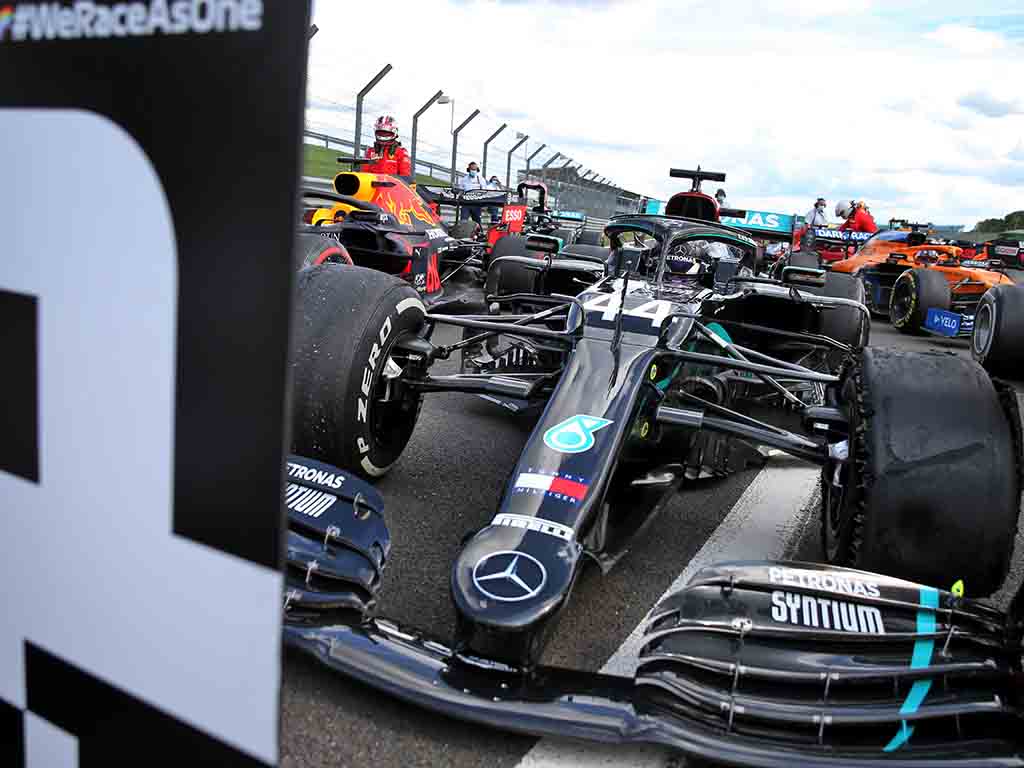 Lewis Hamilton has conceded that he "maybe should have stopped" after a last-gasp puncture almost ruined his British Grand Prix weekend.
Hamilton was cruising to another British Grand Prix win until tyre punctures provided the fans with a thrilling finale at Silverstone.
Both Hamilton and Bottas both suffered tyre punctures late into the race, as did McLaren's Carlos Sainz, but while Bottas finished outside of the points from P2, Hamilton somehow managed to cling onto victory on three wheels.
Questions were asked as to whether Hamilton should have pitted his unsafe car and it did cross his mind, but ultimately he decided to stay out and win in the most unique, gut-wrenching ways.
Three wheels? No problem. #BritishGP 🇬🇧 #F1 pic.twitter.com/Wop1dojAFs

— Planet F1 (@Planet_F1) August 2, 2020
Head on over to the Formula 1 store for all your official Lewis Hamilton merchandise
"Up until that last lap everything was relatively smooth sailing," Hamilton said in the post-race interview at Silverstone.
"Valtteri was really pushing incredibly hard, I was doing some management of the tyre. When I heard his went I looked at mine and it seemed fine.
"The car was turning no problem, last few laps I started to back off and then last lap it deflated.
"That was a heart in the mouth moment. You could see it falling off the rim. From then I was just managing it and I was just praying to get round and not be too slow. I didn't think I would make it round the last two corners.
"I was really chilled for some reason at the end. Bono was giving me the information about the gap. It was coming down quite quickly but the car seemed to turn OK. I got to 15 and that is where it was a struggle so I gave it full gas out of there down to 16.
"I have definitely never experienced anything like that on the last lap and my heart definitely nearly stopped.
"Maybe we should have stopped once we saw the delaminations."
As Bottas finished outside of the points, Hamilton now has a 30-point lead at the top of the World Championship after just four races into the revised 2020 season.
Follow us on Twitter @Planet_F1, like our Facebook page and join us on Instagram!