Hamilton untroubled by Monaco traffic problems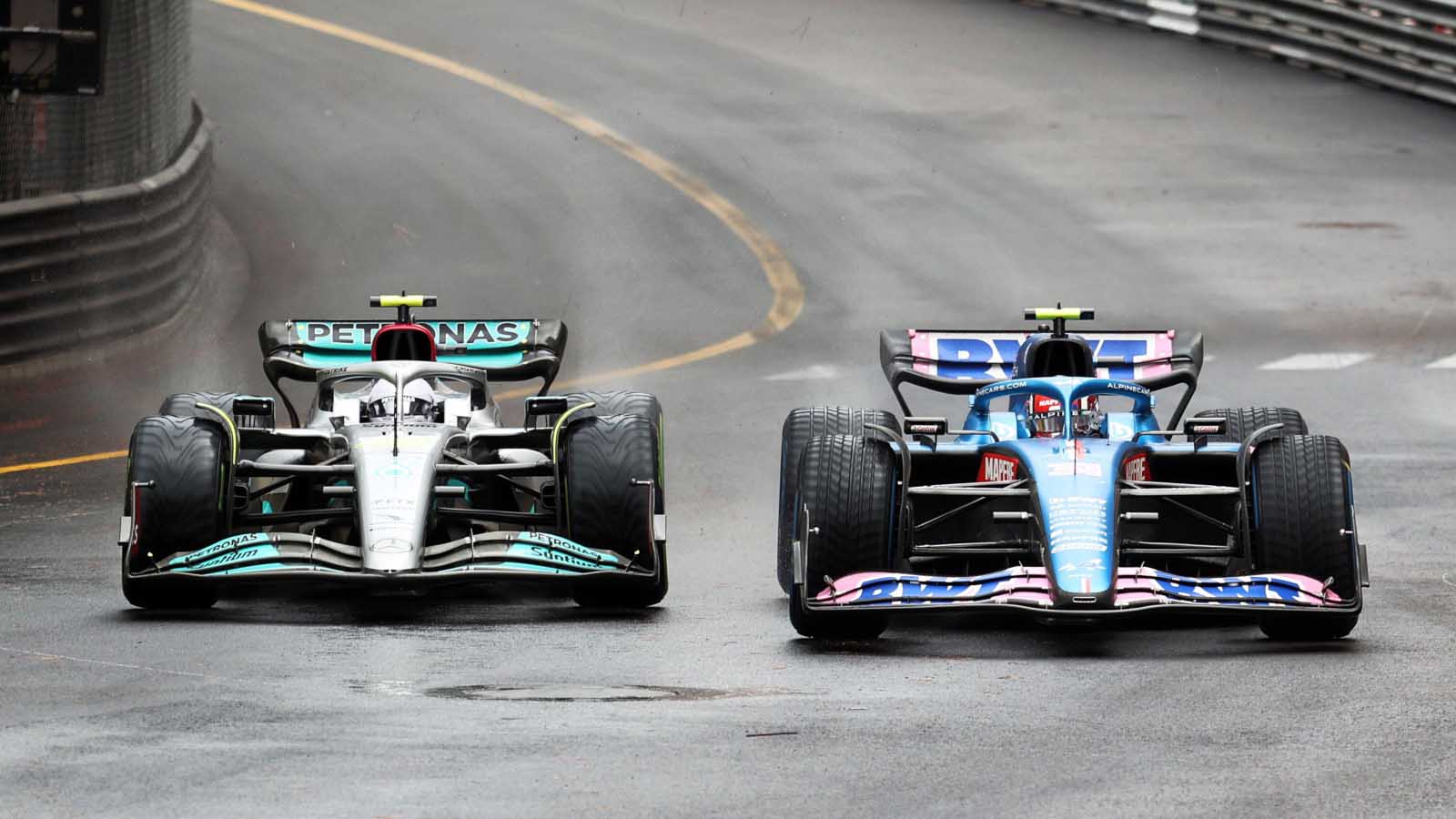 Lewis Hamilton said he did not find it frustrating to have been stuck behind both Alpine drivers at different points of the Monaco Grand Prix.
The Mercedes driver found himself cooped up behind Esteban Ocon after his pit-stop, having quickly caught him up when on faster intermediate rubber, reeling in the Frenchman by around seven seconds in only two laps.
Hamilton tried hard to find a way by, sending his Mercedes up the inside of the Alpine at Sainte Devote, but could not make the move stick as Ocon went to the apex.
The seven-time former World Champion claimed Ocon had turned in to him at the corner, which resulted in front wing damage for Hamilton, and the Alpine driver was subsequently given a five-second time penalty for causing a collision.
But after the Safety Car restart following Mick Schumacher's crash, Hamilton found himself behind the sister Alpine of Fernando Alonso for the remainder of the race.
All aboard the Fernando Alonso train 🚂 #MonacoGP #F1 pic.twitter.com/NmCSpd8Lkx

— PlanetF1 (@Planet_F1) May 29, 2022
He had the double whammy of not only being unable to get past his former team-mate, but Alonso was also lapping around three seconds per lap slower than his car could manage in an effort to back up Hamilton towards Ocon for his Alpine colleague to try and pass the Briton.
Hamilton admitted it had not been an ideal situation for him though.
"Who knows [who I] might have been able to have jumped? I don't know," Hamilton told Sky F1 after the race.
"I don't…honestly I've not seen what was possible but it definitely didn't help being stuck behind both."
Such was the degree of Alonso's management of pace, he fell more than 30 seconds behind Lando Norris ahead and the two-time former World Champion ended up creating a massive chain of cars that stretched all the way to the back of the field.
That enabled the four leaders to lap several backmarkers come the end of the race, but Hamilton was left rooted and stuck P8 for the remainder of the race – but he did not get annoyed by what had happened.
"Honestly, I didn't find it frustrating," said Hamilton. "It was just what you expect here in Monaco and I knew once I qualified behind one of them, it would be something like that.
"I was hoping the rain would open up some opportunities but it didn't work this weekend. So you live and you learn and move on."
Hamilton's team-mate George Russell kept up his run of finishing in the top five at every race this season, while Sergio Perez won for the first time in 2022.