Hamilton adds to Mercedes upgrade confusion
Lewis Hamilton has now revealed he knew of Mercedes' upgrade plans, having said last weekend he thought none were in the pipeline.
Momentum has certainly swung in Red Bull's favour as they and Mercedes battle over the Drivers' and Constructors' titles, with Max Verstappen taking a dominant victory at the Styrian Grand Prix.
Hamilton ended the race P2, but lacked the pace to challenge his title rival and told Mercedes "we need an upgrade of some sort", with team boss Toto Wolff later telling reporters there were none planned. This was also backed up by Hamilton, who added it was "not in the pipeline at the moment".
The situation changed again when Mercedes' chief technical officer James Allison confirmed the W12 would be receiving an upgrade, followed by their motorsport strategy director James Vowles stating there were "a number of ways" they can still improve the W12.
A confusing situation already and now Hamilton has backtracked, admitting he knew of the planned new parts all along.
"I knew we had that upgrade coming," he told reporters ahead of the Austrian Grand Prix.
"At the end of the day, everyone is working absolutely flat out. We are learning more and more about this car.
"We are discovering more things – where we need to push more and extract more and I have all the confidence in the team that we will do over the course of time."
What is clear though is that Hamilton and Mercedes must find an answer to Red Bull, with Verstappen now boasting an 18-point lead over the seven-time World Champion.
But Hamilton is not allowing himself to get caught up in a "negative bubble of worrying" over Red Bull's pace advantage.
"We are all pushing as hard as we can. Of course we'd love to have more pace at the moment to be able to really challenge, not only within qualifying but the race," he explained.
"Obviously they are continuing to take steps forward. But I can't get tied up and get into that negative bubble of worrying. All I can do right now is put all that energy into making sure I'm best prepared, helping the engineers be better prepared, lots of great conversations.
"This is the time when we just come together and unite and work as hard as we can to rectify whatever issues we have. That's what we do, that's why we are World Champions and I have confidence in the team that we can do that."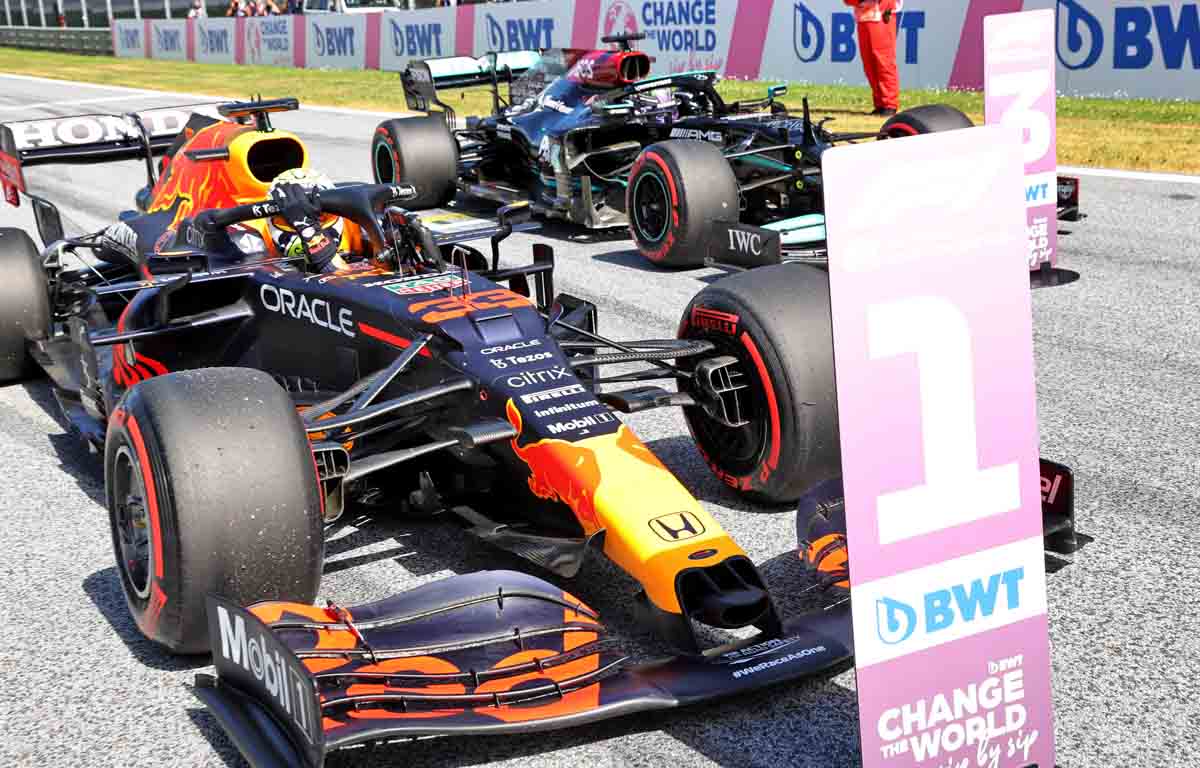 Check out all the latest Lewis Hamilton merchandise on the official Formula 1 store
Hamilton admits Red Bull probably have taken a greater step forward than Mercedes had anticipated, though with the new floor regulations they have been "working at a loss" all year anyway.
"I'm sure the team perhaps didn't anticipate they [Red Bull] would make such a big step because I would say we've not necessarily been able to make as big a step," he told Sky F1.
"We do know this year the floor adjustment that was made, we lost a lot more downforce than they did, and so we've been working at a loss all year and I think we've done pretty well.
"But it's starting to really harm us and we've got to try and figure out ways around it.
"Because they run such a high car it means they have had to remove less furniture from inside of their rear wheels, so they just have more downforce than us.
"And not only that, they seem to have more power this year than we do, so overall we've got work to do."
Follow us on Twitter @Planet_F1, like our Facebook page and join us on Instagram!