Hamilton would buy Bottas' butt photo for charity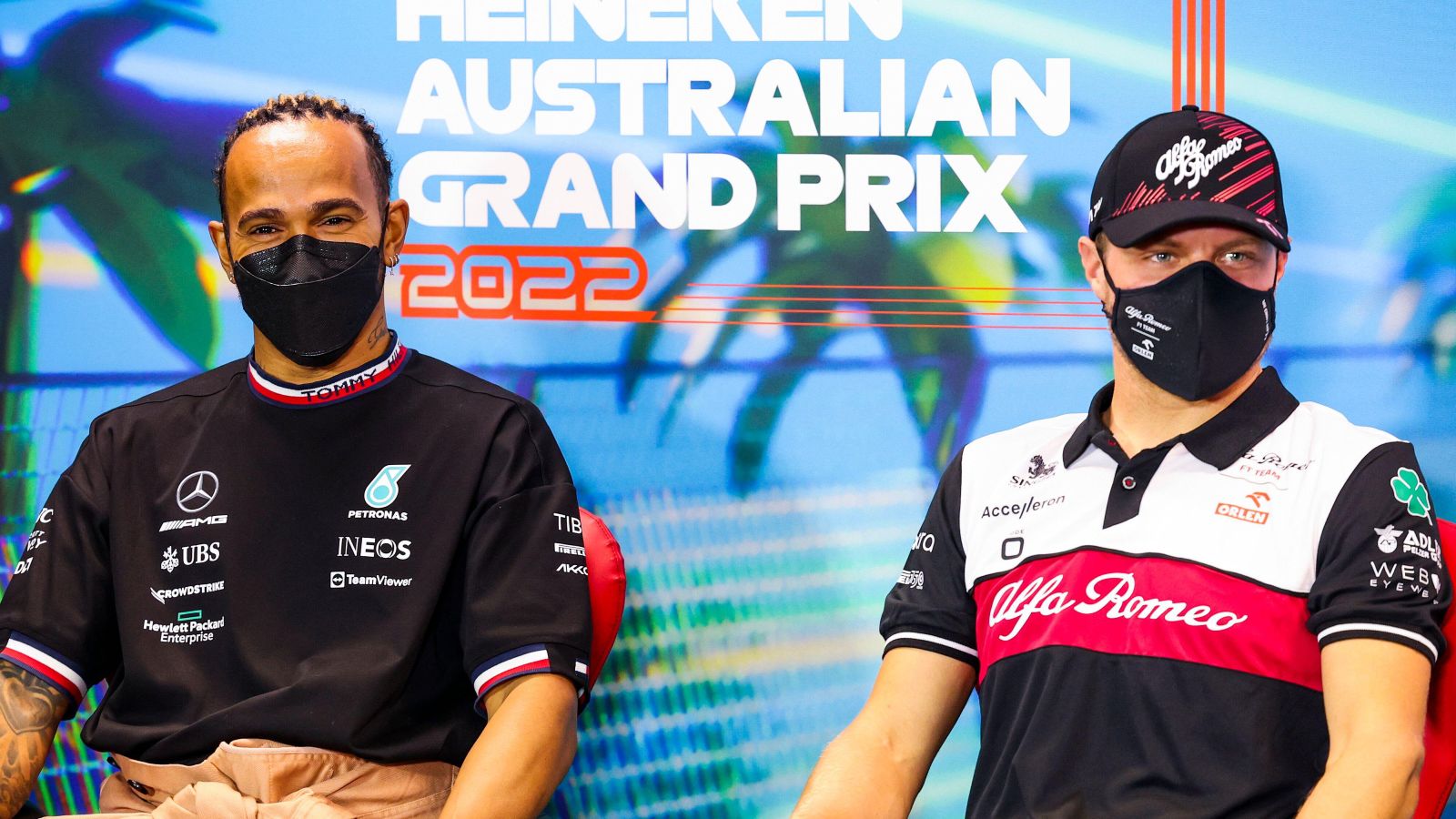 Lewis Hamilton has joked he would buy a print of his former team-mate Valtteri Bottas' butt for charity.
If you had to pick which driver on the grid would have the most famous behind, your first choice probably would not have been the reserved Bottas.
But nevertheless, the Finn became an unlikely star of the 2021 edition of Netflix's 'Drive to Survive' when he was filmed relaxing at home in his spa.
The tranquil scene of beautiful Finnish landscapes and a wooden hut housing a spa took a surprising turn when Bottas stood up and flashed his right butt cheek to the camera.
Of all the viral moments of a 'Drive to Survive' season, none more than Bottas' fateful trip to the spa caught the attention of the audience.
Even his fellow drivers got in on the joke, with Daniel Ricciardo tweeting he was not sure how he felt about seeing "ALL of Bottas in DTS."
Imagine I'm not the first to comment on it 😆 but still not sure how I feel about seeing ALL of Bottas in DTS 🙈

— Daniel Ricciardo (@danielricciardo) March 20, 2021
Since his move from the high-pressured environment of Mercedes to Alfa Romeo, Bottas has been showing his lighter side and clearly does not take himself too seriously.
In the days following the inaugural Miami Grand Prix, in which the Finn finished P7, he took to Instagram to show what he was getting up to during his downtime.
He posted a picture of himself skinny-dipping in a stream in Colorado and again the internet went wild. Later that day, Bottas announced he would be selling prints of the 'artwork' for charity –  and it seems he may have a former team-mate as a customer.
Torquing Point: Valtteri Bottas has rediscovered his mojo
There can be no doubt that Valtteri Bottas has shown just how good he is as an Alfa Romeo driver this year.
While Bottas was spending his time in Colorado, Hamilton was in New York but he was made aware of the infamous photo.
Speaking to Sky Sports ahead of the Spanish Grand Prix, he even went as far as to say he would buy a print and that it was one of the best photos he has seen.
"I would, yeah, for charity, for sure," he replied when asked if he would buy one. "I didn't even know it was up for sale but I think it's a great photo. It's one of the best photos I've seen, actually."
Despite no longer being team-mates, it seems Hamilton and Bottas have remained friends and the Finn confirmed this was the case earlier this year.
Asked during an interview with People.com what his relationship with Hamilton was like, Bottas replied: "It's been nice. It was pretty natural. After the race in Bahrain, I drove past him on the in-lap and I heard he was on the podium, so I gave him a thumbs-up and he did the same.
"We actually flew together after the race to Dubai, and we flew from Dubai to Saudi Arabia. So we are still sharing flights. In a way, nothing has changed.
"We are not team-mates but still mates. It's nice. We have a good relationship in a way. We did achieve quite a bit of things together as team-mates. I think that kind of friendship will for sure last too."