Lewis Hamilton dismisses Mercedes W14 Plan B talk as 'complete rubbish'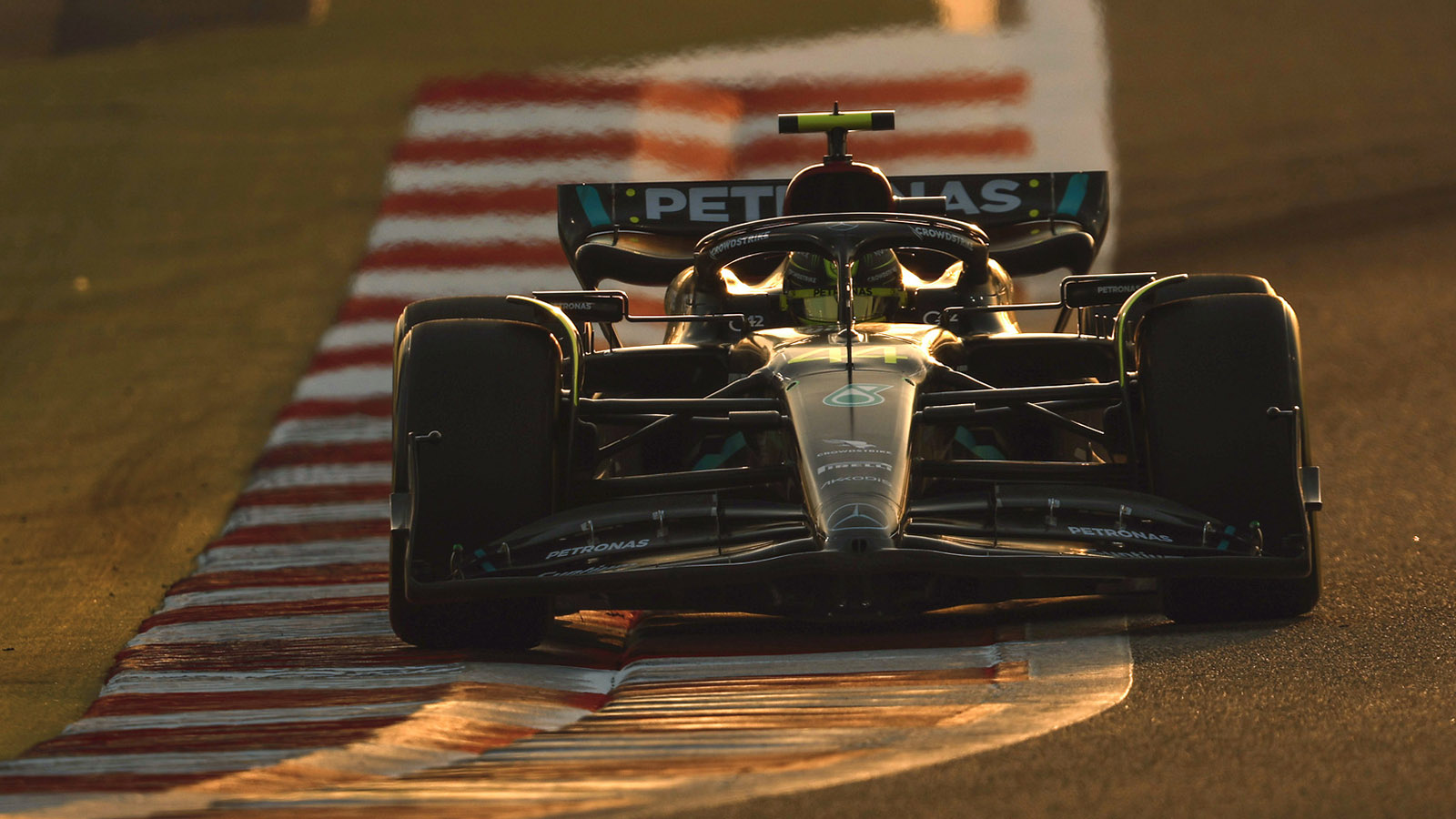 Lewis Hamilton had a stern response to the rumours that Mercedes have a Plan B W14 in the pipeline if needed in F1 2023.
Mercedes were confident that their unique zero-pod concept was not an underlying flaw of the troublesome W13, that challenger failing to allow Hamilton and team-mate George Russell to fight for 2022 title glory.
And the Brackley squad followed up on that by unveiling a W14 which continued to utilise this concept.
It led to paddock talk that Mercedes had an alternative route for the W14 in mind if they needed to pull the trigger, one which would see it looking similar to the challenger of Red Bull or Ferrari, the two main rivals of Mercedes.
The team's technical director Mike Elliott has denied this, although he did confirm that some new-look bodywork is on the way.
And as Hamilton spoke ahead of the season-opener in Bahrain, he was keen to put an end to any suggestions of an alternative W14, branding such rumours as "complete rubbish" and impossible to execute when there is a budget cap active in Formula 1.
"All those people talking about a plan B, there is no plan B, it's complete rubbish," he told Sky Sports F1.
"I mean, ultimately, we are living in a time of a cost cap, to rebuild and redo a design of a car, you have to go back to square one, and we don't have time in a season to do that, so that's not on the cards.
"We will continue to evolve and build this car and try to push it to the absolute limit.
"I know I've got the best team behind me to to close the gap, but it's just finding that performance as fast as we can."
Are Mercedes still a team that can take Hamilton to the pinnacle of Formula 1 once again? Their last triumph came in 2020 as Hamilton claimed World Championship number seven.
Well, he certainly prepared for a title battle in F1 2023, and believes Mercedes are still capable of such success, but getting out on track will tell him if that is doable.
"We'll find out over the next couple of days what's realistic," said Hamilton. "But I mean, that's what I prepared for, I prepared myself for a championship battle. Whether or not we have the equipment to fight for the championship, we'll find out.
"I do believe I've got the team still that are championship worthy."
PlanetF1.com recommends
Mercedes reveal true development plans after 'Plan B' car rumours
George Russell sets six-race deadline for Mercedes to hit race-winning form
Mercedes feel pre-season perception of them in Bahrain was 'overly gloomy'
As for where Mercedes start out with the W14, testing suggested that the challenger is perhaps once more slightly off the pace of the Red Bull RB19, but as Hamilton alluded to, that will only be confirmed or disproven come qualifying in Bahrain where the teams show their hand for the first time.
But, after being in "panic mode" early last season with a bouncing and uncompetitive W13, Hamilton says that bouncing is not present in the W14, and feels this challenger is a "good foundation" for Mercedes to build upon.
"It's just for us to keep our heads down and I think last year when we arrived and we had all those problems, all of us it was just like panic mode, trying to figure out what was the issue and then try and fix it, and it took us forever to fully try and understand it," said Hamilton.
"This year we're starting with a car that doesn't bounce, but it is very, very similar to last year's car, but there are some positives and I think it's a good foundation to work from."