Lewis Hamilton warns of 'serious work' ahead for Mercedes in Bahrain radio message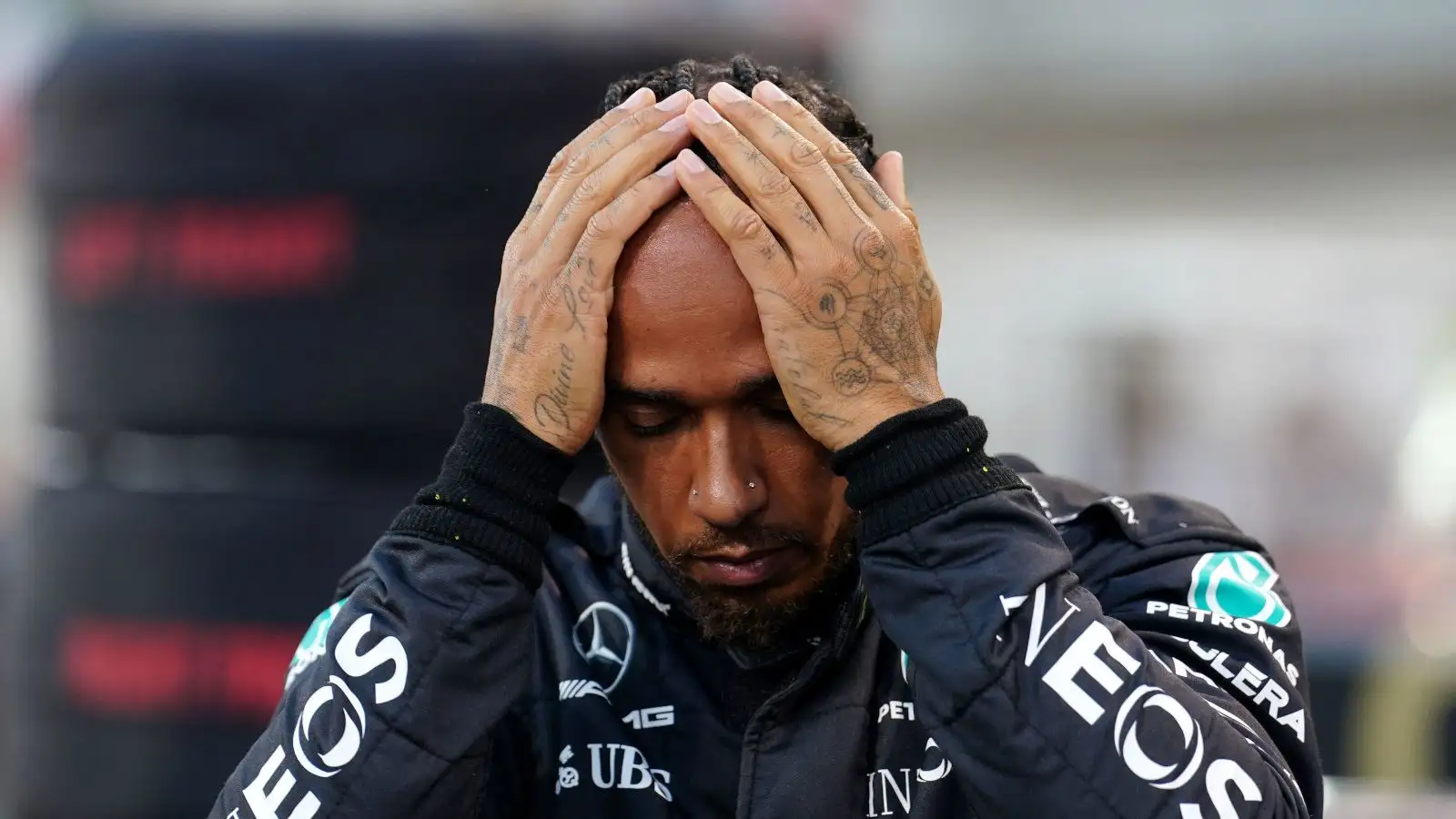 Lewis Hamilton admits Mercedes have "serious work to do" having finished the Bahrain Grand Prix over 50s down on race winner Max Verstappen.
Mercedes walked away from pre-season testing well aware that while they'd resolved their porpoising issues from last season, their new car wasn't up to speed.
Suffering a suddenly lose of downforce on the second day, a late night investigation yielded better performance on the third and final day but it was evident the car was still lacking compared to the likes of Red Bull.
As such the team downplayed their chances heading into the season-opening Bahrain Grand Prix only for that gap to the RB19 to actually be bigger than expected.
It had Hamilton stating on Friday after practice that while there was "good progress through last year, the gap wasn't as big as it is now."
His mood after Sunday's race, a grand prix in which he finished P5 by 50s behind Verstappen, wasn't much better.
Asking his race engineer Pete Bonnington how far he was behind the Red Bulls, Bono replied: "Just um… 51 seconds behind."
But rather than rant and rage at that, Hamilton offered words of encourage to the Mercedes team as a whole as he crossed the line.
"Great work," he told the team over the radio. "I know we're not where we want to be but let's keep pushing.
"Serious work to do to close the gap but I believe in you all."
PlanetF1.com recommends
Bahrain GP conclusions: Believe Aston Martin hype, Wolff's biggest challenge?
Bahrain Grand Prix driver ratings: Alonso and Gasly shine, Ocon has a nightmare
The complete driver and teams' standings after the Bahrain Grand Prix
Mercedes motorsport boss Toto Wolff was proud of his driver for doing that, the seven-time World Champion backing and encouraging Mercedes despite the difficult situation.
He told Sky Sports: "Absolutely, shows the leadership as there must be a lot of suffering in there because the car is just so unstable and you can see that on the steering wheel/
"But he is fantastic. He's been a massive performance contributor and not only in the car."
To change the concept, or not to change the concept, that is the question
There's been a lot of talk in the past two weeks about the Mercedes concept. And while the zero-pods get a lot of the headlines, George Russell doesn't believe they're solely responsible for where Mercedes are with the W14.
Simply put if Mercedes need to change the philosophy behind today's F1 car it's going to take a lot more than putting Red Bull-esque sidepods on the car. It's going to take, as Nico Rosberg, a "whole new" car.
That means the Brackley squad will most likely have to wait until next year given the budget cap doesn't give much allowance towards introducing B-spec cars midseason.
It's a conundrum that the former World Champions are facing because even if they trail major parts for that B-spec car this season, it won't offer an accurate picture.
But waiting until 2024 to do anything is a year too long of a wait…