Lewis Hamilton's cryptic response to Fernando Alonso's F1 World title critique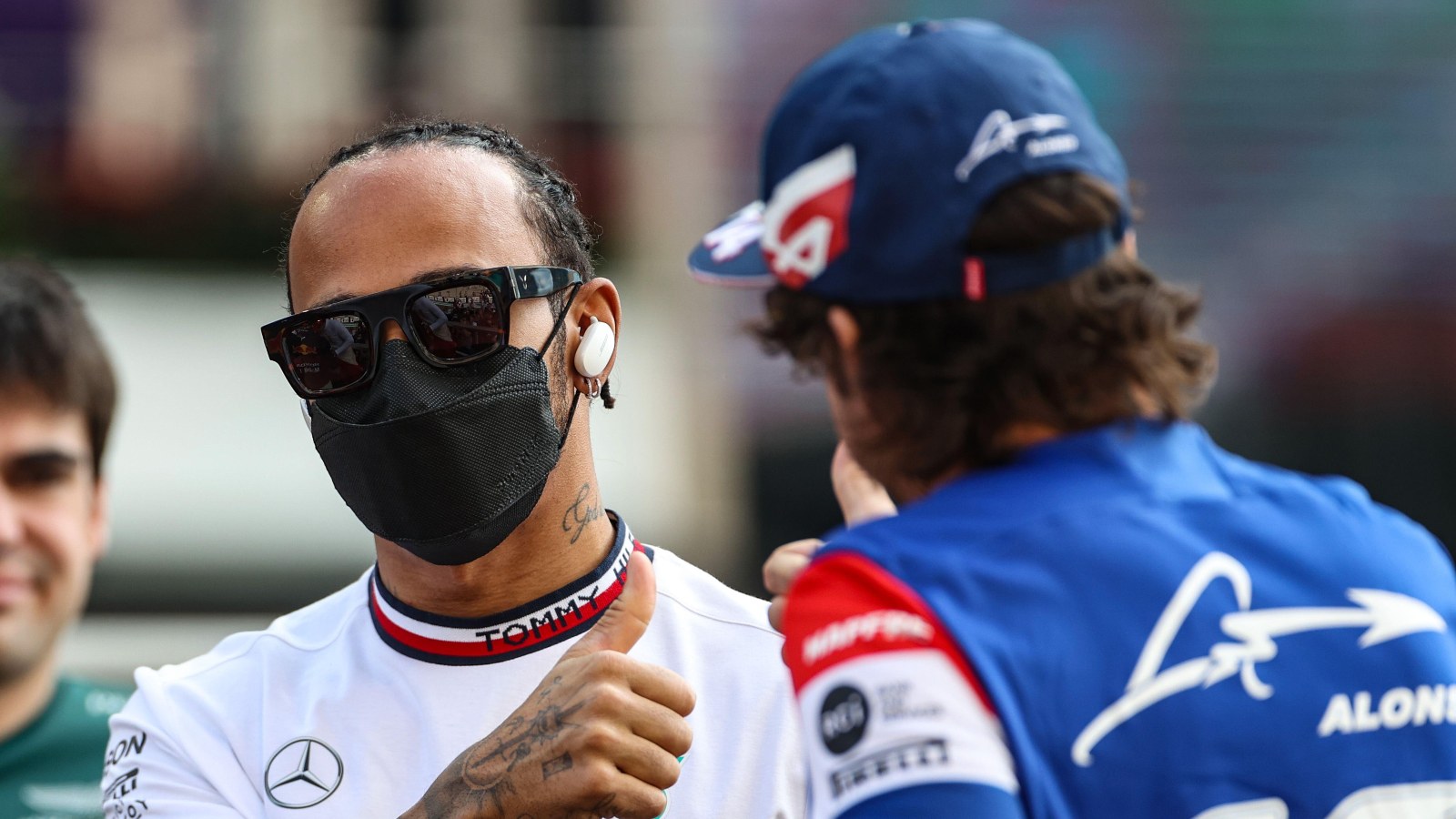 Lewis Hamilton's simple thumbs up that accompanied a photograph of himself on the top step of the podium to Fernando Alonso's P2 has gone viral, seemingly in response to the Spaniard's recent title comments.
Alonso, Hamilton's former McLaren team-mate, spoke to Dutch publication De Telegraaf in which he critiqued titles won.
Making it clear that he has "a lot of respect for Lewis," the Spaniard added that it is "different when you win seven World titles when you have only had to fight with your team-mate.
"Then I think a championship has less value than when you have fewer titles, but against other drivers you have had to contend with equivalent or even better equipment."
He concluded: "[Michael] Schumacher in particular fought with his team-mate to become champion five times in a row and Hamilton fought with Rosberg and Bottas. That's different, I think."
With headlines claiming he thought Hamilton's titles had less value than Verstappen's, the Alpine driver came in for some stick on social media where Twitter users accused him of disrespecting Hamilton.
He responded by saying: "Please, all the titles are amazing, well deserved and inspiring. Incomparable to each other and let's enjoy champions and legends of our current time.
"Tired of the continuous search for headlines. Let's enjoy them."
Hamilton later took to Twitter to share his thoughts on the subject.
— Lewis Hamilton (@LewisHamilton) October 30, 2022
Hamilton and Alonso have had a difficult relationship ever since the Briton joined the Formula 1 grid in 2007 and partnered Alonso.
The double World Champion was said to have demanded number one status at McLaren, unhappy that a rookie was challenging him.
After one season together, one that included 'spygate', they parted ways with Alonso opting to leave the Woking team.
Hamilton went onto win the 2008 World title with McLaren before joining Mercedes and adding another six to his tally. Alonso is still on two, 2005 and 2006.
Earlier this season the two showed once again that the relationship never healed entirely, Alonso calling Hamilton an "idiot" when Hamilton hit him on the opening lap of the Belgian Grand Prix.
Hamilton later replied: "It is nice to know how he feels about me."
Alonso subsequently apologised, but this last bout ahead of the Mexican Grand Prix is unlikely to smooth ruffled feathers.
Read more: Max Verstappen: People have told me Lewis Hamilton doesn't use my name