Logan Sargeant accuses Ferrari pair of 'playing games' in sprint shootout shunt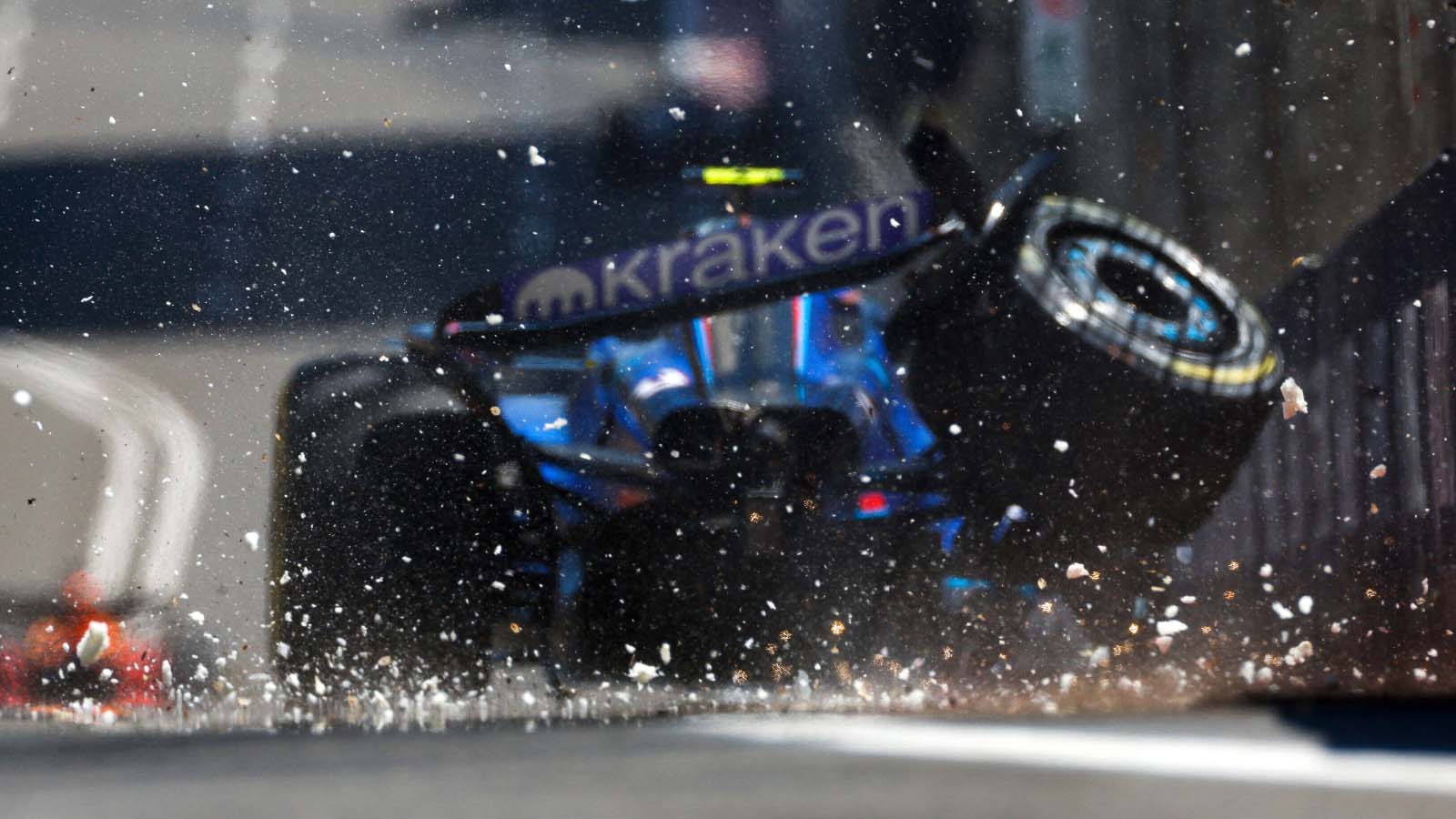 Logan Sargeant has lambasted the Ferrari team-mates for "playing games" in Baku's sprint shootout, games that ultimately cost him a place on the sprint grid.
The Williams rookie suffered a shortened Azerbaijan Grand Prix weekend as, despite being 11th fastest at the end of Saturday morning's sprint shootout, he wasn't able to progress to SQ2 due to a heavy shunt.
Sargeant lost it coming through Turn 15, hitting the wall hard and destroying the right rear corner of his FW45.
Such was the damage Williams weren't able to repair his car in time for the afternoon's 17-lap sprint race, the team "gutted for Logan who has shown great pace with two Q2 appearances this weekend."
Sargeant has blamed the Ferrari drivers for his crash, accusing them of showing poor etiquette as they sat in the middle of the track.
"It was a good session to that point. The car had good pace and I was on another really good lap," he recalled of his Saturday antics.
"But when two cars want to play games on the hardest corner of the track, it makes my life extremely difficult.
"Obviously, it's my job to not put it in the wall so I'm sorry to the team for that, and for the damage I caused. But I feel like the people in front of me could have helped me out a little bit.
"It was pretty heavy so there was a lot of work for the boys. I feel bad about that."
PlanetF1.com recommends
Toto Wolff calls for action and analysis after 'boring' Azerbaijan Grand Prix
Baku GP: Street magician Sergio Perez holds off Max Verstappen to win
Sargeant lined up P14 on the grid for Sunday's official Grand Prix and tussled with Zhou Guanyu and Pierre Gasly for position during the Grand Prix.
He, however, was not able to make his way into the points and finished P16, the last man on the lead lap.
"All things considered I learned a lot this weekend," he said. "In the race we got a bit unlucky with the Safety Car timing at the start and fell into a bit of a lonely, frustrating race.
"I was stuck behind Zhou for most of it. By the time he pitted it was just too late and I was too far disconnected from the pack ahead. However, when I did get in front, the car felt good, I was driving well, and the pace was not too bad at the end.
"I brought a set of hard tyres a long way and that's all positive. The race wasn't bad, it just fell out of our hands and was a lonely, boring one for most people."