Young talent Luke Browning wins prestigious Aston Martin Autosport BRDC award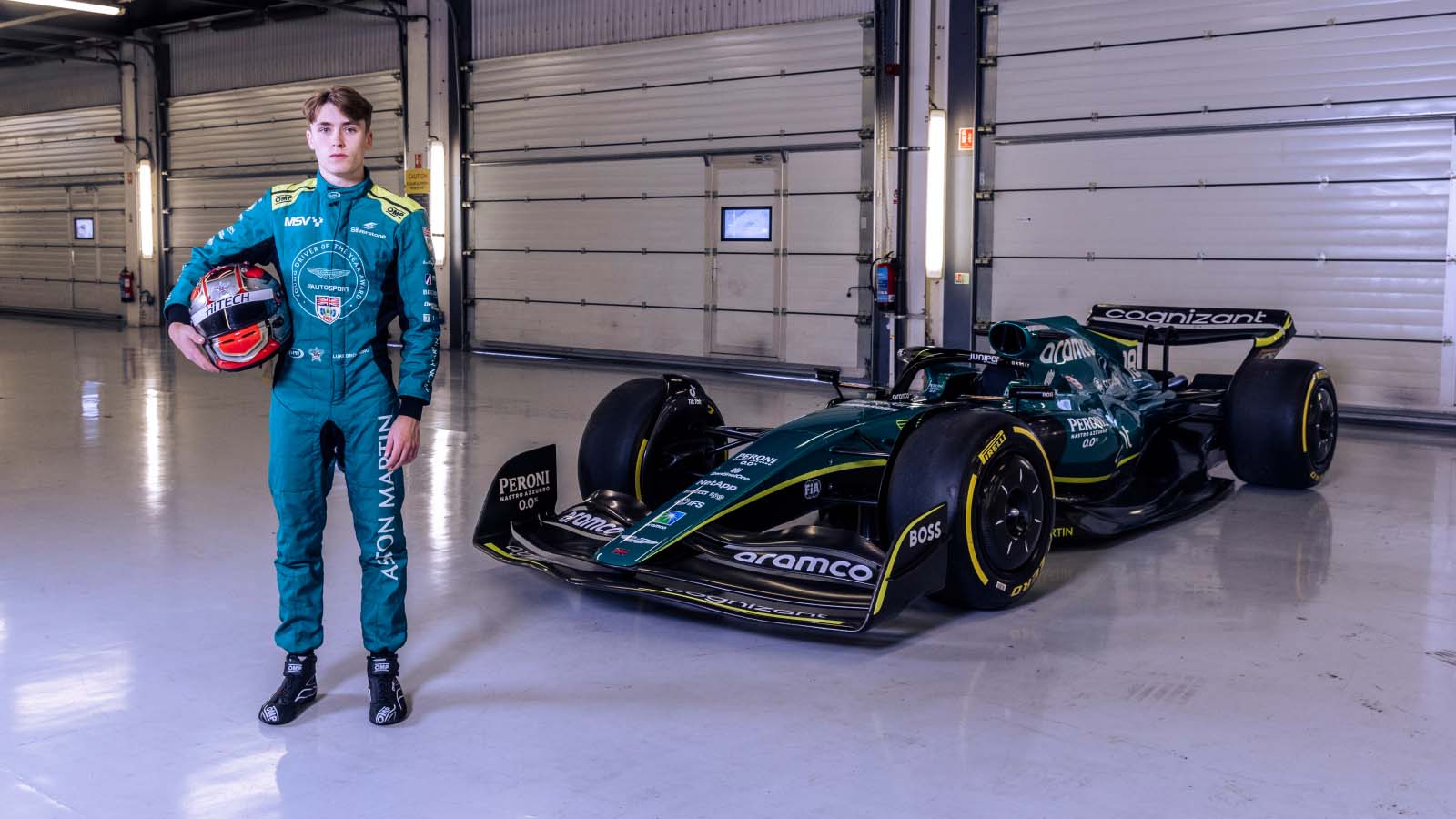 Luke Browning has become the latest in a long line of young British talents to win the Aston Martin Autosport BRDC Award.
The Autosport BRDC Award is a long-held and highly-sought after prize in British motorsport, with Aston Martin in its third year as title sponsors of an award which has gone to the likes of 2009 World Champion Jenson Button, three-time Indy 500 winner Dario Franchitti and current Formula 1 drivers George Russell and Lando Norris.
The award recognises the best of young British talent, and 20-year-old Browning, who won the GB3 title this season, had to beat competition from W Series champion Jamie Chadwick, Ferrari junior Ollie Bearman and 2022 Indy Pro 2000 champion Louis Foster in the final to win the £200,000 prize.
Browning has also won a test in an Aston Martin Formula 1 car next year, a full membership to the British Racing Drivers' Club and an Arai crash helmet – with the judging panel selecting him as their winner after a rigorous testing process.
All four finalists were invited to Silverstone for an intense two-day shootout by driving MotorSport Vision Formula 2 cars, Beechdean AMR Aston Martin Vantage GT3 and a United Autosport Ligier JS P320 LMP3 prototype, as well as an in-depth simulator assessment with the Mercedes Formula 1 team and an extensive fitness test.
And it was Browning who came out on top and impressed the panel the most, with BRDC vice chairman Derek Warwick leading the judging process.
The 20-year-old accepted the highly prestigious junior prize at Sunday's Autosport Awards in London, and he was thrilled to have earned the accolade.
"This was such an awesome experience, it feels so good to be the winner," Browning said upon accepting the award.
"It's incredible to be a part of such an amazing award with such an illustrious list of former winners. It feels pretty special to now have my name among them.
"Words can't describe how grateful I am to all the people that have helped me to get here. It's unbelievable to think that a year from now I will be testing an Aston Martin Formula 1 car."
Darren Turner, Aston Martin development driver said: "It's always an enormous privilege to be part of the judging panel for the Aston Martin Autosport BRDC Award, because you know that your decision can change the trajectory of a talented driver's career forever.
"Congratulations to Luke, who thoroughly deserves to stand among an incredible group of champions that have won the Award previously.
"Great Britain remains essential to the development of motorsport talent across all disciplines, which is a key reason why the future of Aston Martin's Formula 1 ambitions will be based at the Aston Martin Aramco Cognizant Formula 1 Team's new campus at Silverstone, and we are proud to participate in this process through the Aston Martin Autosport BRDC Award."
Teenager Zak O'Sullivan won the prize in 2021. He finished 11th in his debut season in FIA Formula 3 this year, and the highly-rated 17-year-old is due to take part in the series again in 2023 with Prema.
Read more: Behind the scenes at Aston Martin as their 'game changer' factory takes shape