Ericsson goes airborne before winning Music City GP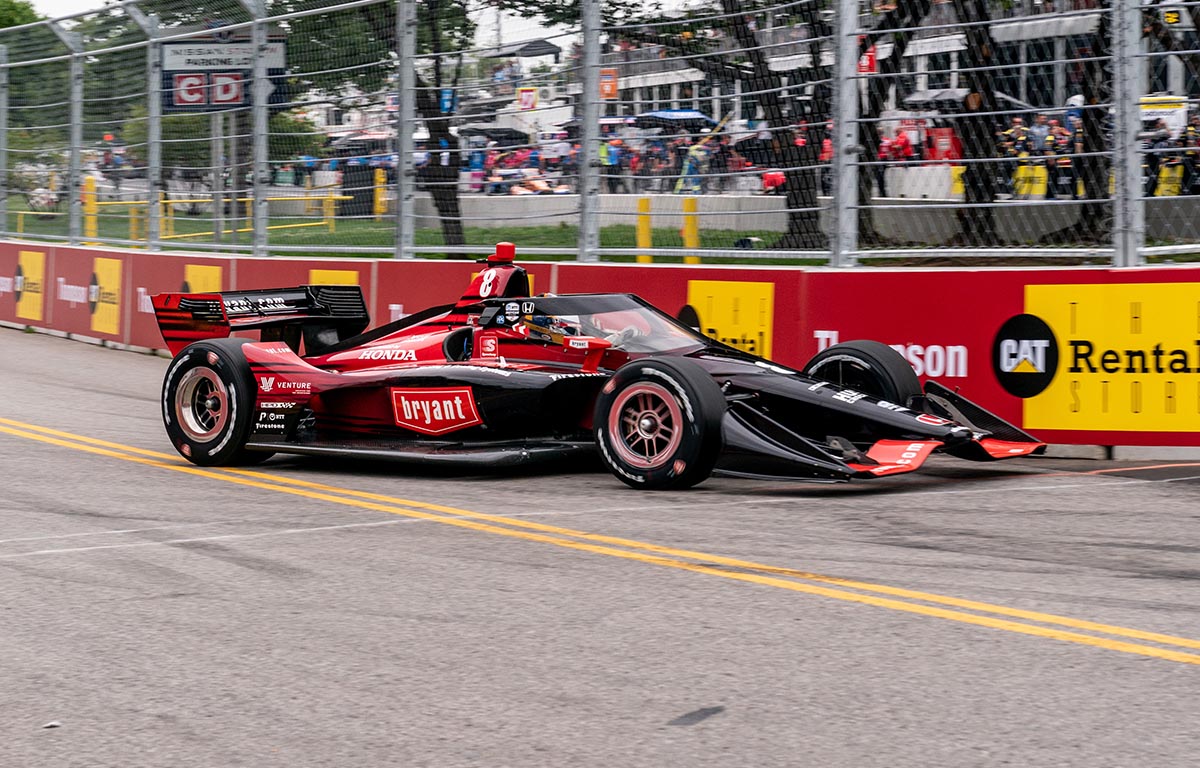 Ex-Formula 1 racer Marcus Ericsson claimed a second win of his IndyCar career on Sunday in very chaotic circumstances at the inaugural Music City Grand Prix in Nashville.
The new race will certainly not be forgotten in a hurry as it featured two red flags, nine cautions and lasted the best part of three hours before the chequered flag finally waved.
And the former Caterham and Sauber driver was right in the thick of the madness, too, having being flipped airborne in the early stages of the race after running into another ex-Formula 1 driver in Sebastian Bourdais.
Somehow, though, Ericsson – who needed a new nose and wing after the hefty shunt – still went on to win the race, just ahead of team-mate Scott Dixon.
His main battle was against rising star, Colton Herta, who appeared on the radar of Formula 1 teams earlier this year, but the 21-year-old ended up in the wall when attempting to hunt down Ericsson in the final stages, prompting the second red flag.
Wait this car won? How is that even possible pic.twitter.com/DEgRg93VWP

— F2.Addict (@AddictF2) August 9, 2021
Check all the latest 2021 teamwear via the official Formula 1 store
Herta admitted he pushed too hard trying to chase Ericsson, but praised the Swede for his fuel-saving, winning display in Tennessee.
"I feel terrible," Herta told NBC Sports.
"We had the car all weekend to win, and man, I just threw it away, so I feel really bad. I'm OK, though. I know that I didn't get my hands off the wheel, but they're OK.
"Congrats to Marcus. He drove a hell of a race there at the end. I didn't think he was going to make it, and he just kept pulling away from me. Good job to him.
"I just feel terrible for the team and for Gainbridge and Honda. It was terrible on my part. … I was just pushing to try to get ahead of him as soon as I could and overdid it.
"I had fun. Thanks to everybody for showing up.
"It was amazing even with the COVID restrictions the place sold out so quickly. Everyone did such a fantastic job putting on this race.
"I couldn't be more proud of the city for showing up for it and everybody for watching at home for everybody sticking with us through all those yellows.
"Next weekend will be a lot cleaner hopefully, and I'll get my redemption there."
Ericsson, meanwhile, was in a state of shock after winning in such crazy circumstances.
I. Can't. Believe. It. We just won the @MusicCityGP 🏆. What an amazing team effort by the #8 crew and everyone at @CGRTeams . So thankful. Still don't understand how it happened. But so unbelievably happy 🤩 #ME8 #INDYCAR pic.twitter.com/1A4IydJrh7

— Marcus Ericsson (@Ericsson_Marcus) August 9, 2021
"It's unbelievable," Ericsson said, also to NBC Sports.
"It just shows in IndyCar, anything can happen. You can never give up. If you have a good car and a good team, you still can get to victory lane.
"I can't believe it; I just can't believe it."
He later added: "This one is for all my guys. They repaired my car beautifully and the Honda engine was awesome, the power was great all day. I just can't believe it.
"Colton [Herta] was so fast all weekend. To keep him behind while also saving fuel, I think was honestly one of my best performances. I'm sorry he [Herta] ended up in the fence there, because he should be on this podium.
"But I'm just so proud of my whole team, I'm so proud and thankful."
Ericsson, who sits fifth in the standings with five races left in the IndyCar 2021 season, has currently not had his seat confirmed for the 2022 campaign.