Mario Andretti exclusive: Verstappen's quit threat and why not to dismiss Leclerc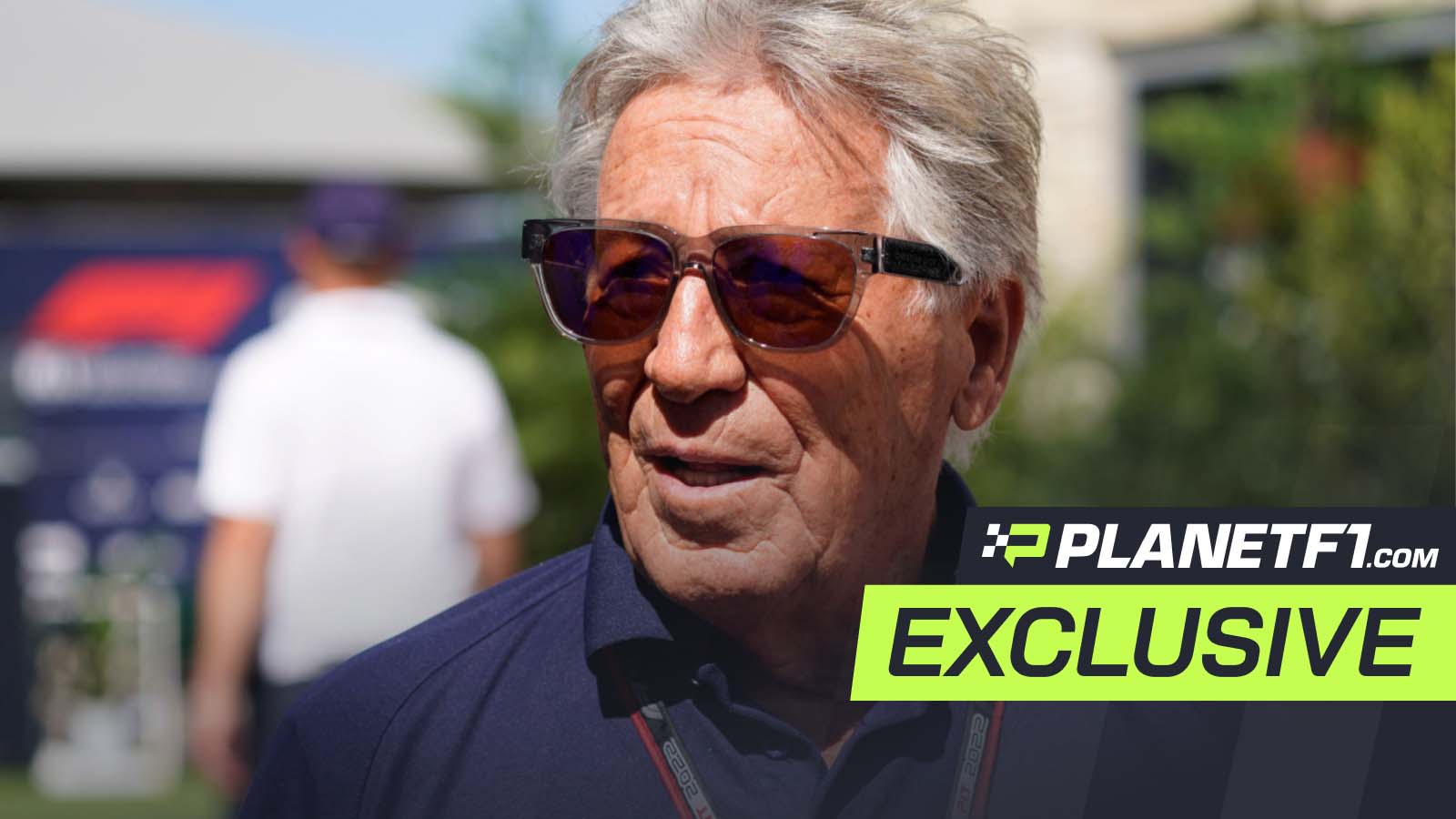 Mario Andretti has opened up on a number of topics as Formula 1 works through an unexpected weekend off racing before the action resumes in Monaco.
The 1978 F1 World Champion spoke to PlanetF1.com in a wide-reaching interview to discuss the Miami Grand Prix, his eagerness to keep the traditional qualifying format in place, and why street circuits are "unparalleled" in the spectacle they offer…
To start off, PlanetF1.com asked Mario Andretti for his thoughts on whether Max Verstappen might be bluffing about whether he might retire from F1 as a young man, as he's been quite vocal about being unhappy with the direction the sport is taking.
PF1: Mario, what do you make of Max Verstappen's recent threats that he'll walk away from F1 due to the direction the sport is taking with Sprint races, a packed calendar, and the increased focus on the spectacle?
MA: Well, I think he has the right to express himself.
As far as these qualifying Sprints, they do leave something to be desired for some people. Other people, I suppose, like it. If I was a driver, I would say the qualifying format as we know it is fantastic. I don't think you need to hype that up anymore.
Because a huge thing about Formula 1 is the anxiety of the start and, to have another start on a Saturday, I don't know… it just dilutes the main event, in my opinion. That's what he's saying. It puts the equipment at risk and a lot of things. Sometimes you just don't really go all out because you don't want to ruin your chances, potentially doing something to hurt the equipment the next day.
I guess they're trying something but I always put myself in the driver's position. Max just wants to express what he feels about it, and there's nothing wrong with that.
PF1: So you'd prefer to see qualifying remain in its normal format?
MA: 300%! That's my feeling.
PF1: Do you think this is a direction F1 should be leaning into, or might it be damaging in the long-term?
MA: It's hard to really say that having more presence is wrong. I think you have to do it judiciously, obviously. At the moment, I think it's quite a daunting schedule they have because you're crossing continents here. So you have to look at the team aspects about what they have to do to be prepared for all of these events. Somewhere along the line, you have to maybe be ambitious for the sake of the future, and the long-term longevity of everyone.
But there's an incredible bubble about Formula 1 interest and you have to be careful not to burst the bubble – just feed it properly, and don't get overly ambitious, I suppose.
PF1: Would you prefer to see a move away from the increased amount of street circuits on the calendar, as most of the new venues coming onboard seem to be street-based?
MA: No, absolutely not. The ambience that they create is unbelievable, unparalleled. Look at the presentation that Miami had, you cannot fault that. That's a serious investment. When you have that type of investment, that spells longevity and spells a good future.
Look what they're spending in Las Vegas, they're not spending what they're spending just to have a one-off. The days we've seen in the past, like in Dallas and Phoenix and so forth – those days are over. But, when you have this type of investment, it's there for the future. I think there's something special about the street events. You have to be careful but, the way they're approaching it now, there's nothing that can be criticised in my opinion.
I remember the last Las Vegas GP, in what was basically a huge parking lot behind Caesar's Palace. I remember it very well. What is being prepared for right now is monumental.
PF1: What did you make of the drivers' criticism of the pre-race hype ceremony? Many of them thought it was an unnecessary distraction so soon before light out.
MA: As a driver, you can't wait to lower yourself in a cockpit – that's the reason you're there. I remember events, so much pageantry, like even Indianapolis, I could hardly wait until I lowered myself in the cockpit. 'Now, now I feel good! Now, I'm here to do what I'm supposed to do, you know?'
But you have to think that the pageantry and all that is good for the whole show. That's what excites the fans out there, you have to appeal… it's show business at the end of the day, too.
So you've just got to be patient and then, when you lower yourself in a cockpit, you're there for the rodeo that's familiar to you. Without the fans, we don't have anything, the sport in general, so I would not complain about the pageantry whatsoever.
PF1: Moving on to talk about drivers, Mario, Charles Leclerc had a very difficult weekend in Miami last time out with a couple of crashes. Do you think he's losing focus at Ferrari, is his head dropping with the current performance level? Where do you think his head is at right now?
MA: Don't sell him short. What I like about Charles is that he's trying so hard. I think there is some issue with the equipment, no question. He's trying to extract something out of the car that's not there at the moment. That's what it is. Don't fault the driver at this point. The value of Charles Leclerc is huge, he's capable. I look at him as a potential World Champion in the future with the right equipment.
He realises some of the mistakes himself, I guarantee it, and I'm sure he's punishing himself every single day. He probably can't wait to get back in the car to redeem himself.
I think it's frustration, but don't sell Charles short, he's got tremendous talent.
PF1: Do you see him needing to leave Ferrari in order to find success?
MA: Well, where would he go? There have been rumours… if Lewis would entertain retirement or something, that he might be looked at by Mercedes. Yeah, I would probably go there.
Ferrari right now have something missing there. And it's unfortunate because Formula 1 needs Ferrari. It's great when Ferrari is competitive and up front. But, somehow, there are some elements that are missing there. I don't know what it is. But we would all like to see Ferrari just be out there and fighting consistently for the lead.
PlanetF1.com recommends
Mario Andretti highlights key difference between Lewis Hamilton and George Russell
Red Bull's 'perfect situation' with Max Verstappen in 'full control' of Perez battle
PF1: Looking at McLaren, where do you think things are going wrong for them – what's the deficit?
MA: I wish I knew, because then I would bottle it and sell it to them!
It's hard to be able to evaluate anything like that. Especially in Miami, I don't know what in the world happened to them. It seemed like, in first practice while the track was still green and very slippery, they seemed to be somewhat on pace with the rest.
But then, as the track picked up grip and all that, the pace really, really, really changed dramatically. All of a sudden, they were not there. I feel for them. But they won't be down long. I guarantee you that they're working as hard as it needs to be.
Lando is capable, no question. I think Oscar Piastri has shown that he definitely belongs there. So there are two young shoes there that want to get it done. And it's up to McLaren now. Where the improvements need to be, aerodynamic or mechanical, I don't know.
PF1: McLaren, across F1, Formula E, and IndyCar to a lesser extent, appear stuck in a cycle of mediocrity. Do you think there's been a little too much focus on McLaren the brand rather than McLaren the racing cars?
MA: Zak understands the sport quite well. I don't know if they have a situation in engineering or if something is lacking, but I'm sure that he knows what to do. Zak knows the business quite well. And I'll repeat that. I don't see that McLaren will be down there that long. They have the capability to come back and get the job done.
PF1: Daniel Ricciardo is probably quite happy to be sitting on the sidelines and not racing that McLaren this year. Do you see him finding a way back into the sport next year, if he wants it?
MA: I'd love to see that. For his sake, I'm sure that's what he would like. I hope that he has a proper opportunity sooner rather than later. He's a very likeable chap, and very capable. Probably sometimes he lacked just a little bit of that ultimate speed in qualifying but his race craft is as good as anyone.
PF1: Would you take a seat at a backmarker team and try to rebuild from there, or try holding out for a top seat again?
MA: Now, at this stage of his career, I don't think he'd do himself any favours by going with a backmarker team. I think he should try to see if he can get an opportunity with someone to show what he can really do.
PF1: What's your take on the current Aston Martin/Fernando Alonso relationship – I think it's caught us all by surprise just how well the combination seems to be working!
MA: It's awesome to see, quite honestly. Even his attitude has really brought so much energy to the team. All of it works. But at the same time, the team is giving him something also, because you can see that Lance Stroll is not far behind – he is right there and competitive. You can see that both drivers have valuable and solid equipment to deal with and so the combination is good there.
The excitement and the energy – the proper energy – is in place right there. I give a lot of credit to Fernando for bringing that to the team. It's working well.
PF1: Alonso is showing a whole new side to himself this year, too, with helpful radio messages to try helping Lance Stroll and praise for his teammate. Do you think Alonso's attitude is genuine or is he being disingenuous?
MA: I think it's genuine. Honestly, you can't fake that. I think he's happy where he is. I think he knows he made the right move. It seems like he's motivated the team to the level it needs to be and they're giving him what he wants. He sees that, at this stage of his life, he doesn't have many years to be an active driver. So he feels that he can cultivate Lance, help him be a better driver. You can always do that, there's always room for improvement, obviously, for anyone.
So I think he has a perfect situation at this stage of his career here, no question and it shows. The fact that he's enjoying it is wonderful to see.