Red Bull's 'perfect situation' with Max Verstappen in 'full control' of Perez battle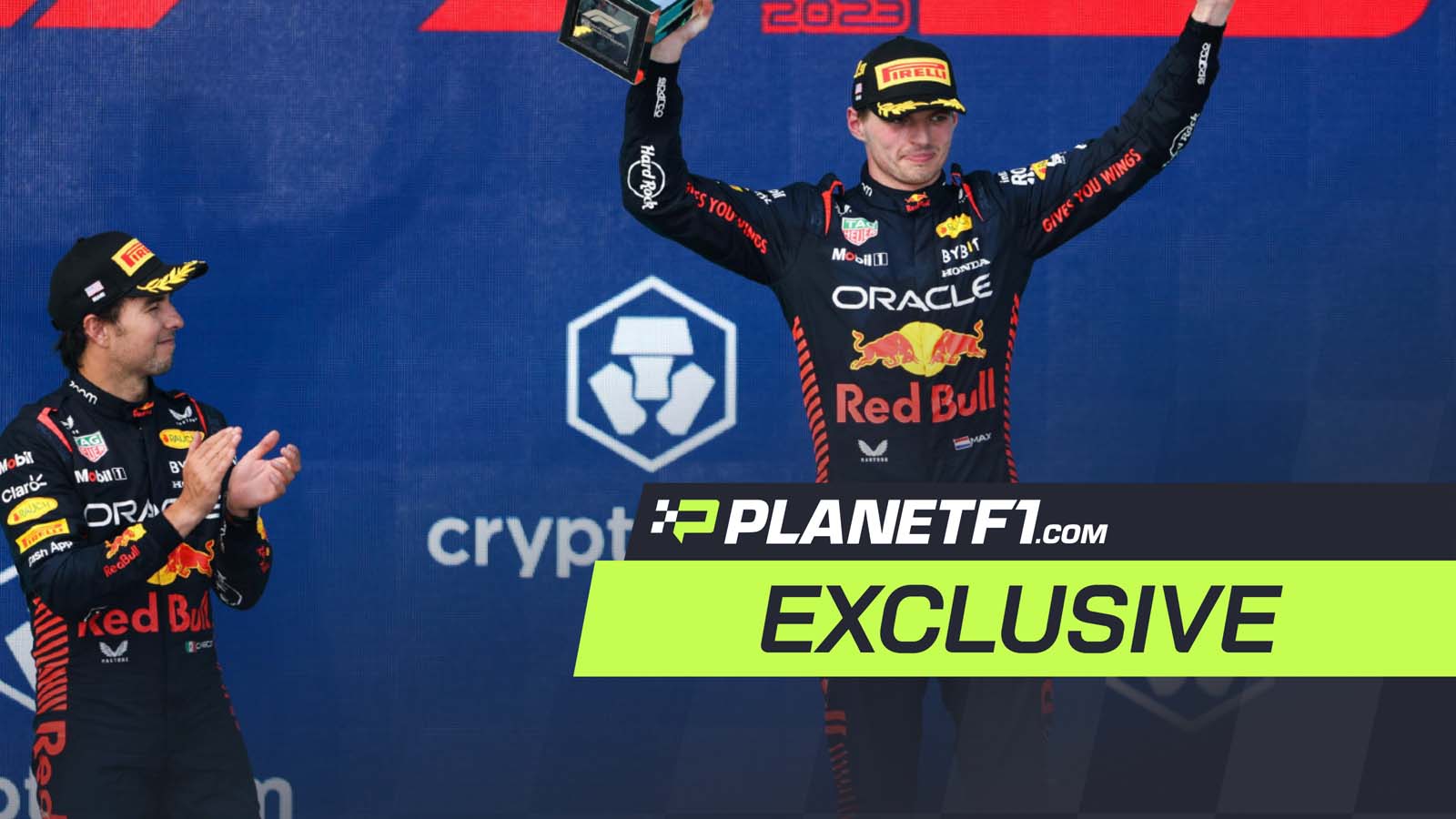 1978 F1 World Champion Mario Andretti believes Max Verstappen is in full control of the situation in the battle with Red Bull team-mate Sergio Perez.
Verstappen overcame a ninth place grid slot to win last weekend's Miami Grand Prix, after a late red flag caused by a crash for Charles Leclerc late on in Q3 compromised the Dutch driver's qualifying efforts.
With Sergio Perez starting from pole position, the stars seemed aligned for the Mexican driver to make it back-to-back wins after his victory on the streets of Baku on the weekend prior.
But Verstappen opted to start the race on the Hard compound Pirellis and, with the Medium-shod runners struggling more with their tyre choice early on, the Red Bull patiently carved its way through the field – Verstappen up to second by Lap 15.
Following Perez's stop to swap to the Hards, Verstappen was able to maintain the gap to Perez despite his older Hard tyres and, when he pitted to swap to the Mediums on Lap 45, quickly caught and overtook his teammate to reverse the 1-2 finishing order from Azerbaijan.
Mario Andretti: You have to give Max Verstappen plenty of credit
It was a display of control that suitably impressed Mario Andretti, who praised Verstappen for his patience and speed throughout the Grand Prix.
"I thought it was spectacular, very, very entertaining indeed," he told PlanetF1.com in an exclusive interview.
"You have to give him so much credit for being so poised with this very controlled aggression coming through.
"The entire race to me was so incredibly entertaining. I don't know how anybody else feels. There was so much action, overtaking right deep in the field, and so it kept your interest right up to the end.
"The tyre strategy worked out perfectly for Max. I mean, they couldn't have done any better as far as the choice of tyre compounds. It was really a fun race to watch and to follow."
PlanetF1.com recommends
Miami Grand Prix team ratings: A perfect 10 and poor pit calls from McLaren and Alfa
Concerns voiced over Charles Leclerc's driving ability: 'He's win or bin'
With five races gone in the 2023 championship, Verstappen has assumed a 14-point lead over Perez – the Mexican driver having claimed victory in Saudi Arabia as well as Azerbaijan. With the championship turning into an all-Red Bull affair, there's no question in Andretti's mind as to who is the title favourite.
"There's no question that Max has the control of the situation," he said.
"Look at every practice period, he was not just a tenth or so in front, he always had two to three-tenths control over the situation until the initial run in Q3 – I think the same turn that got him got Charles [Leclerc]. If they could have really actually executed that turn, that would have been a mega lap – Charles as well! He was clearly flying through there. It's just one of those things, one of those turns that can pay you back handsomely but also can just take you to the cleaners.
"Overall, Max throughout was head and shoulders above the field, no question."
Mario Andretti: It's the perfect scenario for Red Bull
Having claimed four 1-2 finishes from the first five races, divided equally between the drivers, with Verstappen's Australia win providing the big gap between them, Andretti believes Perez won't be too downbeat to have had such a loss at this point of the year.
"I think Sergio is fine with his position, I think he's probably executed this season better than expected," he said.
"I don't think Sergio has any reason to be down on himself, quite honestly, he is able to really deliver for the team when he needs. He can be a supporting factor, but also he could be a main factor if the other side has any issues.
"It's a perfect situation for Red Bull with those two drivers honestly. Sergio has some specialty when it comes to street courses especially, the really tight situations and so he has something to offer that's very special and that's a good thing."
As for whether or not the relationship between Verstappen and Perez, which is amicable at this stage, might break down if they remain close on track and the stakes climb later in the year, Andretti doesn't want to see it happen.
"I hope not," he commented.
"When you're functioning like that as a 1-2 situation, you don't throw that away with the wrong emotions. It's got to be happy times at Red Bull and you don't want to go out there with some kind of attitude to spoil the situation. You don't want that and I hope that doesn't happen.
"What better feeling can you have by knowing that, so far, the competition hasn't eroded at all into what you had to offer at the beginning of the season? They're in control.
"And I think they'll be able to actually improve even on what they have. So it's a fabulous position to be in – they're executing in every area, making all the right decisions. It's up to the rest of the field to just really start dealing with that and that's going to be the interesting part for the rest of the season to see just who can come up there and spoil this type of domination."
Is there a stronger driver on the grid right now than Max Verstappen? Andretti doesn't think so.
"He obviously has tremendous confidence in himself, which is huge. He knows what he can do," he said.
"He's probably able to extract the maximum out of any type of equipment that he's in. No question about it. OK, he has an equipment advantage, which he has to some degree, but he sure as hell knows what to do with it. You put him in any car out there, I guarantee that he probably shows something special."