Mark Webber picks out when frictions with Sebastian Vettel really began to spark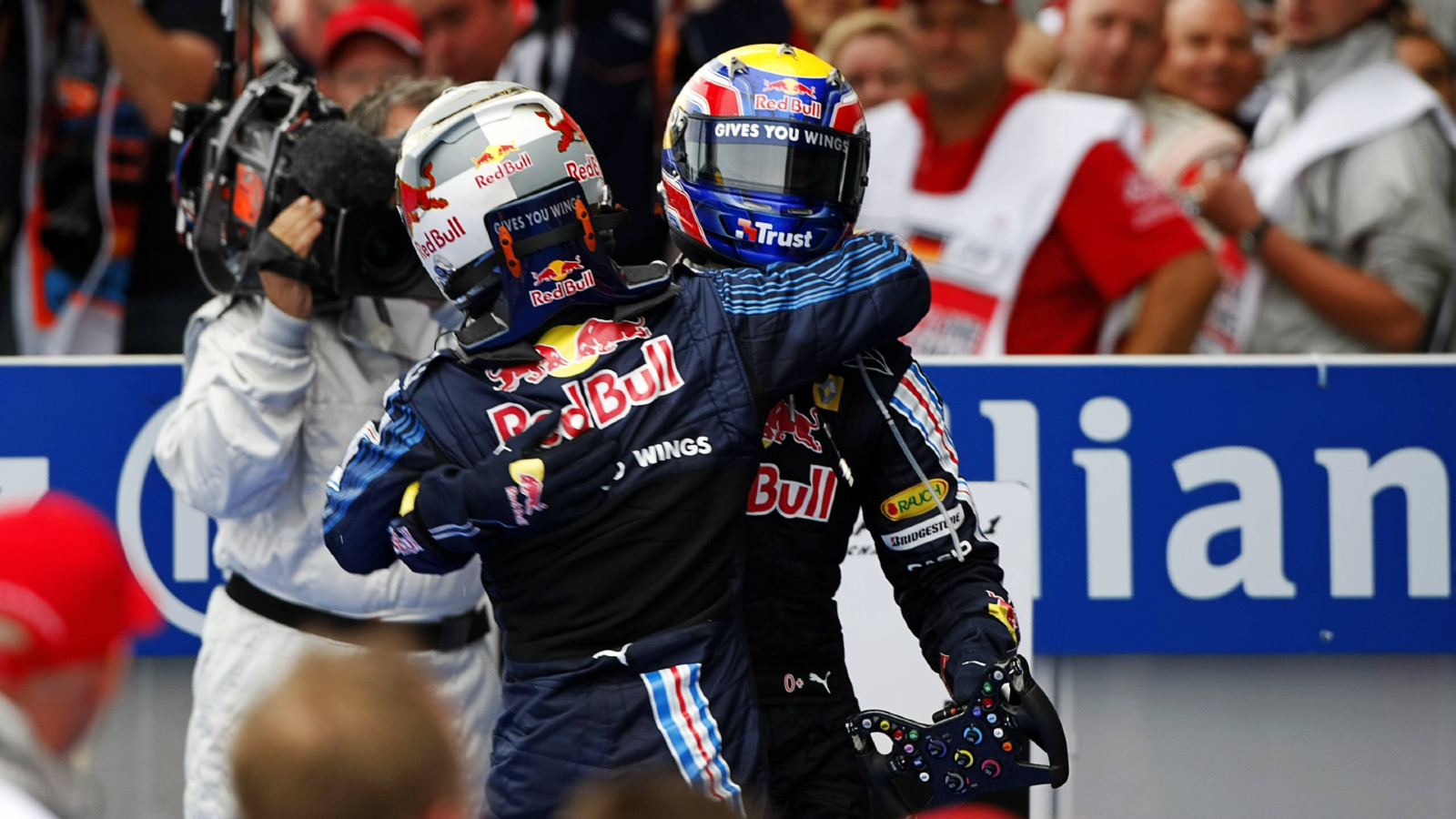 Mark Webber believes friction between himself and Sebastian Vettel began some time before it went public at the 2010 Turkish Grand Prix.
While Vettel and Webber had had a largely agreeable stint as teammates at Red Bull after Vettel's promotion from Toro Rosso at the end of 2008, their clash at the 2010 Turkish Grand Prix while fighting over first place indicated that all was not well behind the scenes.
That incident, which cost Red Bull victory as Vettel retired on the spot while Webber required repairs in the pits, was the first significant flashpoint between what would be a particularly uneasy teammate relationship until the Australian retired from F1 at the end of 2013.
Speaking on Sky Germany at the Abu Dhabi Grand Prix, both Vettel and Webber looked back over their time as teammates at Red Bull – the tensions of the time having dissipated in the years since.
Vettel revealed how a 'kind' Webber had helped him out after his very first Formula 1 test with Williams in 2005, with Webber revealing that Vettel had not been physically ready for the brutality of the 2005 V10-engined car.
Sebastian Vettel and Mark Webber's partnership turns acrimonious
Vettel and Webber's relationship deteriorated once they became teammates, with the Australian asked whether Turkey 2010 was the moment their partnership turned sour.
"Probably even before then," he said.
"It's easy to be teammates when you're building to a scenario – P5 and P6, doesn't matter. But when you start to go for victories, and you start to see a championship come alive, then there's a bit more tension, on the engineers, on the drivers.
"We're looking for that last half a tenth, you want to make sure that you can try to have. It's another rival actually. There was a race before we had the incident [in Turkey] the year before, in 2009, there was a strategy where Sebastian wasn't happy with my strategy and I won the race."
Webber was likely referring to the 2009 German Grand Prix, in which Webber led home a Red Bull 1-2 to claim his maiden F1 victory – this was despite the Australian serving a drive-through penalty for a boisterous defence against Rubens Barrichello on the run to the first corner. The result meant that Vettel didn't gain as many points against Jenson Button as he could have, during what was then his and Red Bull's first tilt at a title.
"Then it just went on, a little friction here and there," Webber explained.
"Of course, then we had some contact and overall it was a challenging season finishing here [in Abu Dhabi].
"[There was] huge pressure on the team, [it was the] first time for them to be in that scenario. For us, we drove each other to the limits.
"But I was one of the first guys to congratulate him when he won the title in 2010. I went to his room and congratulated him. Of course, it was gutting for me, I was empty. It was tough but, in the end, he made me a better driver because he forced me to be better."
Why did Mark Webber struggle against Sebastian Vettel?
Having stacked up favourably against Vettel during 2009 and '10, Webber lost out badly to his teammate in 2011 – never regaining the upper hand over the remaining two years of his career. Webber said he felt the introduction of the Pirelli tyres in 2011 had made a big difference, as he simply couldn't adapt as easily as his younger teammate.
"In '09, Seb was very strong and in '10, but it was not something that I didn't think was beatable," he said.
"I could beat him on my day, I could still have a chance to compete against him very, very evenly.
"Where the headaches and the huge problems for me came was when Pirelli arrived. He had the first world title, the confidence was high. I was really nowhere in 2011, I was not good enough to adapt to these type of regulations. Same age as him now, really old!
"So it takes time to change the new tricks for the old dog, so that's when I thought 'OK, now I have a headache on my hands'. But I was still in a good team. I had chances for victories and Sebastian, at certain tracks, was just unstoppable."
Read More: Christian Horner: Vettel and Webber easy to manage compared to Verstappen and Perez