Webber/Vettel rivalry 'separated' the Red Bull team
Ex-F1 driver Mark Webber has revealed just how toxic his relationship with Sebastian Vettel at Red Bull became.
The first star pupil of Red Bull's driver programme, Vettel graduated to the team ahead of the 2009 season where he would partner Webber, and come 2013 he and Red Bull had secured four Drivers' and Constructors' Championships in a row.
2009 was the first season that Red Bull truly had a race-winning car on their hands, and Webber described the RB5 as a "weapon".
"We knew that winter, you could see Adrian [Newey, chief Red Bull designer] was licking his chops in terms of the regulations coming out, he could see that he could have a huge influence on the whole car," Webber told Channel 4.
"Working with Renault, who weren't always the easiest guys to deal with in terms of they didn't always have the best power. So Adrian always had to find ways of producing lap time with the aerodynamics and driveability of the car.
"Sebastian had well and truly arrived, in 2009 he was my new team-mate.
"Brawn did their thing at the start of the year with Jenson, but once we got the regulations set then this thing started to fly.
"And Sebastian was a Red Bull junior, I was here for a job in terms of experience, having the knocks and the hits on the way through as a professional driver.
"Seb was young, but he was quick, and that was the Red Bull junior programme coming through and having him then go into what would be a heavily-funded programme.
"And I was obviously benefiting from that as well with Adrian Newey being here.
"That car was a weapon, a beautiful piece of engineering."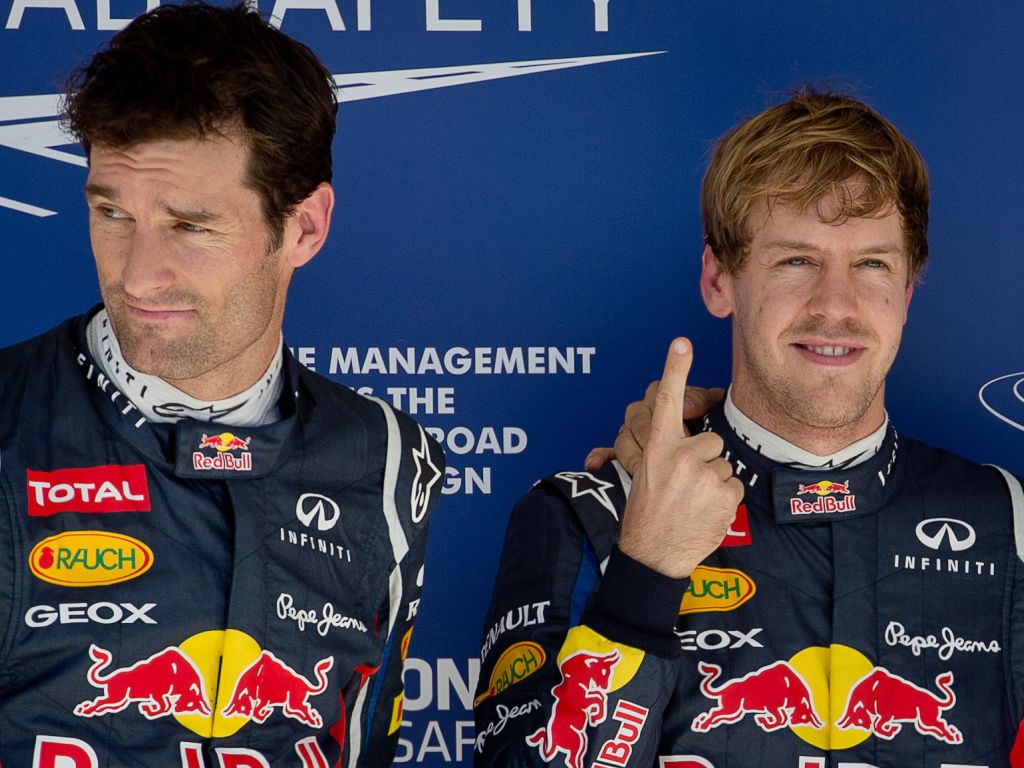 Get your hands on the official Red Bull 2020 collection via the Formula 1 store
But, as we know all too well, the relationship between Vettel and Weber was a tumultuous one.
Several high-profile incidents like the Turkish GP crash and the Multi-21 controversy caused the relationship to totally break down with Webber leaving the team at the end of the 2013 season.
And Webber revealed just how severe the rivalry was behind the scenes, saying it even caused the Red Bull team to start separating.
Asked if he and Vettel put their issues aside when out of the cockpit, Webber replied: "Absolutely not. No chance.
"We absolutely overstepped the mark professionally often, and I lost a lot of trust with him on the professional sense.
"We are pretty tight now, there are messages exchanged so that's gone, I've had enough bottles of red to let that pass on.
"But in terms of what was happening at the time if he got food poisoning, and I don't know who would have put something in his food…but ultimately it was a headache for the team because we were going for a World Championship in that 2010 year and we were both in the same team against Lewis and Fernando, four of us at the last race, for this team that was an absolute headache.
"We had a lot of challenging moments mentally and the team started to separate so it was hard for Christian to manage that."
Follow us on Twitter @Planet_F1 and like our Facebook page.