Brundle on conspiracy: You've made your minds up anyway
Michael Masi should have red flagged the Abu Dhabi Grand Prix if he wanted to set up a late-race dash for the win and the World title.
That, says Martin Brundle, would have at least meant a "straight final championship duel" with Lewis Hamilton and Max Verstappen on matching tyres.
Sunday's season finale went from a bit of a damp squib to a nail-biter, but a controversial one.
FIA race director Masi made an unprecedented call to allow the lapped cars between race leader Hamilton and second-placed Verstappen to unlap themselves.
There were eight in total but only the five that would have prevented a last-lap shoot-out were given the go-ahead.
It was a decision that angered Mercedes as it left Hamilton a sitting duck, the Brit's hard tyres 40-odd laps old with Verstappen on fresh softs.
And while it did produce season-ending drama, Brundle feels it could have been done in a much fairer manner.
Writing in his post-race Sky column, he said: "In hindsight this should have been a red flag so that everyone could reset, the track could be cleared, and we'd have a straight final championship duel on matching tyres from a standing start.
"However that would set a precedent for more red flags in the future. As potentially could have happened back in Azerbaijan, we don't want a race, and so championship, finishing with the cars lined up stationary in the pit lane.
"There are just under one thousand five hundred words in the sporting regulations defining the full Safety Car procedure including letting lapped cars through. Once cars inevitably start pitting, especially the leaders, it's not entirely straightforward to establish who is actually a lap down. Here's how they are defined;
"'This will only apply to cars that were lapped at the time they crossed the Line at the end of the lap during which they crossed the first Safety Car line for the second time after the Safety car was deployed.'
"So that's clear then…"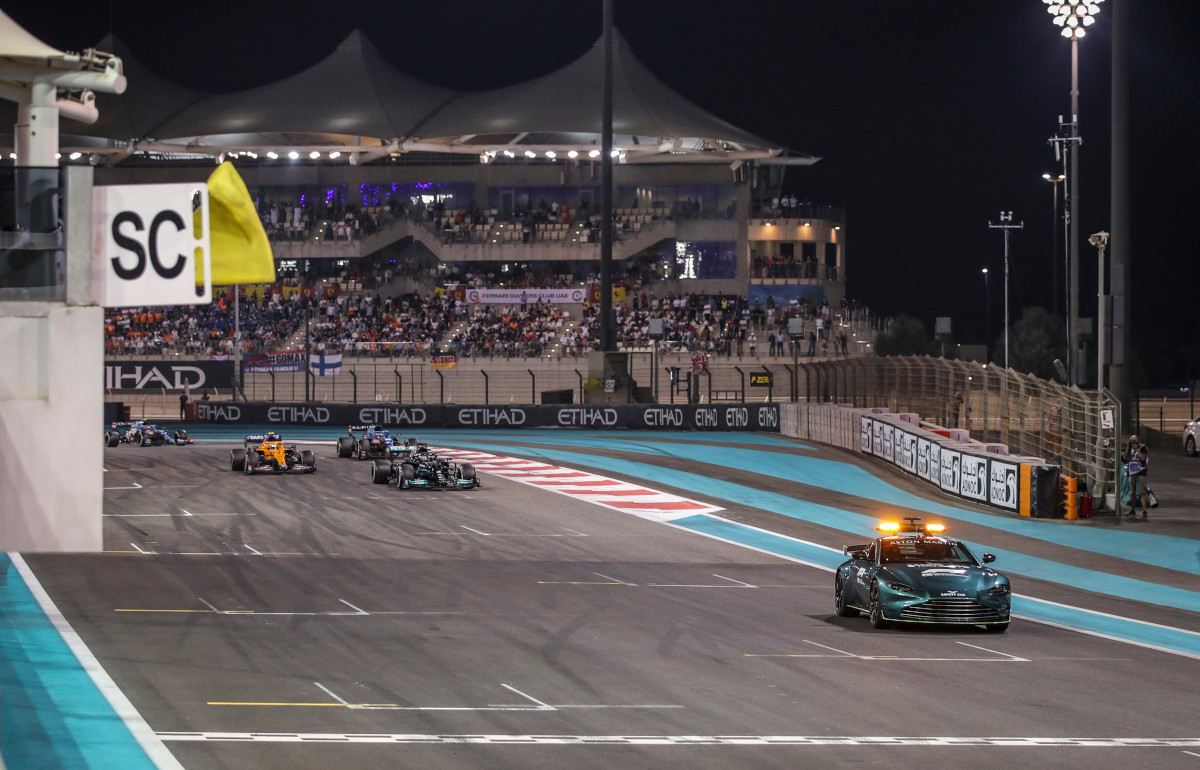 And while Masi was having to deal with that, and make sure everyone on the track – the drivers and the marshals attending to Nicholas Latifi's crashed Williams – were safe, he was also having to listen to both Red Bull and Mercedes argue their opposing cases.
Brundle added: "Meanwhile the Race Director must manage the incident on track with safety as a priority, attend to the pit wall lobbying from teams demanding to control what happens next or to find out if they can unlap themselves, gather up the cars still in the race, and restart as soon as possible.
"Masi understandably didn't want to release the lapped cars until the track was clear of the crashed car, a recovery vehicle, and people. The last two aspects will rightly forever be sensitive topics in motorsport.
"It's optional whether it's deemed safe enough to let lapped cars unlap themselves, of course a Safety Car always means either an accident, track debris, or heavy rain, but the regulations say 'any lapped cars' and not 'all'.
"Cue the lawyers as just the key five were waved through to put Verstappen directly behind and even alongside Hamilton for the last lap charge. Mercedes will forever feel that the last lap was duty bound to be behind the Safety Car."
However, the former driver turned pundit was quick to quash any suggestions of a conspiracy in favour of Verstappen, or against Hamilton.
He added: "I'm not going to make any accusations here whatsoever that there was any malice or intent in those decisions and actions because I have zero evidence or expectations in that respect, and you've all made your minds up anyway.
"I can understand why Mercedes and team Hamilton feel aggrieved, just as Red Bull would have done if the race finished behind the safety car. Talk about being between rock and a hard place."
PlanetF1 Verdict
Should there have been a red flag?
Martin Brundle believes that there should have been a red flag so Max Verstappen and Lewis Hamilton could have had a fair fight.