Martin Brundle: 'Odd' Christian Horner would name Verstappen/Perez as best Red Bull pair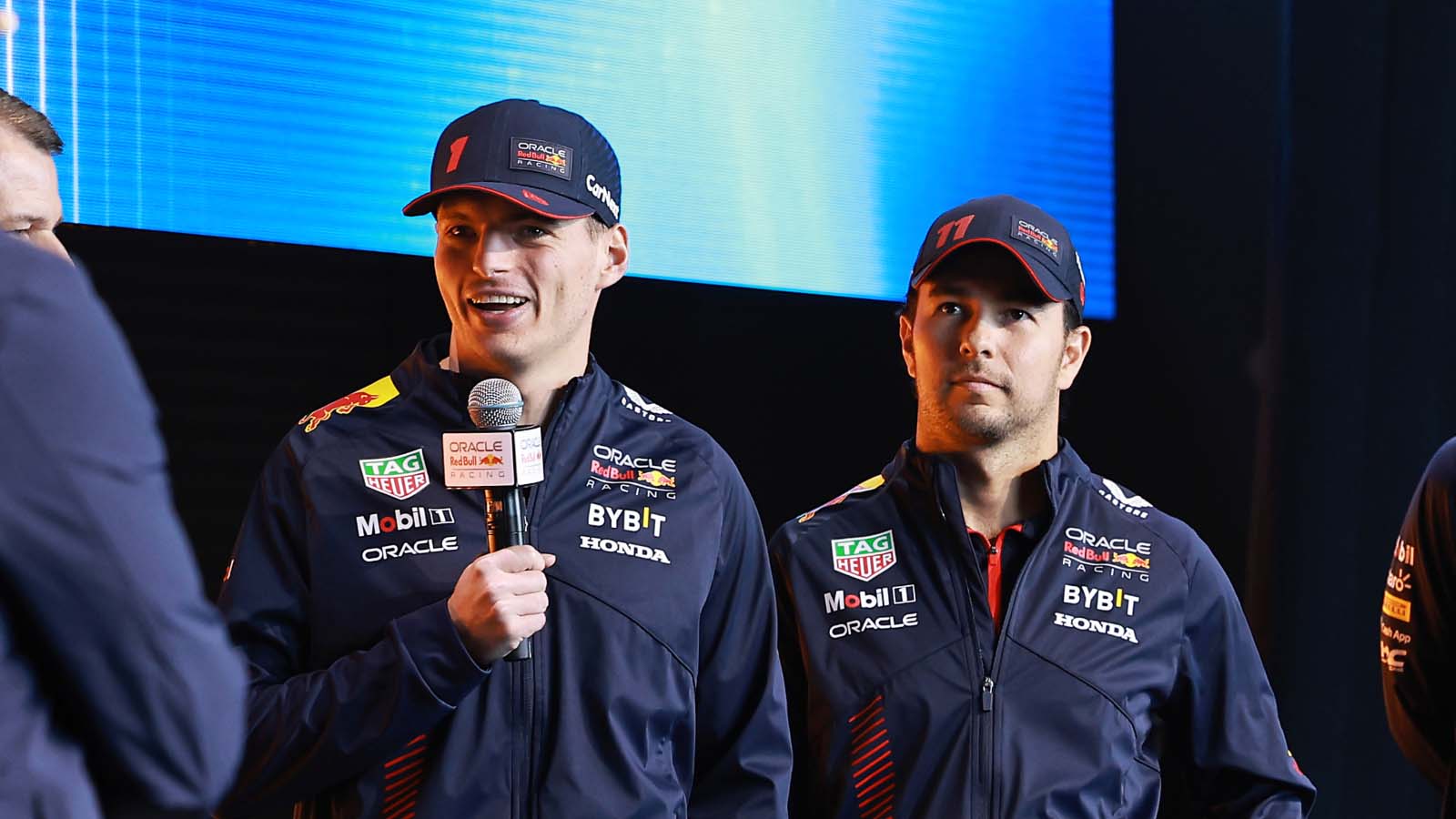 Martin Brundle feels it was 'odd' of Christian Horner to pointedly describe Max Verstappen and Sergio Perez as the best ever Red Bull driver pairing at the team's car launch on Friday.
The livery of the RB19 was unveiled to the world from New York City, alongside the announcement of the new partnership between Red Bull and Ford from the 2026 season when they collaborate on the team's new power units, with Verstappen, Perez and third driver Daniel Ricciardo in attendance.
Ricciardo's return to the team in a reserve capacity has already brought about unsubstantiated speculation over Perez's future at the team if he does not perform as expected alongside Verstappen next year, given they have another multiple race-winner in the wings in case he is needed – though Ricciardo himself said he is "not foaming yet" to get back on the grid.
Red Bull team principal Horner was full of praise for his current line-up, dubbing them the best pairing in the team's near-two-decade history.
"Well, we're very lucky we got two fantastic drivers and you know their combined efforts the last two years have been stunning," Horner explained at the launch of the RB19.
"Obviously, you know, that first Drivers' World Championship for Max in '21 and then the double championship last year and winning 17 Grands Prix between the two of them.
"First and third in in the Drivers' Championship and of course, bringing home that Constructors' Championship back to Oracle Red Bull Racing for the first time in eight years. And, you know, these guys, I think it's the best pairing we've ever had in Formula 1. It's been hugely successful.
"We're going to need every bit of that this year as we go against some big opponents, with the other teams looking to come back at us after such a dominant season last year, but we're very fortunate to have to two such talented drivers."
PlanetF1 recommends
Exclusive: General Motors confirm FIA entry bid, believe their team 'will heighten enthusiasm for F1 racing, globally'
Exclusive: Sebastian Vettel given extra time to decide on future as GPDA director
Why Max Verstappen is his own biggest threat to the 2023 Formula 1 title
While Ricciardo has more race-winning pedigree than Perez, as does the combined pairing of Sebastian Vettel and Mark Webber from years gone by at Red Bull, former Formula 1 driver Brundle feels it was an 'odd' claim to make at the car launch, theorising it could be to do with the team dynamic they currently enjoy at Milton Keynes.
"I mean, what does Christian mean when he says 'best'? Does he mean they fit together well as a combo?" Brundle said on Sky Sports F1 after the launch.
"In other words, that Sergio is probably a little bit more compliant than perhaps Mark Webber, or Sebastian Vettel would have been.
"So, odd in that respect, but Christian's got the data and that's what he thinks, and he's the boss. But as you say, you know, if they're the two you've got going into the season ahead, why not say nice things about them?"