Brundle: Sainz may fall into 'supporting role' for Leclerc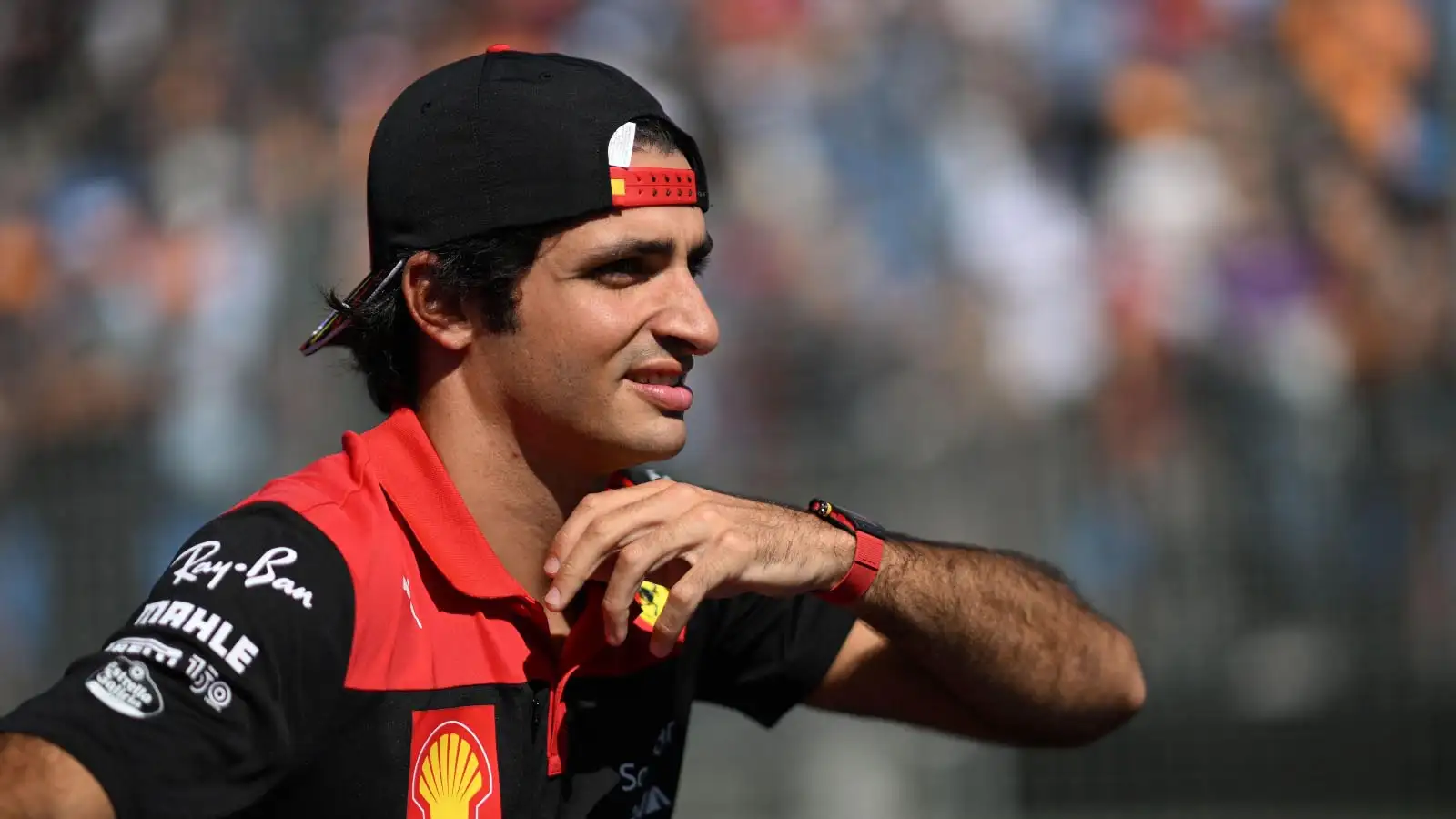 If he doesn't start winning races soon, Martin Brundle feels Carlos Sainz may end up playing a "supporting role" for Charles Leclerc at Ferrari this year.
Leclerc took a dominant victory in Melbourne at the weekend, making it two wins out of three for the season after his P2 finish in Saudi Arabia.
With that, despite the Spaniard having finished on the podium behind his Ferrari team-mate at the first two races, Leclerc now has a 34-point lead at the top of the World Championship standings – and is 38 clear of Sainz already, after only three rounds.
Sainz spun out of the Australian Grand Prix after losing control at the high-speed Turn 9 at Albert Park while attempting an overtake on the second lap.
Despite being told to switch his car off, his desperation to get back out on track was such that he stayed in his car while the field took in two further laps, hoping to be pushed back into the race by marshals.
His car was beached though and, after his out-of-position P9 starting slot, he came away from Melbourne empty-handed.
After a couple of title near misses in the recent past, their potential this year means it's now time to take Ferrari seriously.

Watch or listen to Torquing Point in full: https://t.co/E3LT7usd3t #F1 #essereFerrari pic.twitter.com/SGNZZrzSzg

— PlanetF1 (@Planet_F1) April 12, 2022
Sainz was self-critical after the race on Sunday, but still hopes to pull himself back towards Leclerc at the top of the standings with a long way to go in the season.
Team boss Mattia Binotto said recently that the two drivers are free to continue racing against each other but, should Sainz not win or gain ground in the coming rounds, Sky Sports analyst Brundle thinks he may well be forced to play second fiddle at the Scuderia this season.
Brundle wrote in his post-race Sky Sports column: "Leclerc has stepped up to a higher plane, delivering speed with consistency and seemingly always a half a step ahead of this car, rather than close to the edge of the car's limit and the occasional heavy shunt as we've seen in the past. The new regulations suit him and he's developed confidence and increased self-belief.
"Two pole positions, two wins, a second, and three fastest laps in three races rather confirms that.
"His team-mate Carlos Sainz had the weekend from hell, missing out on a solid qualifying lap when his friend Fernando Alonso caused a red flag by crashing due to technical issues, and then with further engine starting dramas not delivering a representative lap.
"Out of true position in 9th on the grid he needed a last-minute steering wheel change which led to an awful start, and he then proceeded to have a brutal midfield fight on hard compound tyres, eventually impatiently spinning off the road.
"He may well end up having to play a supporting role to Leclerc from here, depending on how the competition shapes up and if he can win the next couple of races, which is not out of the question."
PlanetF1 verdict
Sainz at risk of 'supporting role' for Leclerc
If Carlos Sainz doesn't start winning soon, he'll find himself in a 'supporting role' for his Ferrari team-mate, Charles Leclerc.