Martin Brundle's cautious review of Mercedes' double podium in Spain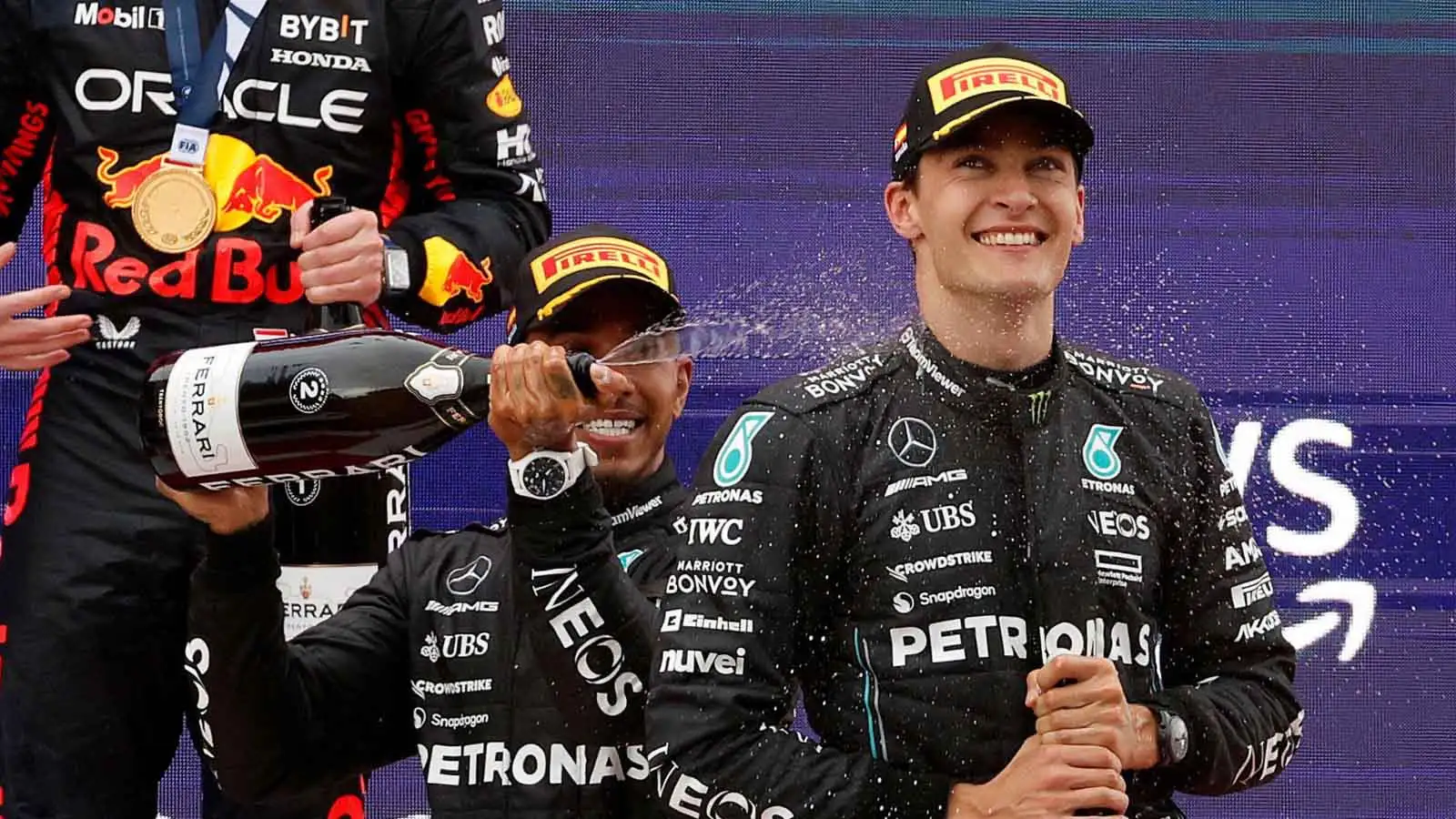 Mercedes may have secured a double podium at the Spanish Grand Prix but Martin Brundle says the jury's still out on their upgrades given Lewis Hamilton was 24 seconds behind race winner Max Verstappen.
With their new-look W14 on the track for the second time having made its debut at the Monaco Grand Prix, Mercedes went into the Spanish Grand Prix weekend downplaying their expectations and instead talking about platforms, new baselines and collecting data.
What they also collected was a double podium result, their first of this championship.
Hamilton, having lined up fourth on the grid, brought his W14 home in second place while George Russell recovered from a disappointing qualifying session that left him down in P12 to join his team-mate on the podium with a third-placed finish.
It was a moment of relief for Mercedes with team boss Toto Wolff conceding "it could have gone totally in the other direction" given they had "completely changed the front suspension and the aerodynamic concept was thrown overboard."
Former F1 driver Brundle says it was a good result for Mercedes, but was quick to note race winner Verstappen's advantage over Hamilton at the line.
PlanetF1.com recommends
Max Verstappen makes worrying reveal for Mercedes after Spanish GP surge
Toto Wolff lifts lid on how he could do more harm than good at Mercedes
Writing in his latest Sky Sports column, he spoke of Russell's adventures that "including significant high-speed contact in qualifying with his team-mate Lewis Hamilton after a misunderstanding, a trip through the gravel going to the grid, and running wide in the first corner of the race but being exonerated for gaining places by using the escape road.
"It was a very good start which gained most of those places. Russell drove a fine race to take the final step on the podium.
"Hamilton, who is driving with an especially feisty and happy demeanour lately, was a further eight seconds up the road for a solid second place and double Mercedes podium."
But, Brundle added, "before we get too excited, they were 24 and 32 seconds, respectively, behind a cruising Verstappen."
The Briton, though, believes there is "some hope that the Mercedes sidepod upgrade did some good although we can't say that about Ferrari's similar upgrade yet."
The Spanish Grand Prix was not what the Scuderia had hoped for with Carlos Sainz dropping from second on the grid to fifth at the flag while Charles Leclerc failed to score a point in 11th place.
It also wasn't the best outing for Aston Martin as, while they did bring in another double points-haul, Lance Stroll was P6 to Fernando Alonso's seventh.
"After a tremendous start to the season Aston Martin need their imminent update to work too, as they fall behind Mercedes in the Constructors' championship," Brundle continued.
"The massive Spanish crowd, who had to endure poor traffic management outside the circuit, needed to be content with Carlos Sainz's Ferrari in fifth place, 45 seconds behind the winner, and Fernando Alonso in seventh, behind his Aston Martin team-mate Lance Stroll.
"I did enjoy Fernando waving to the crowd while power sliding his car around on the final tour."
Sunday's result saw Red Bull extend their advantage at the top of the Constructors' Championship to 125 over the second-placed team that is now Mercedes, who are 18 points up on Aston Martin.