Martin Brundle: 'Don't know why I bothered' with awkward David Beckham grid walk chat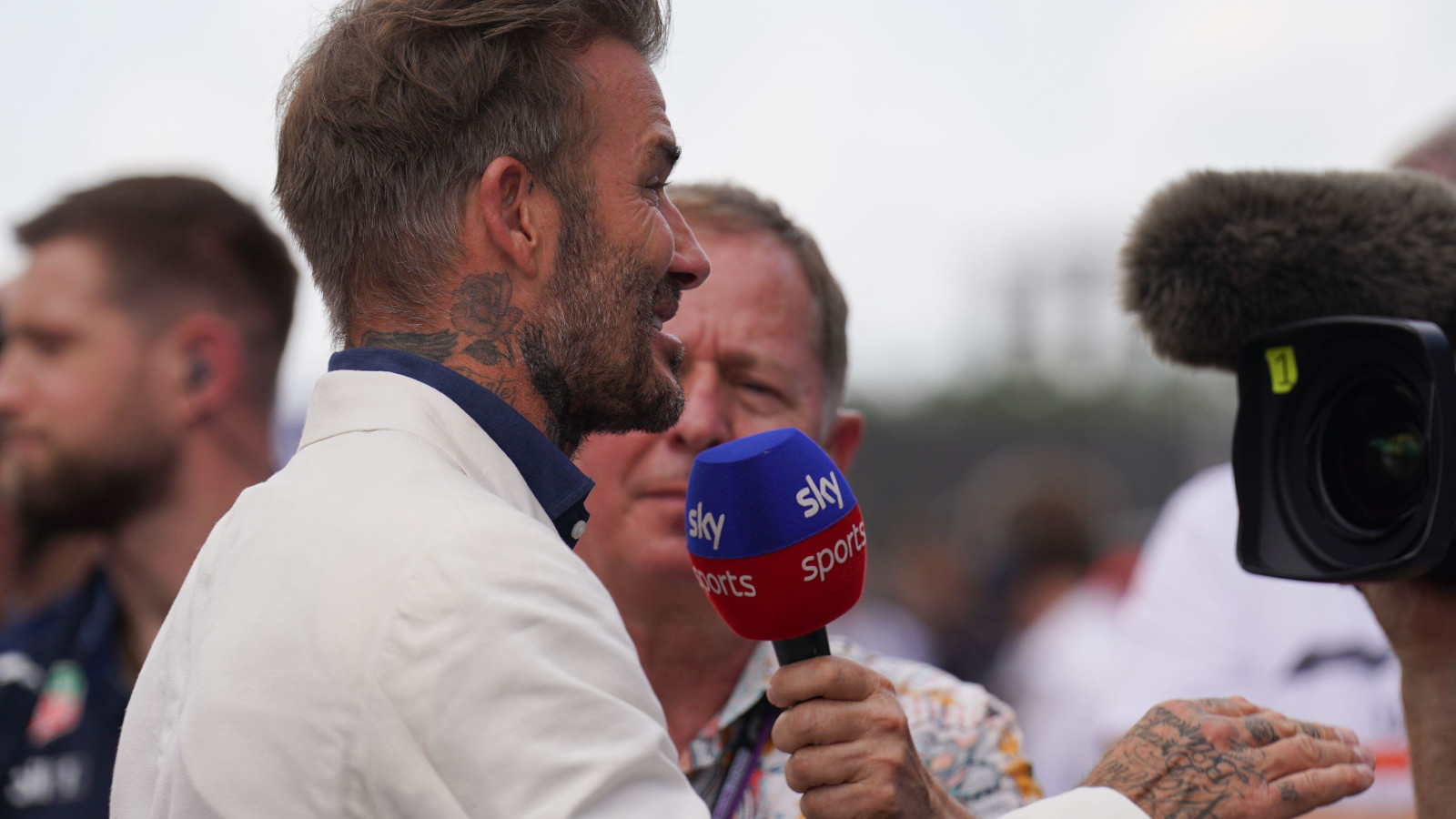 Martin Brundle says he "didn't know why I bothered" when he finally pinned down David Beckham for a grid walk chat in Miami.
The Sky F1 broadcaster has built up a cult following beyond the sport's usual fanbase for his pre-race grid walks, especially when the circuit is packed with celebrities he may not be too familiar with.
Rapper Megan Thee Stallion was one such example at the 2021 United States Grand Prix, while Brundle misidentified NFL star Patrick Mahomes at the inaugural Miami Grand Prix as he interviewed basketball player Paolo Banchero instead.
But he could not, of course, fail to recognise Beckham, one of the world's best-known sports stars – the problem, though, was that the former England football captain did not appear too keen to talk to Brundle, either at the 2021 Qatar Grand Prix or Miami 2022.
At the latter event, the former F1 driver failed to convert his first chance to talk to Beckham but scored with his second opportunity – although it was a distinctly underwhelming conversation in which the ex-Manchester United and Real Madrid midfielder appeared less than engaged and avoided eye contact.
Asked during an interview with GQ magazine if he ever thought he was fighting a losing battle by trying to interview certain individuals on the grid, Brundle replied: "I thought that about David Beckham, and then eventually I got in his face in Miami.
"I had been man-marked by a couple of guys in Qatar that didn't want anyone near him there. So I was pretty determined to speak to him. And then when I did, I thought 'I don't know why I bothered', basically.
"I didn't feel good about it, particularly. I don't like bothering people. If they don't want to talk to you, they don't want to talk to you.
"There are plenty of people who do. You've got to remember I've been on a Formula 1 grid for 38 years, well over half the life of Formula 1. I've been to well over half of the grands prix in the history of Formula 1, so I feel pretty comfortable in that space – I feel it's my territory."
There's a reason why I've never watched back an F1 gridwalk in a quarter of a century of doing them. You have no idea how much I dislike doing them but somehow those crazy moments have defined my professional career 🤔. Oh well, that's the way it is.

— Martin Brundle (@MBrundleF1) May 9, 2022
But Brundle tends to receive a much more favourable response from the most important people on the grid – the drivers.
"I find the drivers very compliant. I find them very eloquent," said the 63-year-old.
"The drivers know me. I'm surprised any of them speak to me ever, frankly, when they are in the zone.
"They know you've been there, you've done it, you've seen it, you've crashed the car and you'll ask something relevant or personal. I never try to drop-kick them or get clever with the questions. I think that would be unfair.
"So it tends to be quite happy and 'Smashy and Nicey' conversation. I'm not really going to hit them with 'I heard your contract is up soon' or something like that. It will be relevant to the race but generally speaking, they trust me.
"A few of them will just shake their head and then even apologise later, or some come up to me in the paddock and go 'you haven't seen me on the grid for ages, just come and talk to me on the grid'.
"And then others will never talk. Lewis [Hamilton] used to talk to me a lot and then stopped. So we take it as it comes."
Read more: Martin Brundle offers solution for F1 teams to avoid cost cap breaches