Brundle: Russell failed to see the 'bigger picture'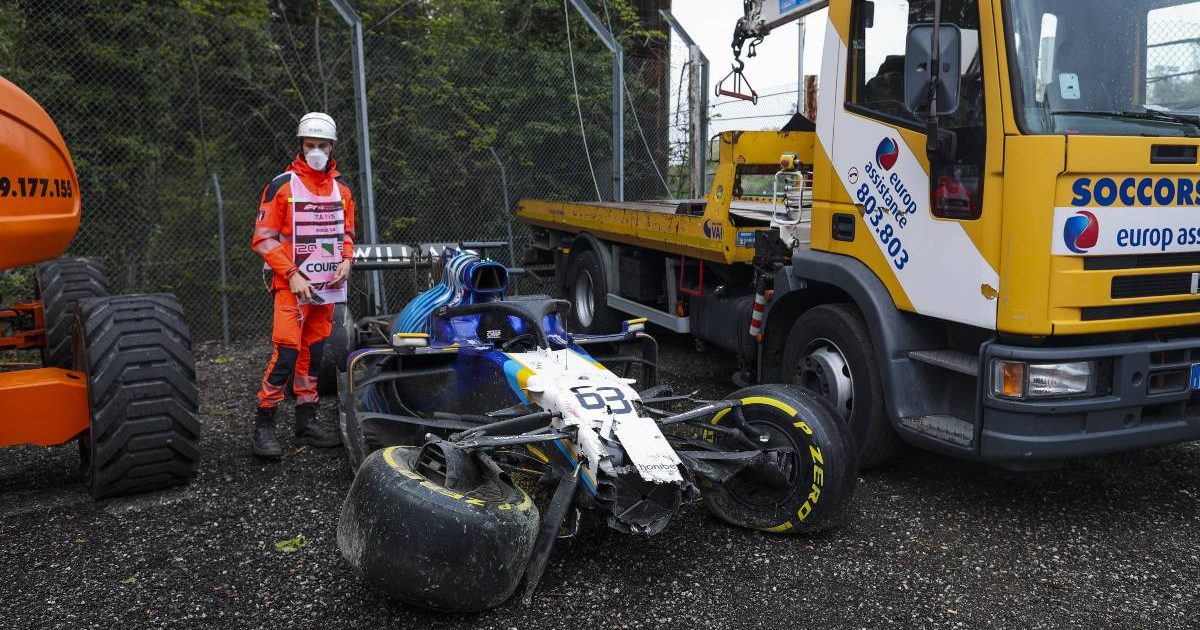 Formula 1 pundit Martin Brundle believes George Russell should have considered the "peril" of his overtake attempt on Valtteri Bottas.
Despite a slow start to the weekend in Imola, Russell began to truly gel with the Williams FW43B during the Emilia Romagna Grand Prix and was very much in contention for points.
It all went wrong though when Russell attempted to pass Bottas in the Mercedes as the pair came together and headed for a high-speed crash at Tamburello.
Russell has since apologised to Bottas for his furious reaction to the incident and blaming of the Finn, and perhaps a separate apology has been necessary for his manager and Mercedes boss Toto Wolff who was far from pleased with the Briton's actions.
And while Brundle does not want to discourage Russell's will to attack, he believes the 23-year-old should have seen the peril coming and considered the bigger picture since he is chasing a Mercedes drive for 2022.
Show your support for Williams with their latest official merchandise collection
"Russell was launching a remarkable DRS assisted overtake in his Williams on Valtteri Bottas in the sister works Mercedes down the pit straight," Brundle wrote in his Sky F1 column.

"Given the sizeable shunt which followed the significance of that overtake for position inside the top 10 was probably lost. George was having a very strong race.
"It was a crash which fits into the category of 'I'm surprised that doesn't happen more often'. The track had a defined dry line with moisture present on both sides, and turn one is simply a left-hand kink. Bottas wanted to stay on the dry line, that's totally his prerogative as long as he left space either side, which he did.
"It's likely that Russell consciously or sub-consciously really wanted to pass the car which he is hoping to be driving next year with a touch of red mist involved. But he's also a racer and had the due track position, slipstream and closing speed.
"With the aero balance forward due to the DRS rear wing being open, the curvature of the track, and driving onto the wetter part, his wheels spun up and he speared into the side of Bottas triggering a huge amount of damage. It was the second Williams smashed to pieces after Nicholas Latifi had connected with Nikita Mazepin on the opening lap.
"I agree with the stewards that it was largely a racing incident given the track conditions. I can't see any blame for Bottas, and Russell needs to carefully consider if he should have seen the peril unfolding, backed out and waited for a less risky move, and also how he behaved after the shunt with his words and actions.
"He's a young feisty racer seizing a passing opportunity, and you absolutely wouldn't want to knock that out of him, but especially up against a works Mercedes he needed to consider the bigger picture and play the percentage game more carefully.
"Toto Wolff effectively controls both their careers and so I imagine that was an interesting conversation…"
Follow us on Twitter @Planet_F1, like our Facebook page and join us on Instagram!