Brundle's grid walk popularity, and the why, is 'bizarre'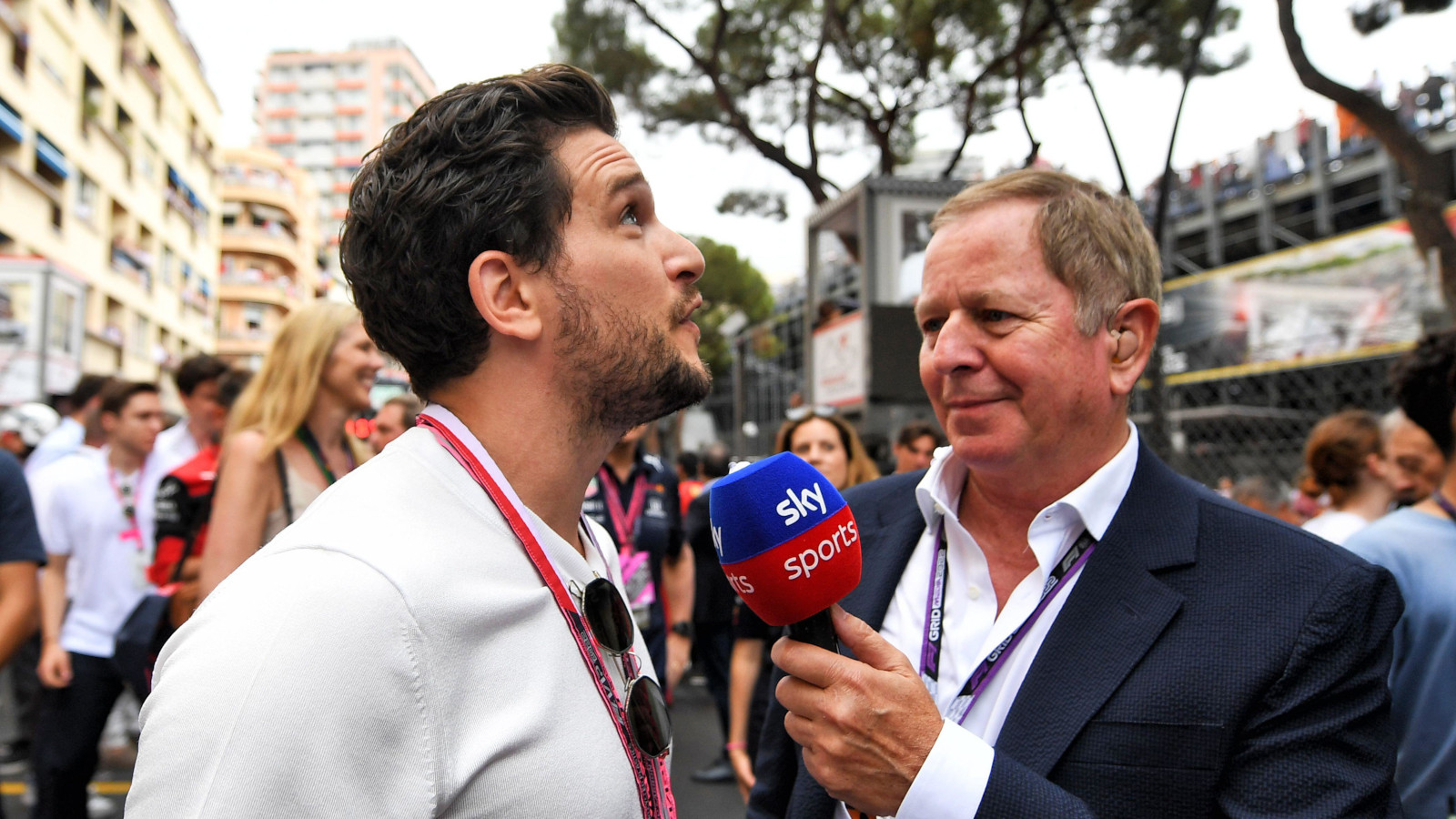 It seems the ruder a celebrity is to Martin Brundle, the more popular his grid walk becomes and he finds it all a "bit bizarre".
The nine-time Formula 1 podium finisher has, of late, became more well known for his chaotic grid walks than for what he achieved in his Formula 1 career.
As Formula 1's star power continues to grow, there seem to be more and more celebrities joining the drivers, and Brundle, on the grid before the start of a grand prix.
For 25 years now the Sky Sports pundit has been asking them for their thoughts on F1 and the race to come but of late there have been a few cringy moments.
Last year Megan Thee Stallion's bodyguard blocked the commentator, resulting in Formula 1 banning celeb's bodyguards from the grid, while this season the Briton has mixed up people and he's been blocked by several famous folk refusing to give him a minute.
The latest of that came in Monaco when British actress Simone Ashley's people wouldn't let her talk to him.
"She doesn't want to do any TV?! Well, we're half way there already…" 😇

It's always box office when Martin Brundle comes up against celebs on the grid! 🎥 pic.twitter.com/S2ALNgsTkC

— Sky Sports F1 (@SkySportsF1) May 31, 2022
And every time that happens, Brundle's popularity on social media goes up.
"Somebody ignores me and my Twitter following goes up 50,000 in the next 24 hours," Brundle tells Fox Sports. "The whole thing confuses me.
"People get fans who think they should be on the grid, not some celebrity who has no genuine interest or nil interest whatsoever in the sport, and I kind of get that, but when I get blanked by an A-lister or whatever, then it sort of goes viral.
"The whole thing is a bit bizarre."
Brundle made headlines, and tweets, earlier this year when he thought he had spotted Kansas City Chiefs quarterback Patrick Mahome, and spoke with lad only to be informed that he was actually speaking with 19-year-old basketball player Paolo Banchero.
But given that in Monaco he had a list of 45 celebrities who were expected on the grid, one can't really blame him for getting it wrong some times.
"I got a list on [Monaco] race morning confirming about 45 celebrities who were going on the grid and I tried to learn them and find out who they all were and what they all did," Brundle says. "It is chaotic.
"I have never known the sport so popular in the 38 years I've been hanging around the F1 paddock.
"It's stratospheric in every aspect when you look at audiences and grandstand seats and corporates and sponsorship coming in and manufacturers looking at it. We're on a roll.
"Liberty [Media] have done a good job [with] Drive to Survive. The racing's been good. People like these young drivers — they're honest and they're open, they're media savvy and they're social media savvy.
"I just think the whole business is just snowballing at the moment, so that's great."
All eyes on Baku this weekend
Formula 1 arrives to the streets of Baku this weekend for the Azerbaijan Grand Prix.