Martin Brundle highlights two factors that are 'not ideal' for F1 show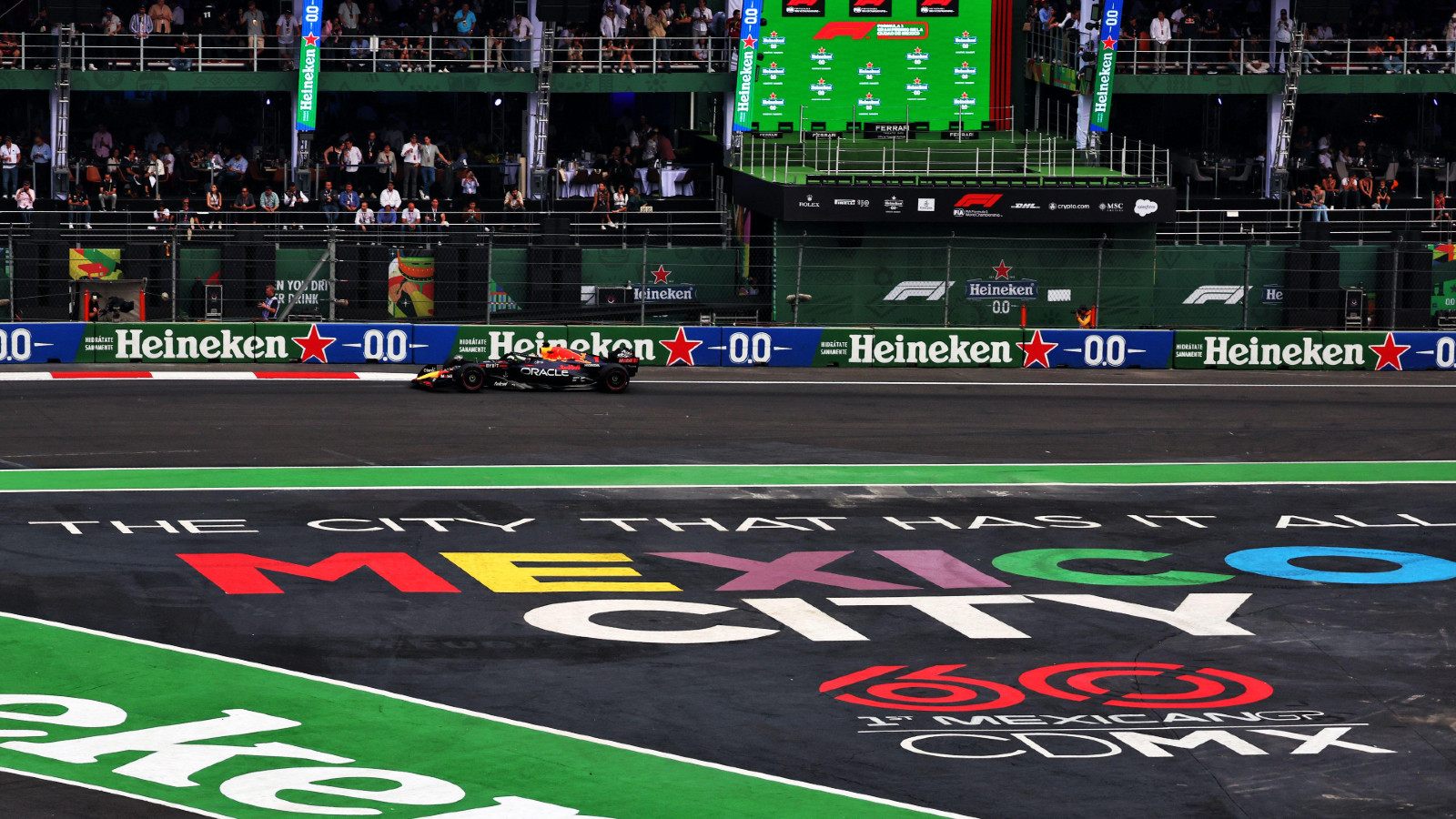 If there's one thing you can't fault the Mexican Grand Prix for it's atmosphere, but that did little to make for a race that Martin Brundle says "ultimately fell flat".
Sunday's race at the Autodromo Hermanos Rodriguez didn't live up to its billing.
Although it saw 2021's title protagonists, Max Verstappen and Lewis Hamilton, compete for the victory, the battle was over as soon as Mercedes answered Red Bull's call to put Verstappen on mediums tyres by putting Hamilton on the hard Pirellis.
What had been a roughly two second gap began to stretch out with the Red Bull driver racing to win number 14 for the season by 15 seconds ahead of the Mercedes driver.
"Red Bull would pit [Sergio] Perez on lap 23 for medium tyres and similarly Verstappen on lap 25," Brundle wrote in his Sky Sports column.
"This left Mercedes out front and two big questions. How far could Mercedes go at a competitive pace on their original medium tyres, and could Red Bull possibly get to the end of the race on their freshly fitted medium tyres some 48 laps away?
"'Not very' and 'yes' were the two answers, which rather took the sting out of the four-horse race. Hamilton would pit on lap 29 for hard compound tyres which turned out to be a bad decision.
"Despite his protestations to run long and fit a set of soft compound tyres later, [George] Russell pitted on lap 34 for new hard compound tyres which was in no-man's land, strategy-wise."
Formula 1's tyre allocation means the drivers only have two sets of hard tyres available with Brundle saying "this means that if you may want to run hard compound tyres in the race you can do minimal preparation on them in practice sessions.
"Sometimes the hard compound tyres turn out to be a surprisingly ace move, but as the temperatures cooled on this low-abrasion circuit they didn't really bite into the tarmac and reach a suitable temperature and grip level."
Hamilton recorded his second defeat in succession to Verstappen, Red Bull team boss Christian Horner saying he was "surprised" Mercedes opted for the hard tyres.
But the tyre allocation isn't the only problem the Formula 1 show is facing of late.
Brundle reckons it also wasn't helped by young driver outings and Pirelli tyre tests.
"In both Austin and Mexico Free Practice Two was extended to 90 minutes and became a Pirelli test for 2023 tyre specs," he added.
"Added to that many teams are quite late in fulfilling the requirements to run a rookie in at least one FP1 in each car, which combined has disturbed the normal flow and preparation for the last two GPs and is certainly not ideal for the show."
A Monday run for Pirelli and the youngsters?
With 22 races on this year's calendar the Formula 1 teams are bouncing from one race to the next with two triple-headers in the mix.
It leaves very little time for out of competition testing, both for tyres and the next generation.
Whereas in years gone both would be action during in-season testing, in today's world there isn't time for that. There also isn't the money.
And let's be honest, the next generation of Formula 1 drivers and the Pirellis tyres need some laps under the belts.
But perhaps not leaving it until the last minute would have been a better call, from the teams, the FIA, and Pirelli.
One can understand that early on in the season when the teams are upgrading their cars, adding new parts, they don't want a test driver in the car, they want their regular race drivers. That's why so many of them left their young driver outings for the final few races of the season.
But effectively losing the FP1 session and then the day's second outing to Pirelli meant a lot of the teams went into the Saturday action short on information.
Could one fewer race weekend per season and a Monday outing or two to cover the behind-the-scene jobs be a better solution, perhaps?
Read more: Martin Brundle puts 'full support' behind Ted Kravitz in Red Bull fall-out